The time is right for UFC to load up on 'superfights'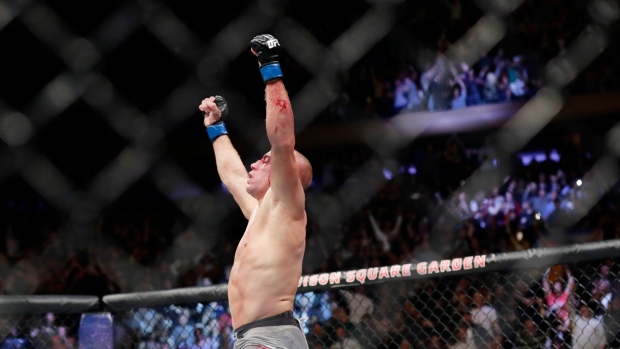 For years, those who follow the UFC have clamoured for bouts that are termed "superfights."
Georges St-Pierre versus Anderson Silva; Brock Lesnar versus Jon Jones; Ronda Rousey versus Cris "Cyborg" Justino – the list of dream fights goes on and on, but only twice in UFC history have legitimate champion-versus-champion fights between title holders in different divisions come to fruition.
At UFC 94 in January of 2009, welterweight champion Georges St-Pierre defeated lightweight champion B.J. Penn by corner stoppage. Featherweight champion Conor McGregor defeated Eddie Alvarez for the lightweight strap at UFC 205 on November 12, 2016, becoming the only fighter to hold two division titles at the same time in the history of the promotion.
Now three fighters are reportedly closing in on that same opportunity, with the UFC dangling three champion-versus-champion superfights that are reportedly close to being signed, sealed and delivered.
There has been speculation that all three of these fights could take place on the same card in July, creating an unprecedented situation for the UFC where three different fighters could become two-division champions on the same night.
While some media members and fans are weary of there being too many negative long-term ramifications that could stem from such a situation, the conditions have never been better for the UFC to follow through and deliver multiple superfights.
The first of these bouts is Stipe Miocic defending his heavyweight strap at UFC 226 in Las Vegas on July 7 against light heavyweight champion Daniel Cormier, who started his MMA career as a heavyweight and earned a 13-0 record between fights in the UFC, Strikeforce and two regional organizations.
The other two champion-versus-champion fights that have been hinted at by UFC president Dana White are flyweight champion Demetrious Johnson defending his title against bantamweight champion T.J. Dillashaw and women's featherweight champion Justino defending her title against bantamweight champion Amanda Nunes.
There are elements of risk and reward for the UFC to weigh in this situation. The reward is clear: a pay-per-view event that breaks one million buys and brings in massive revenue for the Endeavor-owned company, which is looking to maximize its returns after purchasing the UFC for more than $4 billion (U.S.) in July 2016.
The risks are also clear, with three fighters earning the opportunity to hold 50 per cent of the organization's championship belts at the end of the night, which could lead to vacated titles in multiple divisions and a lack of title holders available to headline events in the latter half of 2018.
The other risk is the alienation of contenders who sit idle or jeopardize their divisional standing while the title puzzle pieces fall into place – an issue the UFC has faced since McGregor won the lightweight title.
The good news for the UFC is that five of the six divisions at play here don't currently have any obvious title contenders.
The flyweight division has been devoured by Johnson, who has already defeated the top three contenders in devastating fashion and looks like he's in a class of his own. Dillashaw is the only legitimate challenger for Johnson right now and he's willing to drop down a division, giving Johnson a chance to show that he was able to beat the highest possible level of competition during his dominant championship run.
The women's featherweight division may as well be renamed the Cyborg division. It was created with Justino in mind and has added no legitimate 145-pound talent, aside from Megan Anderson, since its inception. The UFC does not provide rankings for the division because there aren't enough fighters to warrant them. Nunes went 6-1 at featherweight to start her career, with her only loss coming in her first-ever professional fight.
Unlike the UFC, Fight Matrix has women's featherweight rankings that select from a pool of fighters from every organization. They have Justino ranked at the top, followed by Bellator featherweight champion Julia Budd and former UFC featherweight champion Germaine de Randamie. Nunes beat both Budd and de Randamie in the first round of their respective fights, so while Justino has argued Nunes shouldn't be able to stake claim to a title shot, the proof is in the pudding that the shot is more than warranted.
The women's bantamweight division doesn't have a clear challenger. The top-ranked Valentina Shevchenko is moving to the flyweight division and lost both of her fights against Nunes. Second-ranked Holly Holm is 1-4 in her last five, third-ranked Julianna Pena is pregnant and fourth-ranked Raquel Pennington suffered a severe injury in an ATV accident.
For Miocic, he has wins over four of the top-five contenders at heavyweight, while Cormier lacks a clear, marketable contender in the light heavyweight division who he hasn't beaten. With the 38-year-old Cormier's career winding down with his suggestion that he will not fight beyond the age of 40, challenging for the heavyweight title gives him the opportunity to shift the narrative of his career and join the elite club of holding two titles simultaneously.
The only division that will suffer of the six divisions impacted by these superfights is the bantamweight division, which is rife with potential contenders for Dillashaw. With Cody Garbrandt, Dominick Cruz, Raphael Assuncao and Jimmie Rivera waiting in the wings, the division could be stalled by a Johnson – Dillashaw bout. If the UFC sees fit, this situation could warrant an interim title while Dillashaw moves down to flyweight.
This fight is also particularly risky because Dillashaw has never fought at flyweight. Despite posting on Instagram that he is currently walking around at a more svelte 145 pounds, the weight cut could prove difficult and risk the fight's cancellation.
Most of the time, the concerns surrounding champion-versus-champion fights are warranted and the potential collateral damage is apparent. In these three instances, the timing could not be better for the UFC to book these fights with all three of them feeling not only legitimate, but highly competitive and intriguing.
In fact, when McGregor fought Alvarez, it felt more forced than any of these three fights. McGregor, despite being a lightweight champion in a regional organization, had no lightweight wins in the UFC heading into the fight and there were plenty of challengers at both featherweight and lightweight, so he essentially jumped the queue.
At the time, the results were great from a pay-per-view standpoint, but it has been over a year and McGregor hasn't fought since. That scenario gives pause to the pessimistic UFC fan or media member, but with five of the six divisions involved in these fights virtually stagnant, the combined risk of these three fights seems lower than that of McGregor fighting Alvarez. The rewards, from a promotional standpoint, are plenty.
While superfights can create divisional logjams or dilute the amount of event headliners, these three champion-versus-champion fights create the rare circumstance where the rewards undoubtedly outweigh risks and put the UFC in a position to roll the dice to create one of their most intriguing cards ever without a great degree of long-term damage to these divisions.