The Wayne Gretzky of hockey photography
If you're a hockey fan, you've almost certainly seen his work. Bruce Bennett, otherwise known as the "Wayne Gretzky of hockey photography", recently sat down with TSN.ca to discuss his famous career and his new book Hockey's Greatest Photos, The Bruce Bennett Collection.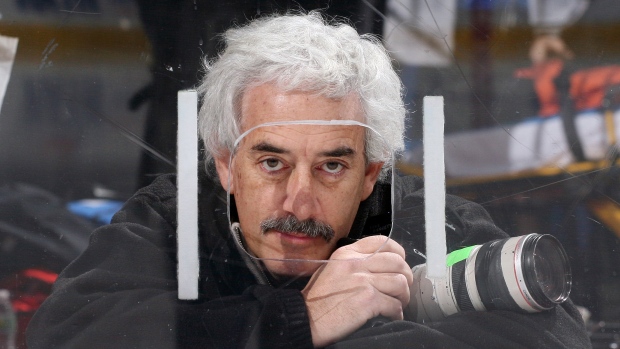 If you're a hockey fan, you've almost certainly seen his work.
The Montreal Canadiens hoisting Bob Gainey, with the Stanley Cup in hand, at The Forum in 1979. Lanny McDonald resting his head, eyes closed, against Lord Stanley's Mug after the Calgary Flames beat the Habs in the 1989 final. New York Islanders superstar Mike Bossy and his fiery stick taken in the bowels of Nassau Coliseum in 1980.
All are legendary and memorable hockey photos taken by one man and his camera – Bruce Bennett.
Bennett, also known as the "Wayne Gretzky of hockey photography," has been shooting the sport for more than 40 years and is a household name in the hockey community with a reputation for being the best in the business.
"There's nothing better than going to a hockey game and being alone in your own thoughts," Bennett told TSN.ca during a recent promotional tour for his new book, Hockey's Greatest Photos, The Bruce Bennett Collection.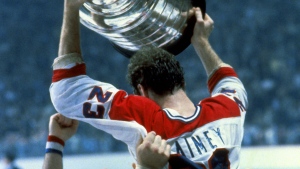 Bennett, 60, got his start with The Hockey News in 1974, photographing games in New York of the Rangers and his beloved Islanders. The New York native would quickly create his own company called Bruce Bennett Studios and was hired in 2004 by Getty Images as the Director of Photography, Hockey Imagery.
In the early days, Bennett quickly found out he had to separate his emotions from the team when he was shooting. It was a tough task considering the Isles won four straight Cups from 1980-83.
"I was just starting to learn that an important part being a professional and being good at your craft was to suppress all those emotions inside," he said. "You're still there to do a job and if you let your emotions get in the way you're not going to be successful."
Keeping an arm's length away from players off the ice was also key for Bennett over his career. Unlike in today's media world, journalists in the 1970s and '80s regularly spent time away from the rink in settings more personal than media scrums. While others were grabbing dinner and drinks with athletes, Bennett remained on an island, all for editorial integrity.
"If one player is going to club another player like he's a baby seal, I need to be able to send that picture out," Bennett said. "I don't need to think in my head, 'Well I don't want to hurt this guy's reputation.' I need to cover the game with complete editorial integrity. I really have kept my distance."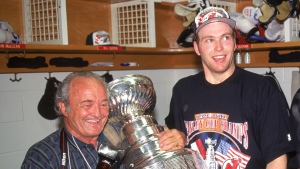 However, there were a couple players Bennett developed friendships with. Gretzky and Martin Brodeur wrote forwards in his book, as Bennett was there to capture some of the most memorable moments of their careers.
Bennett was in Springfield, Mass., in 1979 during the last days of the World Hockey Association to capture a snapshot of a young Gretzky (cover of book) awaiting the hordes of media about to interview him. Three years later, Bennett was at Buffalo's Memorial Auditorium when "The Great One" potted his 77th goal of the year to beat Phil Esposito's single-season record. He was also at Madison Square Garden in 1999 to cap it all off as Gretzky waved goodbye to the NHL in the final game of his career.
"Wayne Gretzky was a guy who was interesting because he was fun to shoot and a part of it was he was such a challenge to shoot," Bennett said. "There was a lot of time he and Mario Lemieux would float a lot and they'd sail through the centre ice zone waiting for outlet passes and it really didn't make for a good photograph. But where they excelled and where they were fun to shoot is when they'd be around the net. Those guys were so fast. Trying to keep up with them it was like the thrill of the chase."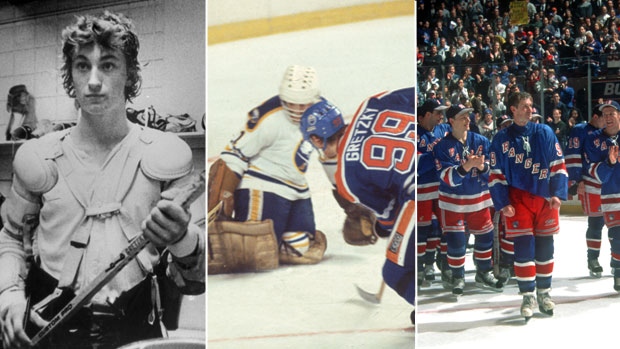 Bennett was good friends with Brodeur's father, Denis, who was the team photographer for the Canadiens. The pair first met while covering the Summer Olympics in 1976 and would regularly hang out when Bennett made his trips to The Forum. Denis introduced Bruce to an eight-year-old Martin in 1980.
"You don't find people like that. Down to earth, with what they have and all they've accomplished. They're such genuinely decent human beings," said Bennett, who remained buddies with Denis until Brodeur's death in 2014.
Bruce Bennett's Stats (As of July 1, 2015)
| Type of Game | Total Games |
| --- | --- |
| Regular Season/Playoffs | 4376 |
| Preseason | 275 |
| All-Star games | 26 |
| Stanley Cup deciding games | 35 |
| Winter Classic | 1 |
| Total NHL Games Shot | 4678 |
| Olympic Games | 180 |
| WHA Games | 8 |
| Old-Timer Games | 22 |
| Minor, Juniors, College Games | 50 |
| International Tournament Games | 197 |
| Memorial Cup Finals | 1 |
| Total Games Shot | 5136 |
Bennett has shot over 5,000 hockey games in his career, including 35 Stanley Cup deciding games and 180 contests at the Olympics. With over two million photos to choose from, Bennett said it was extremely difficult to decide on the final 250 for his book.
"I think the perfect sports photo would be one that combines dejection and celebration in the same photo," explained Bennett. "Another thing people don't tend to think about in sports photography is the players' eyes. If you don't see the players' eyes chances are it's not going to be that compelling of an image. There's one of Scott Stevens and another of Mark Messier [in the book] and you just look at those eyes and you go "Oh, that guy scares me just looking at the eyes."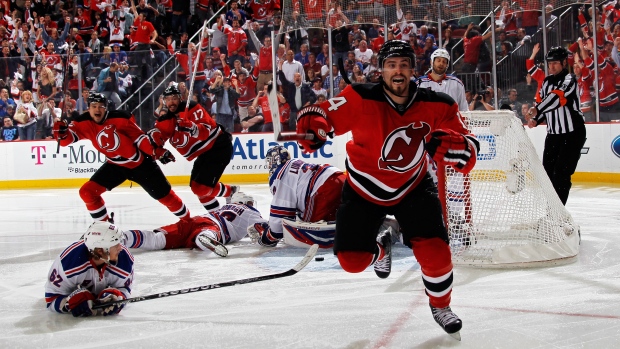 The husband and father of two has seen a lot over the years from ice level, including trash talking, players dogging it and even the odd injury mishap of his own. A few decades ago, photographers were pretty vulnerable as they shot a lot of their photos from the unprotected penalty box.
Bennett remembers one instance when he was hit in the stomach from a slap shot at MSG.
"I'm lying on the ground and I'm looking up at that distinctive Madison Square Garden roof and two heads pop over the boards and it's [officials] Leon Stickle and Ray Scapinello," explained Bennett. "Stickle says, 'The girl in the front row wants to know if your date is still on for tonight?' I couldn't breathe and Scapinello said, 'Try to fart…if you can fart, that means you're okay.' I've loved those guys ever since."
Bennett still shoots up to four or five games a week in the New York and New Jersey area and isn't thinking about giving up the craft anytime soon. He's even thinking about creating a second book down the road featuring some of the impressive work by his fellow photographers at Getty Images.
"I'm still enjoying it and for the most part physically capable," said Bennett. "It's a little tough getting up in the morning sometimes, but I'm still physically capable of doing the job and being successful at it."
A Picture Is Worth 1,000 Words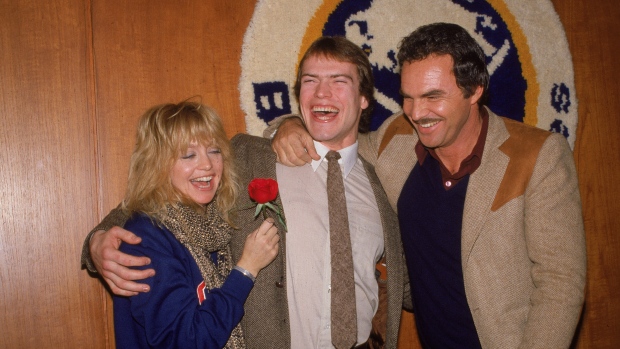 "That's when Wayne Gretzky broke the record in Buffalo (goals in a season). Time Magazine sent me up to shoot which is odd. Got a nice shot (which is in the book) of Gretzky scoring and afterwards they had this little party in the Buffalo Sabres club and Goldie Hawn and Burt Reynolds showed up and Mark Messier (and Gretzky) had photos with them. That kind of stuff is fun because you never know how people are going to react. You don't want the standard shot where they're just holding on each other looking at the camera. You want to see a little emotion in it. Messier was always good for the emotion." - Bruce Bennett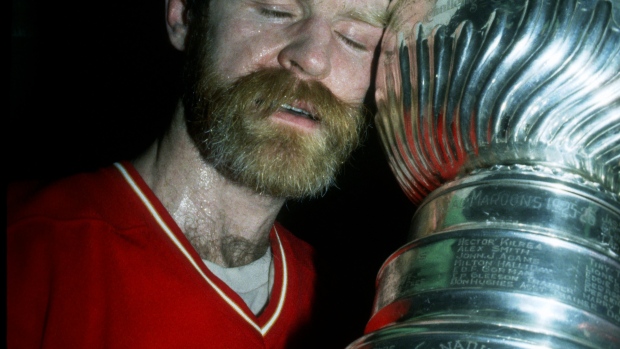 "In this case Lanny McDonald was right in front of me. I guess he was in front of me because I pushed my way to the front of the pack, which you have to do when you have a crowded locker room. Most of these locker rooms are complete chaos. He rested his head on the Cup with his eyes closed and I shot a few frames then he stepped back for a second and leaned back into the Cup. You know how hard it is to sell a picture of a guy with his eyes closed? A guy works his whole, his whole career to get to that point and this was his dream realized. It really says a lot about the Stanley Cup and what the players go through to be successful." - Bruce Bennett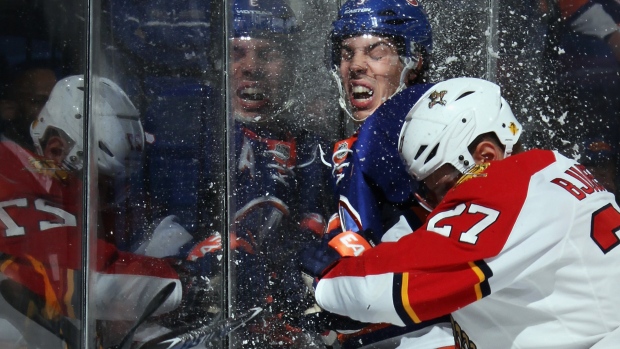 "I didn't realize I had anything all that special here until ESPN.com tweeted it out with a tagline that said "Photo of the year? Getty's @Bruce_Bennett may have it." This image, with the flying ice chips and the reflections in the glass, helped illustrate the advantages of digital photography." - Bruce Bennett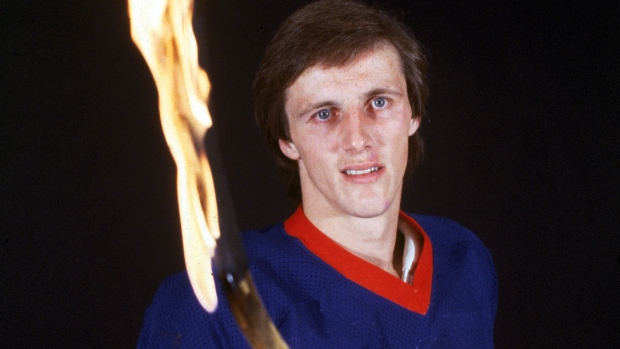 "This photo shoot, commissioned by The Hockey News, was shot in a small studio in the bowels of the arena. I'd practiced the primitive fire technique at home, which basically involved stapling cotton onto the edge of a hockey stick and dipping it in kerosene. Mike Bossy was really good about it. The flame didn't come anywhere near him, and I got off six to eight shots until the fire went out - although we also set off the arena's fire alarm." - Bruce Bennett