This is the DeMar DeRozan season that we've been waiting on
This is the DeMar DeRozan season that everyone to ever root for DeMar DeRozan has been waiting on.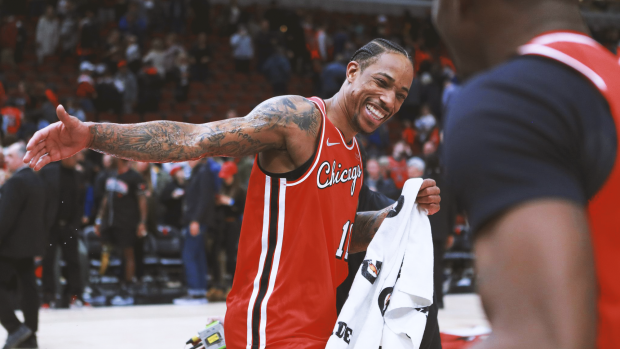 This is the DeMar DeRozan season that everyone to ever root for DeMar DeRozan has been waiting on. This is his midrange opus, his bag talk season, his year to get every shot he wants and make every shot he takes. If you were to rewind a few years to his time in Toronto or even any point last season with the San Antonio Spurs, it would be wild to think that right now, at age 32, DeRozan would be at the high point of his career. He's averaging a career-best 28.0 points per game and leading the Chicago Bulls as a player deserving of at least peripheral MVP consideration. His 50-point game on Thursday — the second of his career — almost felt like it was inevitable at some point, with how he's been shooting the ball this season. This has been a season that I didn't know if I would ever see DeRozan have, and one I never knew I wanted to see this much.
For almost all of his career, DeRozan's game has been talked about like an existential crisis. The idea was that he took too many shots in the midrange to lead a team in the playoffs, and he doesn't shoot threes well or often enough to play without the ball in his hands. That ignores some of the context, which is that DeRozan ran into LeBron James year after year in the playoffs — a problem shared by almost every other title hopeful in the league over the last decade or so. By this point, DeRozan was established, beyond doubt, as a very good player as well as an All-Star multiple times over. There was still room to wonder if he would ever break through to the next level, that superstar strata of the NBA that really drives championships, and it became a little more doubtful as the years ticked past. The trade to the Spurs felt like a referendum on DeRozan's career, and maybe unfairly so, but Kawhi Leonard is Kawhi Leonard while DeRozan was DeRozan.
Maybe we should've seen it coming that he would age this well. DeRozan plays like an old head of the game, all footwork and fakes to get to his spot. He's the Compton kid turned Kobe Bryant acolyte, a hooper through and through. Over the years, he's added more muscle to incorporate some back-to-the-basket bully-ball against smaller players. That makes all the difference with his sort of ground game, where any extra inches gained can determine what is and isn't a high-percentage shot — and right now, we'll note, his percentages are as high as ever. There are few more reliable fourth-quarter closers in basketball right now than DeRozan, and he has the portfolio of game-winners and clutch-time scores this season to show for it.
When the Bulls signed DeRozan to a three-year, $82 million contract last year, the fit was fairly questionable. Zach LaVine was coming off a year of ridiculous shot-making as the Bulls' unquestioned alpha, and Chicago had also traded for Nikola Vucevic to run some of their offense through the post. Where does a 32-year-old DeRozan belong in this hierarchy? Can he meaningfully elevate his teammates, or will they just cannibalize each others' place in the offense? These are the same questions that have always defined DeRozan's career. They faded fast, when the Bulls came out as one of the best teams in the East to begin the year.
DeRozan is thriving alongside LaVine in a your-turn, my-turn offense, where either player can take over if defenses shift too far towards the other. It hasn't been an either-or, but a system of mutualism; LaVine is averaging 24.7 points himself, on similar usage and efficiency numbers to DeRozan. Still, there's the general acknowledgment that DeRozan has become the Bulls' go-to player when it counts, and this was the case more or less from the start of the season. LaVine is the Bulls' incumbent star, but it makes sense that he would cede some of the spotlight. DeRozan has always had the fourth-quarter cred while LaVine stays dangerous even without the ball in his hands, and also, have you seen the season that DeRozan is having?
The next challenge for DeRozan is going to be replicating this sort of success in the playoffs. This has been the part that has always been so elusive for him, even with the LeBron caveat. In the past, his game was inflexible against playoff defenses — just a repeating cycle of long twos bricked and then taken again. The past was a long time ago. When teams zero in on DeRozan and LaVine in the playoffs, can the Bulls adjust?
We have some red flags already, because the Bulls have struggled against teams with good records this season and won just six of their 15 games in March. You can poke some holes in their roster construction, and midseason injuries to Lonzo Ball and Alex Caruso were crippling. (Ball remains out with a knee injury, while Caruso returned in March.) Those two are disruptive at the point of attack and instinctive in the passing lanes, compensating for middling or poor defensive players across other positions; on offense, they grease the wheels without needing the ball in their hands. They're the Bulls' connective tissue, indispensable in that sense. Nikola Vucevic is also still finding his fit, mostly playing off DeRozan and LaVine but rarely the focal point in this new pecking order. He's versatile enough to conform to new roles, but being able to play through the post is going to be a needed change of pace against playoff defenses.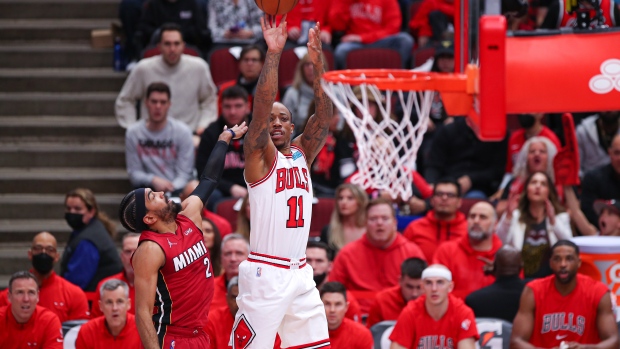 You hope that DeRozan can be successful in the playoffs, at least. He's always made it easy to like him, to want the best for him. In every stop of his career, teammates have testified to the fact that he's been a real one through and through, great in all senses of culture and community. In Toronto, he established a winner that runs through to the present day; in San Antonio, he never once complained as the team leaned into a youth movement. Just ask Fred VanVleet, Pascal Siakam or Dejounte Murray about DeRozan. He's paid it forward to younger players at every opportunity and has wanted nothing more than to hold it down in every career circumstance he's been in so far.
To see DeRozan have a season like this, back in the forefront, is a luxury, something we were never sure we could after all the time that has passed. How differently would we have remembered his career if he never played on this level? DeRozan has rewritten everything this year. Finally, it feels like he gets to be the player he was always on the cusp of being.