Thompson, Olynyk headline Canada's WC qualifying roster
Cleveland's Tristan Thompson and Miami's Kelly Olynyk are among the six NBA players on Canadian coach Roy Rana's training camp roster for next week's FIBA World Cup qualifying game against Brazil.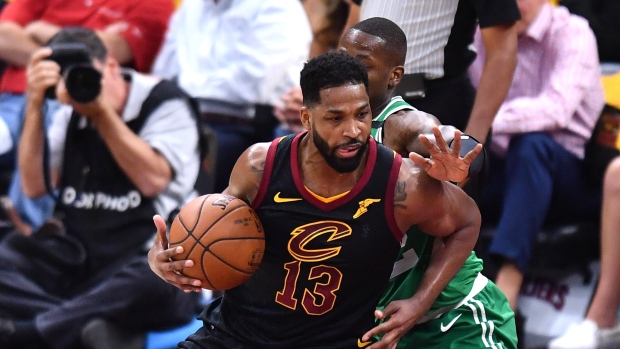 TORONTO — Canadian men's basketball coach Roy Rana will gather a "unique blend" of players, including a half dozen from the NBA, for training camp ahead of Canada's FIBA World Cup qualifying game versus Brazil.
Cleveland's Tristan Thompson, Miami's Kelly Olynyk, Dillon Brooks (Memphis Grizzlies), Cory Joseph (Indiana Pacers), and Khem Birch and Justin Jackson (Orlando Magic) are the six NBA players who will be in camp when it opens Thursday in Montreal.
"Obviously it'll be a unique blend of NBA guys, guys who are just starting their career, some U Sports kids, some guys who are just starting their NBA careers," Rana said. "It's nice to see our community continue to build and represent."
Canada, which went 5-1 through the first round of qualifying, faces Brazil on Sept. 13 in Laval, Que.
Rana, also the Ryerson Rams' coach, takes over head coaching duties from Jay Triano for the September, November and February qualifying windows. Rana, Triano and Gord Herbert split the job in the first round of qualifying, coaching two games each.
"None of this has ever been a goal of mine, I just want to do whatever we have to do to qualify," Rana said. "If that means I have to step up and help, I'll give it my best shot. I don't know if it's a personal goal or more a goal of all of us. I've lived with these kids since they were very, very young. We've been dreaming this dream together and for me to get a chance to lead is pretty special."
Canada, the Dominican Republic (4-2) and the U.S. Virgin Islands (2-4) were the top three teams in Group D in the first round, while Brazil (5-1), Venezuela (5-1), and Chile (1-5) were the top three teams in Group B. Those six teams formed Group F with records carrying over.
Canada will travel to Chile on Sept. 17. The next window sees Canada play at Venezuela on Nov. 30 and Brazil on Dec. 3. Canada will host Chile on Feb. 21 and Venezuela on Feb. 24.
"As the FIBA Basketball World Cup 2019 Americas qualifiers continue, the program depth we've been building over the years will be crucial for the success of our team," said Rowan Barrett, the assistant GM of the senior men's program. "September's games are an important step for Canada as we work towards our goal of qualifying for the FIBA Basketball World Cup 2019."
From the second round of qualifying, the three highest-placed teams from each group and the best fourth-placed team between Group E and Group F clinch berths in the FIBA Basketball World Cup in China, Aug. 31-Sept. 15, 2019.
A record 32 countries will play in the FIBA World Cup, which is the main qualifying event for the 2020 Tokyo Olympics.
———
Roster:
Joel Anthony, Montreal, San Lorenzo Basket (Argentina); Trae Bell-Haynes, Toronto, Fraport Skyliners (Germany); Aaron Best, Toronto, Raptors 905 (G-League); Khem Birch, Montreal, Orlando Magic; Dillon Brooks, Mississauga, Ont., Memphis Grizzlies; Manny Diressa, Toronto, KK FMP (Serbia); Melvin Ejim, Toronto, BC UNICS (Russia); Joel Friesen, Abbotsford, B.C., London Lightning (NBL Canada); Brady Heslip, Burlington, Ont., Fraport Skyliners (Germany); Justin Jackson, Toronto, Orlando Magic; Cory Joseph, Toronto, Ont., Indiana Pacers; Kaza Kajami-Keane, Ajax, Ont., Landstede Zwolle (Netherlands); Kyle Landry, Calgary, Alta., Buducnost (Montenegro); Duane Notice, Woodbridge, Ont., BM Slam Stal (Poland); Kelly Olynyk, Kamloops, B.C., Miami Heat; Kevin Pangos, Newmarket, Ont., FC Barcelona Lassa (Spain); Dyshawn Pierre, Whitby, Ont., Banco di Srd (Italy); Tristan Thompson, Brampton, Ont., Cleveland Cavaliers.