Three and Out: Mariota's debut a sign of things to come?
Each week, TSN.ca Fantasy Editor Scott Cullen and NFL Editors Ben Fisher and Mike Hetherington discuss three hot fantasy football topics. This week they discuss Marcus Mariota's outlook, DeMarco Murray's possible timeshare, and James Jones return to Green Bay.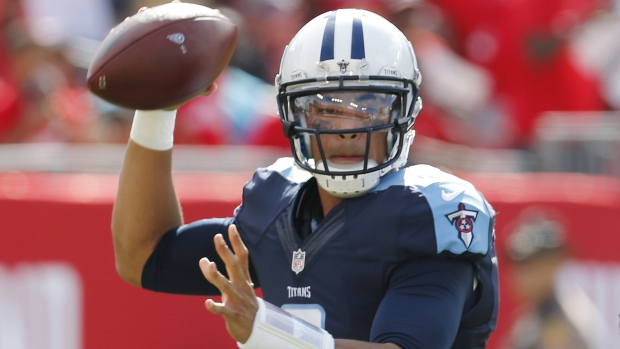 Each week, TSN.ca Fantasy Editor Scott Cullen and NFL Editors Ben Fisher and Mike Hetherington discuss three hot fantasy football topics.
1) Can Marcus Mariota follow up his impressive debut in Week 2 against another weak defence (CLE)? Is he worth considering starting this year?
Cullen: Going against Cleveland, I'd like Mariota's chances, though I'm hesitant enough that I wouldn't rank him among the top dozen quarterbacks this week, even with that matchup. I could see at some point this season that I might have enough confidence in Mariota to start but, in a single-quarterback league, I couldn't do it after one week.
Fisher: I'm still not buying Mariota as a viable QB1 in fantasy this year. While the Browns were one of the worst defences overall last year in terms of yardage – and didn't look great against the Jets last week – they actually held up well against the pass (224.5 yards against per game/eighth) and in scoring (21.1 points against per game/ninth) so don't expect Mariota's Week 2 numbers to mirror his debut.
Most prognosticators ranked Mariota as a low-end QB2 to start the season and I still doubt he'll finish the year much higher than that.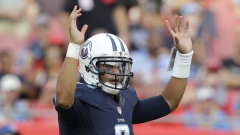 Hetherington: I think Mariota will be able to put together a solid performance this week, but I don't expect him to repeat his Week 1 magic against the stronger secondary of the Browns. Facing Pro Bowlers in Joe Haden, Tashaun Gipson, Donte Whitner, Mariota is unlikely to be able to put a perfect passer rating, but a two touchdown day is certainly achievable. I also expect Mariota to use his legs more this week as the Browns provide tighter coverage on his passing options. He rushed for just six yards in his debut.
For the season, I think Mariota can flirt around mid-tier QB2 numbers. He's a matchup-based/bye week starter, but I would not commit to him as my QB1 option. That said, if he's available he should scooped up. The Oregon product could be a sell-high option when bye weeks come around.
2) DeMarco Murray had the same amount of touches as Darren Sproles with Ryan Mathews also figuring in on Philly's offence. Are the Eagles the new RB rotation to avoid?
Cullen: I'd worry about Murray's touches, to some degree, but I still think he's going to be a big part of what could be a prolific offence. You're certainly not cutting Murray, so the takeaway for me is more that Sproles and potentially Mathews are running backs that could provide value even if they aren't starting.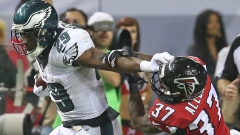 Fisher: The bigger concern for Murray owners should be how lackluster the Eagles' offence looked with Sam Bradford under centre.
While Darren Sproles has proven time and again he's a solid change of pace option that deserves touches, I can't imagine the Eagles spent $40 million on last year's leading rusher just to platoon him with two backs better suited as backups. Plus isn't Ryan Mathews first injury of the season just around the corner?
I'd stick with Murray for the time being but for him to hit his projections, Bradford and the Eagles' offence is going to have to look more lethal than they did against the Falcons in Week 1.
Hetherington: It's hard to believe, but last year's leading rusher has become just another back based on his usage in Chip Kelly's system. Yes, he posted two touchdowns against the Falcons, but without those scores he would have finished with just two points in non-PPR leagues.
Despite his lacklustre debut, Murray is a must-start running back as he faces his old team, the Dallas Cowboys, in Week 2. If Murray can break out against the Cowboys, it may go a long way for his future touches under Kelly. Murray is far from the safe start he was last year, but even with his new basement-level floor, the ceiling is still sky-high for the 27-year-old.
3) Does James Jones' seven years in the Packers' offence make him a better play than Davante Adams?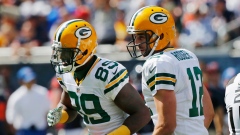 Cullen: In terms of overall production, I still like Adams, who was targeted twice as often as Jones in Week One, but I think Jones has Aaron Rodgers' trust in the red zone (thanks to a 14-touchdown season in 2012) and that makes Jones a valuable fantasy pickup -- especially for a guy who couldn't crack the Giants lineup out of training camp.
Fisher: Jones caused a lot of concern for Davante Adams owners, and maybe even a little for Randall Cobb owners, but I think it was just a big week for the veteran receiver, not a sign of things to come.
They both caught four passes but Adams was still targeted twice as much (eight to four). Jones isn't 2013 Joseph Fauria - half his targets won't come in the end zone moving forward, and Adams' extra looks will eventually lead to more points.
Any FAAB dollars spent on Jones won't be wasted – everyone in the Packers' offence should be owned – but Adams will prove to be the better player over the course of the year.
Hetherington: I'm not ready to put Jones ahead of Adams in my rankings, but he certainly closed the gap on Sunday. Adams remains the starter opposite Cobb in two-wide receiver sets, but Jones saw plenty of playing time in the oft-used three-wide sets in Week 1. In the high-scoring offence of the Packers, Jones has become a legitimate threat to put up WR2 stats, while I'm starting to doubt Adams' chances to be a low-end WR1. Adams owns more upside down the stretch but, suddenly, Jones is back on the fantasy radar.