Three and Out: Should you be starting Sanchez?
Each week, TSN.ca Fantasy Editor Scott Cullen and NFL Editors Ben Fisher and Mike Hetherington discuss three hot fantasy football topics. This week they discuss Mark Sanchez's potential as a QB1, who the best rookie receiver in fantasy is, and if Darren Sproles can be trusted as a RB2.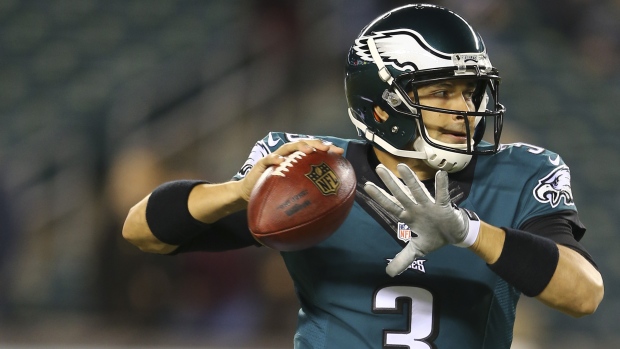 Each week, TSN.ca Fantasy Editor Scott Cullen and NFL Editors Ben Fisher and Mike Hetherington discuss three hot fantasy football topics.
Some preseason predictions had Nick Foles as a Top 10 QB. Can Mark Sanchez be that QB1 for the Eagles down the stretch?
Cullen: Call me a skeptic, but I'm not a believer in Sanchez. I know, he looked good against Carolina and he's just a piece of the machine that is Chip Kelly's offense in Philadelphia, but after such uneven performances from his Jets days, I would need to see at least a few more games from Sanchez to make me a believer that he's worthy of a Top 10 or 12 QB spot.
Fisher: I don't think Sanchez will ever be a Top 10 QB in real life but he has a really good chance to be one in fantasy, at least for the final six weeks of the (fantasy) season. We may have overestimated Foles' value after his strong 2013 but that's what Chip Kelly's offence does to players, and something Sanchez is the beneficiary of now. Combined with his solid training camp and preseason, and his very encouraging performances the past two weeks, I would have Sanchez in my starting lineup until further notice.
Hetherington: Sanchez's Monday night performance was very impressive, but relying on Sanchez as your QB1 is not an advisable strategy. I see Sanchez more as a top-end QB2, simply because Sanchez is likely to have letdown games mixed in with his strong performances. I have a hard time forgetting the Mark Sanchez we saw with the Jets less than two years ago.
After a number of big games by rookie receivers recently, which first year pass catcher is your favourite for the stretch run?
Cullen: With 249 yards and three touchdowns over the past two weeks, I'm putting my investment behind Tampa Bay's Mike Evans. At 6-foot-5, he's a matchup nightmare for defensive backs and the Bucs are just scratching the surface with Evans. It's an impressive group, if we include Kelvin Benjamin, Sammy Watkins and Brandin Cooks as other top wideouts, but Evans holds the highest ceiling.
Fisher: Offensive Rookie of the Year is probably between Kelvin Benjamin and Sammy Watkins at this point and while Benjamin was one of the few players I hit on in preseason predictions, I'm changing my answer now to Martavis Bryant. The fourth-round rookie, activated partway through the year, has yet to play in a game and not score a touchdown. That obviously won't last but Bryant is now a starter and go-to red zone option in a suddenly very potent Steelers offence.
Hetherington: I've been a major advocate of Kelvin Benjamin since the draft and, despite the Panthers struggles, I'll stick with him. However, Jordan Matthews, Brandin Cooks, Mike Evans, Sammy Watkins and Odell Beckham have all emerged as safe fantasy plays each week. Of those five, I expect Matthews to have the biggest run down the stretch playing with Mark Sanchez. John Brown of the Cardinals and Davante Adams of the Packers are both rookies to watch down the stretch.
Now back to full health, is Darren Sproles an RB2?
Cullen: One way to ease any pressure on Sanchez is to give the running backs a bigger role and the Eagles have been at their best when Sproles is a factor in the Philadelphia attack. Odds are against getting more return touchdowns (since he has two already), but Sproles has averaged about 62 yards from scrimmage in games that he's played, with four rushing/receiving touchdowns in eight games. That's enough to earn low-end RB2 status going forward.
Fisher: Nope. I'm big on consistency in fantasy football and Sproles doesn't offer that. Sproles will probably finish the year in the Top 20 in scoring by running backs but he still offers far too many duds to be considered a lock as a starter. He'll win you a few weeks sure, but he'll lose you more. Unless you're in a weird rotisserie football league, keep Sproles on the bench as a bye week/injury fill-in and hope the week he subs in is the week he goes off.
Hetherington: Sproles' pass-catching ability makes him a low-end RB2 in regular leagues, but a high-end RB2 in PPR leagues. With the Jets, Mark Sanchez had his running backs heavily involved in the passing game through check downs and screens. I expect Sproles be the member of the Eagles offence who benefits most from Sanchez under centre. He is a safe RB2 play.