Three Man Weave: Best and worst case for Russell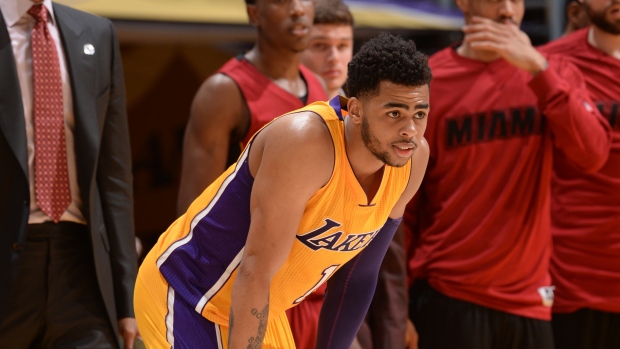 As the calendar flips to April, don't be fooled: March's Madness is still upon us with NCAA Final Four in the air and the NBA regular season finish line well in view.

Will Strickland and Duane Watson, hosts of TSN 1050's #1On1 with Will & Duane, along with National Basketball League of Canada's Content and Social Media bawse Audley Stephenson, start to hone their championship level quill games to give you the best in hoops News, Views and Truths in this week's episode of Three Man Weave!
What is the best/worst case scenario in the D'Angelo Russell debacle?

Watson: Best Case: Nick Young forgives him and tells the Lakers to get over it and move on. Worst Case: Isn't really that bad. Not a comparison to Kobe, but Bryant hasn't had a career of being a buddy to guys in the locker room. If Russell is ostracized, his on court performance will still keep him in play. He is too good of a young talent to be traded away over this misstep.

Stephenson: The Lakers situation is a complete mess. This is rather unfortunate considering that our attention should be focused on the illustrious playing career of Kobe Bryant as it comes to a close. If the reports of Russell's teammates not wanting to have breakfast with him are true, then it sounds like the overall trust level is in question. While many are speculating that Russell will be traded, I'm not convinced that will actually happen. The Lakers are in rebuilding mode and their current roster is loaded with young pups who will make a lot more mistakes and learn a bunch of lessons along the way. This will be one of them. Everyone is making a big deal about the "Bro Code" being broken, but Nick Young and the Lakers have said all the right things publicly in terms of addressing the matter with the rookie internally and I think that's as far as it goes. The job will now be on D'Angelo to not waver in the face of public backlash, fight through the criticism and negativity that will be thrown his way and perform on the court.

Strickland: Best case is that the transgression doesn't hinder this kid's career, despite being outside the Lakers' Circle of Locker Room Trust currently. In ways, it may not even matter as a great majority of that roster, including Nick Young, won't be getting bi-weekly checks signed by Jim Buss next season and Russell is set as a key cog in the potential rebirth of Lakers. Worst case is that no one remembers how to forget and young D'Angelo gets stuck for the duration of his career with the dreaded snitch jacket. This act poisons perceptions of him as well as his chance to recover that trust in any locker room in the league. Extreme? Maybe. Plausible? Absolutely.

How significant is a 50-win season for the Raptors?

Watson: Quite. They are the last NBA franchise to join the 50-win club. That threshold is an indicator of a top class club and the progressive growth of the franchise. It's a testament to how this team has played this season: second in the conference, two All-Stars and continually finding ways to win.

Stephenson: It's huge considering they are only one of five teams in the NBA to reach the milestone in a year where teams like Golden State and San Antonio are having special seasons themselves. Coming into the campaign, DeMarre Carroll was supposed to be a big part of what the Raps wanted to accomplish, but he's missed a ton of games due to injury. Having Kyle Lowry's name included in the conversation for league MVP is really cool to hear as well, so I would say that it's pretty significant. But, as we all know, it all comes down to what you do in the playoffs and I don't think Raps are quite ready to pop champagne bottles given the team's track record in the post season.

Strickland: Historically significant. It's never happened before in Toronto and they are the final organization to have climbed the 50-win season mountain. Under the steady hand of GM Masai Ujiri and guidance of head coach Dwane Casey, the pillars of stability, identity and culture are tenets of sustainability for a franchise that has broken its team wins record each of the past three seasons. The future seems bright in #The6ix, especially if bolstered by a trip beyond the first round of the playoffs.

If Jamal Murray is not projected at a Top 3-5 pick in the 2016 NBA Draft, should he return to Kentucky?

Watson: Murray has been projected as a one-and-done player since before he set foot in Lexington, Kentucky. He's a top five pick, but at worst a lottery pick who will have a lengthy career in the NBA. There's no turning back for the Kitchener, Ontario native.

Stephenson: Preaching patience to a young player isn't an easy thing, but I think returning to Kentucky for another year of seasoning and an opportunity to improve would be a good thing for Jamal if he's not predicted to go as high as he'd like. Having said that, it ultimately comes down to what Jamal wants for himself and the decision is his to make. Regardless of where he's scheduled to land, the dynamic guard will be a lottery pick and will have a chance to chase his NBA dream. How many players can say that?

Strickland: Negative. Big checks and bigger dreams await! The worst kept secret before Murray's toes touched the Bluegrass State is that he was one-and-done. Everyone knows the University of Kentucky men's basketball team under John Calipari is just a rest haven for pros!

Is Yao Ming a no-brainer first ballot Hall of Fame inductee?

Watson: Yao has been inducted as part of a Direct Elect International Committee vote, not through the traditional North American Committee that likely will elect Shaquille O'Neal and Allen Iverson, among others. Yao's impact on the game in Asia is unparalleled, but injuries cut short his NBA career. Based on those merits, he would not get my first ballot vote.

Stephenson: Absolutely! When you look at his overall impact, how he's helped to grow the game internationally plus you add what he continues to do in his post-playing career, I don't see how he's not. We often talk about what Michael Jordan has done for the game globally and I think Ming's impact is on that level. The Great Wall went from being a virtual unheard of player on draft night in 2002 to an international household name almost overnight. Congrats Yao!

Strickland: Understanding that Halls Of Fame are not necessarily 'Halls Of Achievement,' then yes, the big man who opened up China and further globalized this beautiful game is a first ballot inductee. Being fast tracked by the International Committee's Direct Elect process as well as an eight-time All-Star in his nine seasons in the Association didn't hurt his candidacy, either, though his body of work on the court is spectacularly unimpressive in comparison to other greats gracing the Hall. There was a fascination with Yao because his size, his homeland and distinctive matchups with Shaquille O'Neal. His contributions to the game far exceed the 94' x 50' slabs of hardwood in arenas across North America.

Only four teams left. Who plays in the NCAA Championship game on Monday?

Watson: In the battle of the No. 2 seeds in Oklahoma and Villanova, there's no reason not to expect anything but a close game. However, the difference maker will be the talent that is Buddy Hield, who has risen to new levels in the tournament. Hield dropped 37 points in the Elite Eight game to carry the Sooners past the top ranked Oregon Ducks, and 'Nova's Josh Hart will have his hands full on Saturday night. I'm shattering Cinderella's glass slipper here. Syracuse's zone defence has stifled many teams in March, but North Carolina has the answers (and the size) and will be able to score when needed. The Orange are playing outside of themselves right now; the Tar Heels are just playing.

Stephenson: I got Villanova and North Carolina hooking up on Monday night with Nova taking it all. Take that with a grain of salt, though. My bracket was busted weeks ago!!!

Strickland: Hate to see either Jay Wright's lack of NBA talent-laden Villanova Wildcats or Lon Kruger's experienced veteran Oklahoma Sooners lose to one another. But, A Man Named Buddy has been magnificent during the entire tournament and should prevail to play Monday night. And in the Violators Bracket, the tradition and pedigree of UNC under The Dag Gummit King, Roy Williams should maul Joe Boeheim's scrappy, overachieving, lack of institutional control Syracuse Orangemen in their quest for 'One Shining Moment'.
Audley Stephenson @TheAudman can be found a-hippin' and hoppin' because he won't stop rockin' to the bang bang boogie while Duane Watson and Will Strickland continue to ply their hoops commentary trade in Advanced Mic Sciences every Saturday, 3pm ET during #1On1 with Will & Duane, only on TSN 1050 and TSN.ca.