Three summer bargains delivering real value
There are at least three players who signed one-year contracts last summer and are crushing it for their respective teams. Sam Gagner, Matt Irwin and Vernon Fiddler are making their general managers look like geniuses so far, Travis Yost writes.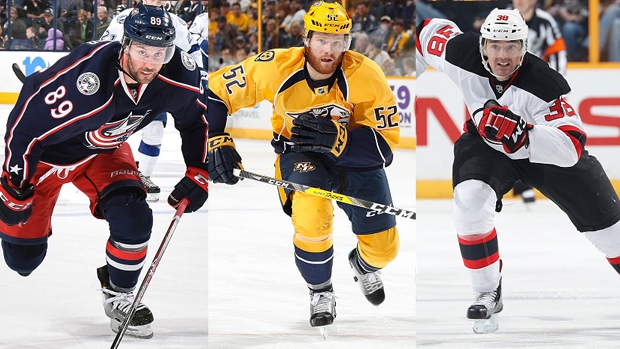 Last week, I used this space to show some love to what I figured to be one of the better value signings of the off-season – Calgary grabbing goaltender Chad Johnson for just $1.7 million on a one-year deal.
Looking through the contracts signed last summer, it dawned on me that Johnson wasn't the only player over-delivering on a team-friendly contract. In fact, I counted at least three other players who signed one-year deals and were crushing it for their respective teams. The contracts come in at around $1 million, which is truly the epitome of NHL bargain shopping.
So, which teams made the right bets? Here are three guys who are making their general managers look like geniuses so far:
Sam Gagner, Columbus Blue Jackets (one year, $1 million)
The Sam Gagner career arc has been fascinating. He entered the league with pseudo-phenom status and delivered 49 points in his rookie season. But, to this day, Gagner's never been able to match the point totals he posted way back in 2007-08. He's been looked at as a disappointment for as long as he's bounced around the league, never living up to his lofty draft status or the lofty contractual expectations foist on him by general managers who remained bullish despite some obvious warning signs.
At some point, even an overvalued asset will become an undervalued one. That's exactly what happened with Gagner. A reasonably young guy who once carried annual salaries of $4.4 and $5.0 million (twice!) could only find work for essentially the league minimum, signing with the Blue Jackets on a one-year, $1-million deal.
He has been worth every penny.
Gagner is never going to be a shutdown defensive player, but for $1 million, you don't really need him to be. The Blue Jackets were betting on him providing a bit of scoring depth for a team that was hit-or-miss in the goal column. Gagner has delivered, with 10 goals and seven assists in 23 games played.
How does that stack up? Well, on a rate (per-60) basis, Gagner's been the fifth most productive goal scorer in the league – only the names Michael Grabner, Sidney Crosby, Rickard Rakell, and David Pastrnak have him beat at 5-on-5.
While it's fair to say that Gagner is enjoying a bit of scoring fortune this year (his team is shooting 9.3 per cent at even strength with him out there this year, which is well above league norms), it's just as fair to say that there's reason to be bullish about what the next 50 games look like. He's generating more shots than ever before, and John Tortorella's letting his ice-time creep forward as the season progresses.
Gagner's delivering and in a big way. All it took, it seems, was some much-needed calibration for all involved parties.
Matt Irwin, Nashville Predators (one year, $575,000)
I'm mildly partial to Matt Irwin's inclusion here since I recommended him (over, and over) as a smart and assuredly cheap depth blueline option for teams this summer.
But the numbers speak for themselves.
At the surface, it's probably the scoring in limited minutes that's appeased Predators fans – his 5-on-5 scoring on a rate-basis is eighth best in the NHL, sandwiched right between the likes of Andrei Markov and Erik Karlsson. That's pretty good company for a guy making considerably less.
But the piece that really drives home the value Irwin is providing is that the Predators simply seem to be a better team when he's on the ice, and that's true whether you are looking at the goals, the scoring chances, or the shots.

Coach Peter Laviolette has played Irwin with both Yannick Weber and Roman Josi – the latter two have played really well together in spot minutes. That's exactly what you're looking for when you sign a guy who figures to be your six or seventh defender on a really deep blueline – you want to be able to plug-and-play a guy and not worry about if he's going to crater your team for 15 minutes or so a night.
It's fair to argue Irwin's providing more than that. Those kinds of numbers make it really difficult to take a guy out of a lineup, mostly because it's really hard to drive play as a third-pairing guy when you're often playing with the weaker of the forward groups.
Vernon Fiddler, New Jersey Devils (one year, $1.25 million)
Vern Fiddler's game is pretty simple: He's a shutdown centre in an era where few exist. It's tough for a player like Fiddler to cash in on another contract without being able to provide much offence, but his underlying numbers are exactly the type of reason why even a player with a single certifiable strength can still add real incremental value to his team.
If you are head coach John Hynes, you give Fiddler a basic set of goals – keep the other team off of the scoreboard, maybe occasionally force tough competition into playing some shifts in their defensive third, and give my top-line a much-needed breather.
It's hard to say Fiddler hasn't delivered. I compiled a list of the 15 forwards who have seen some of the toughest deployment (all of whom have started 40 per cent or more of their shifts in the defensive zone) and their associated RelativeCorsi%, which captures the impact a player makes (positive or negative) on his team's fight to win the shot battle. Here's what that list looks like: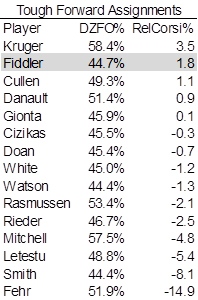 If I'm Fiddler, I'm looking at this and grinning. Not only is he getting brutal deployment, his team is about +1.8 per cent better from a shot differential measurement when he's on the ice. If you don't think that's quite the feat, just look at how many players who are similarly situated are getting their teeth kicked in on the shot clock. Fiddler isn't just keeping the other team out of the scoring areas – he's beating them back into their defensive zone. For $1.25 million, that's worth an awful lot.
There you have it – three players providing a hell of a lot more value than the combined $3 million they are earning. Kudos to them and kudos to their general managers for making the right bets at the right time.