Tiger says his playing career could be over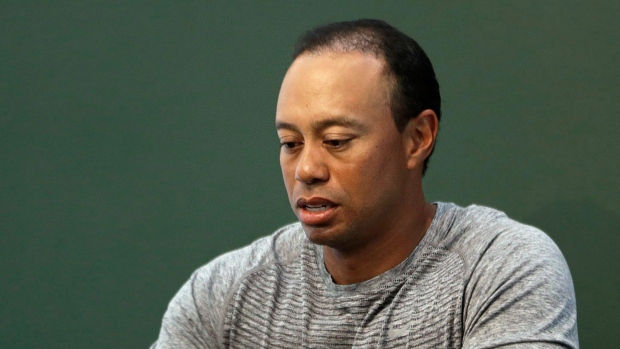 JERSEY CITY, N.J. – The last time Tiger Woods hit a shot in competitive play was in February at the Dubai Desert Classic, when he tapped in for a first-round 77 before withdrawing with back pain. And, according to the 14-time major champion, that may possibly have been his final round, too.
On Wednesday, Woods, who went under the knife for a fourth back surgery in April, admitted there is a chance his playing career could be over.
"I don't know what my future holds for me," he admitted during a press conference at the Presidents Cup where he's serving as a captain's assistant for the U.S. team.
Now before anyone thinks the guy who will turn 42 on Dec. 30 is about to go quietly into the retirement home or join the mall walkers, it should be pointed out that he's working out twice a day and still looked fit and strong as he sat alongside fellow assistants Jim Furyk, Davis Love III and Fred Couples.
Woods has been in recovery mode since the spinal fusion procedure and wasn't sure he'd even be able to serve as an assistant to captain Steve Stricker. Riding around in a bumpy cart all day wasn't on his rehab plan, but he recovered enough in the last few weeks to assume the same role he did at last year's Ryder Cup.
"I'm very optimistic how I'm progressing," he stated. "Like I said, the pain's gone, but I don't know what my golfing body is going to be like, because I haven't hit a golf shot yet."
Actually, Woods has hit golf shots; just not full ones. He's been putting and recently got the OK to flop a few wedges. As to when he advances beyond that, only his doctor knows.
"My timetable is based on what my surgeon said," Woods said. "As I alluded to last week, I'm hitting 60-yard shots."
Just to point out his frustration at still having a governor on his swing, he added: "I'm hitting it really straight."
Woods knows the recovery routine too well by now. He's been in it for much of the past three years. Surgery, rehab. . . repeat. It's forced him to the sidelines for extended stretches and he's managed just two complete rounds on the PGA Tour in the last two years. His last win was four years ago, and it's closing in on a decade since he last won a major.
If he's learned anything about trying to come back, it's that it's a slow, agonizing, boring process but one that simply can't be rushed. And returning to golf is a step on that road that comes after simply being able to live a normal life.
"I've been out of the game for a while," said Woods. "First thing's first: Get my health organized. Make sure the pain goes away. Then, basically, just as I said, just keep waiting for what my surgeon says. I've given you guys the updates on what I can do as I progress, and that's all I'm doing.
"I'm still training. I'm getting stronger. But I certainly don't have my golf muscles trained because obviously I'm not doing anything golf related."
Being in and around the competitive atmosphere of the Presidents Cup is no doubt stirring the juices for Woods. While he's forbidden from making a swing, it's easy to see he loves being back with the boys and back inside the ropes, even if it is in a cart with an earpiece. It's his comfort zone, his community.
Whether he can make his way back into that arena with a full swing that strikes a ball may not be known for some time. He believes he can get there, but for the first time he seems to realize he may be coming to the end of his fairway.