Time to talk about the Flyers' goaltending again
Philadelphia's strong possession numbers have been undone by weak performances between the pipes so far this season, Travis Yost writes.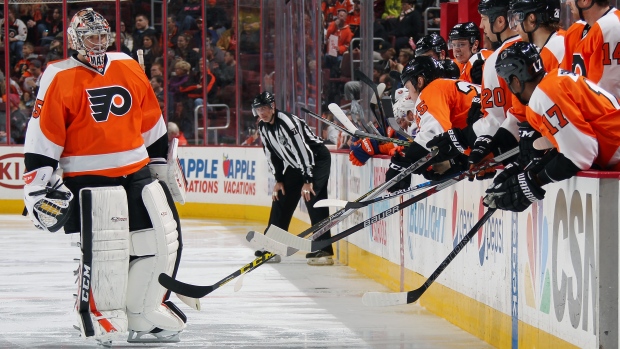 One of the primary drivers behind the success of the Philadelphia Flyers one season ago was, surprisingly, strength between the pipes. Dave Hakstol's team conceded just 126 goals at 5-on-5 (sixth best in the NHL) despite a high volume of shots against. I think there was a fair argument to be made at season's end that the Steve Mason/Michal Neuvirth combination was worthy of team MVP honors.
The goaltending uptick has been a peculiar strength of the Flyers for a few years now. Ever since the Mason era began, the Flyers – an organization often victimized by substandard netminding in the past – have enjoyed a reasonable advantage over competitors.
In the past three seasons, the Flyers have stopped 92.9 per cent of the shots they have faced at even-strength, a number only bested by the likes of the New York Rangers, Boston Bruins and Los Angeles Kings. That kind of goaltending advantage has meant a lot of additional goals in Philadelphia's pocket – and a good handful of wins above expectations.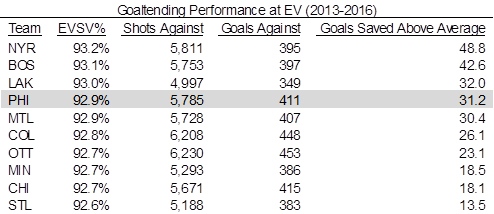 It's interesting that a team like Philadelphia is sandwiched between the Rangers and Canadiens, two organizations that have seen an awful lot of games played by all-world puck stoppers like Henrik Lundqvist and Carey Price. My guess is that the Philadelphia market knows the positive goaltending story quite well, but it hasn't made headlines across the league.
This season looks substantially different than years past. All caveats regarding small sample sizes still apply, but the Flyers' goaltending has struggled mightily so far this year. It's probably one of the big reasons why – even as the league's seventh best possession team at 52.5 per cent – they haven't made big gains in the Metropolitan Division.
In 13 games this season, the Flyers have already conceded 32 goals, which is good enough for dead last in the NHL. And, as implied above, it's not because the team's getting buried on the shot clock – they're outshooting teams most nights. From a defensive perspective, the Flyers are only allowing 27 shots against per-60 minutes, good enough for sixth best in the NHL.
It's the goaltending that's disintegrated. Philadelphia goaltenders have stopped just 88.4 per cent of shots this year at 5-on-5, which puts them dead last in the league. Goaltending in prior seasons has been a position of strength (see above) and has saved them real, meaningful goals, but the opposite is true in 2016-17.
Here's what this season looks like, the table below showing the bottom 10 teams across the league: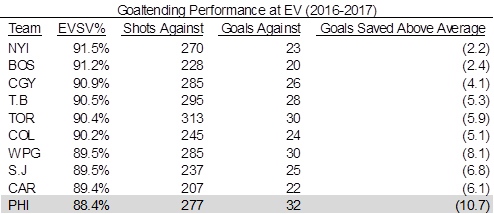 How would one read this? Well, if Philadelphia had received league-average goaltending this year, the actual number of goals they would have conceded year-to-date would be 21, or about 11 less than the 32 they have actually given up. Considering they have only played 13 games (and just over 600 minutes at 5-on-5), that's an awfully big negative, especially when you forecast what that differential would look like over a full 82-game season.
If you're Hakstol, you're scratching your head at this one and hoping the Mason/Neuvirth combination is just playing through a rough stretch (and it must be noted, both have struggled in the action they have seen this year), and that the next 67 games will look a lot like what the Flyers experienced in years past.
Otherwise, the Flyers – despite looking like a pretty impressive skating team – are going to be frequently chasing on the scoreboard, a position that most successful teams actively try to avoid.