Timeline: Halladay's path to Cooperstown
From his early struggles to becoming one of the most dominant pitchers in baseball, TSN.ca takes a look back at the Hall of Fame career of Roy Halladay.
Allan Perkins, TSN.ca Staff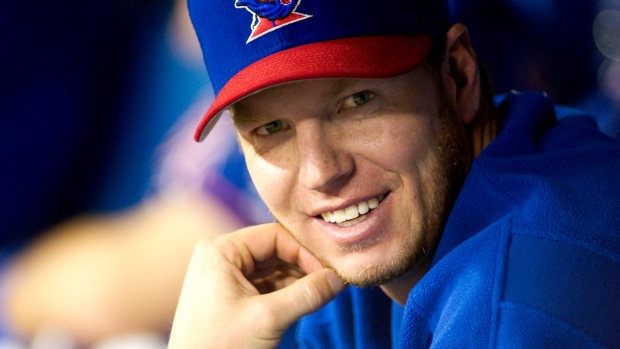 Roy Halladay is headed to the Baseball Hall of Fame.
Halladay was given the nod to Cooperstown Tuesday with 85.4 per cent of the vote, joining Harold Baines, Lee Smith, Mariano Rivera, Mike Mussina and Edgar Martinez to make up the class of 2019.
Over the course of his 16-year career split between the Toronto Blue Jays and Philadelphia Phillies, Halladay was a two-time Cy Young Award winner and eight-time All-Star. He was among the most dominant pitchers in baseball for nearly a decade and was a shining light in one of the darkest eras in Blue Jays history. Following his tragic death in a plane crash just over a year ago, the baseball world lamented not only how great 'Doc' was on the mound, but in the clubhouse as well. From his struggles early on all the way to superstardom, TSN.ca takes a look back at the remarkable career of Roy Halladay.
Starting strong
When Halladay's parents were looking for a house in the Denver area, they made sure the basement was big enough for their son to throw off a makeshift mound they'd built, Sports Illustrated's Tom Verducci wrote in 2010. Once they found a place with the right dimensions, Halladay was able to grow up crafting a delivery to go along with his towering frame that eventually turned him into one of the top pitching prospects on the high school circuit.
As a first-round pick by the Blue Jays in the 1995 MLB Draft, expectations started out high for Halladay. After his first week in the big leagues, they were extraordinary.
In just his second career start, Halladay completely shut down the Detroit Tigers, taking a no-hitter game into the ninth inning. Gabe Kapler led off the ninth with a lineout to left and Paul Bako grounded weakly to second for out No. 2. The only thing standing between Halladay and history was pinch-hitter Bobby Higginson. But Halladay's first offering caught too much of the plate and Higginson took it the opposite way for a home run that stunned the SkyDome crowd. He then made quick work of the next hitter to end the ballgame and pick up his first major league win. Heartbreak aside, Halladay was making a name for himself fast.
It continued into the next year, going 8-7 with an earned run average of 3.92 in 149.1 innings pitched, especially impressive for a young pitcher at the height of the steroid era. But it didn't last.
Reinventing himself
Despite his impressive sophomore season, Halladay struggled with control at times. He finished the 1999 season with just 82 strikeouts compared to 79 walks and according to advanced metrics, Halladay's 3.92 ERA was drastically lower than it could have been.
The wheels came off the next year. In 2000 he had a 10.64 ERA, which was the worst in history for any pitcher with at least 50 innings pitched. His 42 walks were almost identical to the 44 strikeouts he accumulated in 67.2 innings. It was clear Halladay needed to be fixed, so he was demoted to Class-A Dunedin to start the 2001 season.
Then-pitching coach Mel Queen rebuilt the 6-foot-6 right-hander, changing his delivery from an over-the-top arm slot to a three-quarter angle to give him more sink, movement and command.
It worked.
He returned to the big leagues later that season and looked like a completely different pitcher, going 5-3 with an ERA of 3.16 in 16 starts. His walk rate plummeted and his strikeouts jumped thanks to his re-tooled delivery. But it was just the beginning.
Shining bright in Toronto
Halladay continued the momentum from his bounce-back season in 2002, going 19-7 with a 2.93 ERA in a league-leading 239.1 innings and he was named an All-Star for the first time in his career. The year after he was even better, winning a league-high 22 games over a career-high 266.0 innings and was rewarded with the Cy Young Award. His season was highlighted by a 10-inning shutout of the Detroit Tigers which the first by a starter since Jack Morris' historic effort in Game 7 of the 1991 World Series.
"Doc could have pitched until tomorrow," catcher Kevin Cash said of Halladay's masterful outing.
Injuries slowed him down in each of the next two seasons. He battled shoulder problems in 2004 and suffered a broken leg off a line drive from Texas' Kevin Mench the year after, ending what could have been another Cy Young season just before the All-Star Break.
He was back with a vengeance in 2006 and would go on to record six straight seasons of at least 220.0 innings pitched and an ERA of 3.71 or lower. During that stretch, Halladay went 109-49 with 46 complete games and a strikeout-to-walk ratio of 5.09. In 2009, Sports Illustrated named him one of five pitchers in the starting rotation of their all-decade team.
"He was a surgeon. He didn't just strike out people because that meant he needed at least three pitches to get rid of them," TSN contributor Michael Farber told SportsCentre in 2017. "In Roy Halladay's perfect world he would have gotten rid of them with one."
New team, same results
Halladay won a lot of games for the Blue Jays. The rest of the team didn't.
Despite a few winning seasons, the club finished second or higher in the American League East only once during his tenure in Toronto. After a 75-87 season in 2009 – their 16th consecutive year missing the playoffs – the writing was on the wall. Later that December, Halladay was traded to Philadelphia for minor leaguers Travis d'Arnaud, Kyle Drabek and Michael Taylor.
It didn't take him long to make an impression with the Phillies.
On May 29, Halladay took the mound against the Florida Marlins and was dialed in from the opening pitch. Through eight, he was perfect. Remember: the last time Halladay was this close to immortality, he lost it with two outs in the ninth. Not this time. Halladay got Ronny Paulino to ground out to third base and record the 20th perfect game in MLB history.
But it might not have been his best outing of the year. On Oct. 6, Halladay no-hit the Cincinnati Reds in the opening game of the National League Division Series – and his first postseason game no less. He joined Don Larson as the only pitcher to ever throw a playoff no-hitter.
Coming back home
Halladay was as good as ever during his first two seasons in Philly, winning the Cy Young Award for the second time in his career in 2010, but he started to show signs of slowing down in 2012. Two years to the day after his perfect game, he was placed on the disabled list for the first time since 2009 with a shoulder strain. He made just 25 starts that year, his lowest total since 2005.
Things never really got better.
Halladay had another shoulder procedure in 2013 and walked off the mound for the final time during a start in September after just three batters because of arm fatigue.
On Dec. 9, Halladay signed a one-day contract with the Blue Jays to announce his retirement.
"Playing in Toronto was very unique. It was a unique experience that a lot of players will never get so I was very fortunate to spend a lot of time here and I loved it," Halladay said.
Three and a half years after his retirement, he was inducted into the Canadian Baseball Hall of Fame alongside Montreal Expos great Vladimir Guerrero.
"Canada and Toronto has really become a second home for me and I absolutely love the time that I've spent here," Halladay said. "It's a tremendous honour to be recognized by a place that is so warm in my heart."
Legacy
Halladay – whose father was a pilot – developed a passion for recreational flying following his retirement. His enthusiasm for flying was evident to anyone who followed him on social media.
In October of 2017, Halladay tweeted several pictures of his ICON A5, a small two-seater plane he described as having the feel of a fighter jet. Tragically, it was the same plane he would lose his life in about a month later.
Halladay was killed at the age of 40 when his plane crashed into the Gulf of Mexico off the coast of Pasco, Fla. ICON released a statement following the crash saying they were "devastated" to learn of his passing.
His no. 32 was retired by the Blue Jays in an emotional ceremony on Opening Day last season. The Jays wore a patch on their jersey all of last season commemorating their fallen ace.
"You will always be able to Google 'Roy Halladay' and see all his stats, all of his accomplishments and all of his awards. But what you can't Google is his heart, his grace, his kindness, his caring for others, his generosity or his love for his family," said former teammate and close friend Chris Carpenter at a memorial not long after Halladay's death.
"He was elite in the game when he was pitching here so from a manager's standpoint the biggest decision was when do you take him out?" manager John Gibbons said last year. "That was always a battle. It was never a good feeling walking one the mount in case he looked at you like: 'What are you doing?'"
"He was a bulldog," TSN Baseball Insider Steve Phillips told SportsCentre in 2017. "He was a guy that when he started the game he wanted to finish what he started, the innings pitched every year. He was a guy that really we don't see much of anymore."
Halladay's place among teammates loved ones will last forever. Now, so will his plaque in Cooperstown.