Toffoli nets two as Kings blank 'Canes
Jonathan Quick made 40 saves in his 38th career shutout and Tyler Toffoli scored twice in the Los Angeles Kings' fourth consecutive victory, 3-0 over the Carolina Hurricanes on Friday night.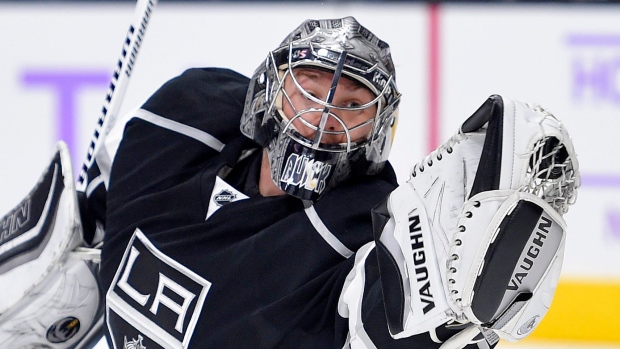 LOS ANGELES, Calif. - The Los Angeles Kings have reversed their awful start with a familiar combination from their Stanley Cup championship seasons: hard work, gritty scoring and spectacular goaltending.
Jonathan Quick made 40 saves in his 38th career shutout and Tyler Toffoli scored twice in the Kings' fourth consecutive victory, 3-0 over the Carolina Hurricanes on Friday night.
Anze Kopitar also scored and Milan Lucic had two assists for the Kings, who have followed that 0-3-0 start by allowing just three goals in four games.
"We're just playing harder and a little bit more desperate," Kopitar said. "We're progressing. We didn't start off very hot, and now we're building."
Quick was back in dominant form after a poor start to the season that mirrored the Kings' woes. The winningest goalie in franchise history has rebounded from his 0-3-0 start with two straight 2-1 victories and this shutout, his first since March 16.
Toffoli scored a goal in his career-best fourth consecutive game, getting a power-play score in the first period and a clincher on a pretty 2-on-1 rush with Lucic in the final minutes. He's tied for the NHL lead with six goals this season, while the rest of the Kings have seven combined.
"I try to find open ice and have an idea where (the puck) is going to go," said Toffoli, who is tied with Jamie Benn, Max Pacioretty and Zach Parise for the league lead in goals.
"I'm just trying to get better every night," Toffoli said. "Scoring goals is always fun, but we know we can still be better."
Cam Ward stopped 25 shots in a duel between Stanley Cup champion goalies and Conn Smythe Trophy winners.
The Hurricanes haven't won in Los Angeles since Dec. 8, 2005, and they dropped to 2-2-0 on the fourth stop of a seven-game transcontinental trip. Carolina has scored two goals in its last three games.
"We've got to get some of our higher-end skill guys involved offensively," Carolina coach Bill Peters said. "And in order to do that, you've got to get in the dirty areas to score. So we'll look at it and we'll try and come up with a better idea."
Toffoli added to his impressive start early on, ripping a shot through traffic for his fifth goal of the young season. It also was the Kings' third goal on the power play in two games after a 1-for-21 start to the season with the man advantage.
Brock McGinn hit Quick's post on a close-up shot late in the period, and the Hurricanes generated more scoring chances while putting 28 shots on net in the first two periods.
Carolina's power play went 0 for 4, adding to its 2-for-29 slump this season. The Canes eked out a 1-0 overtime win at Colorado two nights earlier, but couldn't win again with the same poor offensive production.
"It was the same type of effort, in terms of getting the pucks deep, using our speed and getting in on the forecheck," Carolina forward Nathan Gerbe said. "I thought we did those things well tonight, but we've got to score goals. We can't leave it up to our goalie every night."
After a scoreless second period, Kopitar increased the lead during 4-on-4 play when Carolina defenceman Ron Hainsey accidentally hand-cleared the puck directly to the Kings' star centre in the slot. Kopitar, Los Angeles' leading scorer in eight consecutive seasons, has only two points in the first six games.
Carolina forward Andrej Nestrasil limped to the dressing room in the second period and didn't return after taking a slap shot from Christian Ehrhoff on the inside of his leg.
NOTES: Before the game, the Kings put D Matt Greene on injured reserve retroactive to Oct. 13. He has missed the last four games with an upper-body injury. ... Carolina's trip continues Saturday in San Jose. ... After opening the season with six of seven at home, the Kings are headed out on a two-game road trip to Canada.