Tokarski gets the nod as Canadiens battle Rangers in playoff rematch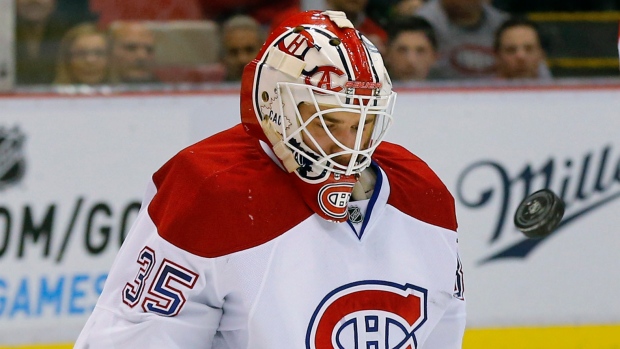 The New York Rangers are catching a break by avoiding a matchup with Carey Price - as they did for most of last season's Eastern Conference finals.
They're hoping it helps them at least temporarily halt the Montreal Canadiens' recent dominance in the regular-season series.
New York will try to avoid a 14th loss in 18 meetings tonight when it hosts Montreal.
You can listen to the action starting at 7pm et/4pm pt on TSN Radio 690 Montreal.
Price suffered a knee injury during a collision with Chris Kreider in Game 1 of the East finals between these teams, sidelining him for the rest of an eventual 4-2 series win for New York. Though Price gave up four goals on 20 shots, his absence was likely integral to the Rangers' victory.
He stopped 34 shots in a 3-1 home win over New York on Oct. 25 - the Canadiens' 13th in the last 17 regular-season matchups. Montreal (16-5-1) has outscored the Rangers 46-23 in that span with seven shutouts. Price has five of those shutouts and is 6-2-0 with a 0.87 goals-against average in his last eight regular-season starts against Montreal. However, Dustin Tokarski will start Sunday after Price made 33 saves in Saturday's 2-0 win at Boston, the club's eighth victory in nine games.
Tokarski is 3-1-0 with a 1.21 GAA in four starts this season and posted a 2.60 GAA for the playoff series versus New York.
The Rangers (8-7-4) were scheduled to play Friday at Buffalo but the game was postponed due to the severe storm in the area. They ended a three-game skid with Wednesday's 2-0 win over Philadelphia as Cam Talbot made 31 saves in his fourth start. Henrik Lundqvist, who posted a 2.15 GAA in the East finals, had given up five goals on 30 shots in Monday's 5-1 loss to Tampa Bay - New York's worst defeat of the season.
"To be able to come out today and provide a big win after what's been kind of a low stretch for us, it's pretty big," Talbot said.
Though Rick Nash scored his team-leading 13th goal, the Rangers are still slumping offensively with five goals in their last three games. Nash, who had three goals in the playoff series, is without a point in four straight regular-season games versus Montreal. Derick Brassard and Martin St. Louis, who are tied for second on the team with 15 points, have also struggled with Brassard going without a point in four straight regular-season meetings and St. Louis recording one point in his last five.
St. Louis does have six goals in his last nine games overall after scoring once in his first 10.
The Canadiens, who had goals Saturday by Andrei Markov and Tomas Plekanec with Brendan Gallagher assisting on each, have scored 29 goals in the wins during their 8-1-0 run. Saturday marked the fourth straight time they won while being outshot.
New York has made some strides on its power play, scoring Wednesday to move to 7 for 28 over the last nine games. The unit had two goals on its previous 28 chances.