Finau, McIlroy co-leaders at Canadian Open after three rounds
Tony Finau fired an 8-under 62 and Rory McIlroy had a clutch birdie on No. 15 to share the lead at the RBC Canadian Open.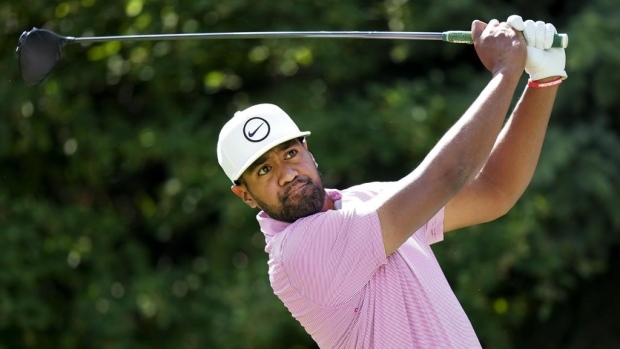 Toronto can feel like home for Tony Finau. He certainly knows the city's ins and outs.
The American fired an 8-under 62 and Rory McIlroy had a clutch birdie on No. 15 to share a two-shot lead at the Canadian Open after Saturday's third round. They were 11 under overall heading into the final round of the men's national golf championship.
Finau had the best round of the tournament on Saturday, rocketing up the leaderboard with seven birdies and an eagle at St. George's Golf and Country Club.
"I didn't finish the way I wanted to yesterday and I think all it did was kind of light a fire in my belly to get after it today," said Finau, who was tied for 16th at 3 under after two rounds. "That's pretty much what I did. I made some birdies and I just played really clean golf.
"Any time you're at the top of the leaderboard and have a chance to win on a Sunday on the PGA Tour it's exciting."
Finau played on the PGA Tour Canada in 2013 and said he had fond memories of driving across the country with fellow golfer J.J. Spaun.
"It's nice to be back in Canada," said Finau, who was paired with Spaun for the first two rounds of the tournament. "It does feel almost like a home game. I definitely get a lot of love from the fans, which is pretty amazing."
Finau dined at Hy's Steakhouse in downtown Toronto on Friday night and said he always enjoys the city's culture, including the music of Drake.
"Controlla is a song that I always go back to. It's just got, again just kind of a slower song, but I like Drake's style," said Finau. "That's probably the one that might be on repeat tomorrow morning."
McIlroy started the day in a five-way tie for second, but pulled away from the pack with six birdies en route to a round of 5-under 65.
His sixth came on No. 15, when the Northern Irishman recovered after overshooting the green. McIlroy said after the round that a gust of wind must have carried his approach shot too far but he saved par by chipping nearly 74 feet from beside a cart path to within nine feet of the hole for the relatively easy putt.
"It was one of those chips where I just sort of tried to land it on the green and let it trundle down close to the hole and try to hole a putt," said McIlroy. "Thankfully, I holed a nice putt there to get myself to 11 under."
Americans Justin Thomas (63), Sam Burns (65), Wyndham Clark (68), and Alex Smalley (67) were tied for third at 9 under. The weather forecast called for heavy rain and possible thunderstorms on Sunday, so the PGA Tour decided on a split start from the first and ninth tees with threesomes instead of pairings for the final round.
Burns, Clark, and Smalley would be the second last group, while Finau, McIlroy, and Thomas would be the final threesome around the course. Both groups were scheduled to tee off from No. 1.
"Feel like all aspects of my game are in pretty good shape, so just go out there and try and post a number and see if that's good enough," said McIlroy, who won the 2019 Canadian Open at Hamilton Golf and Country Club.
Nick Taylor of Abbotsford, B.C., shot a 3-under 67 to become the low Canadian at 5 under overall. No Canadian has won the national men's championship since Pat Fletcher accomplished the feat in 1954 at Vancouver's Point Grey Golf and Country Club.
Despite being six shots back, Taylor was hopeful he could close the gap and end the Canadian drought.
"It's such a jam-packed leaderboard and there's a stretch of holes where you can really get after it," said Taylor. "So if I'm kind of hanging around through No. 8 then I think I have a decent chance."
This report by The Canadian Press was first published June 11, 2022.