Top Scotties shots of all-time
Some of the best shots in the history of the Canadian championship have come with everything on the line. Here's a look at some of the best.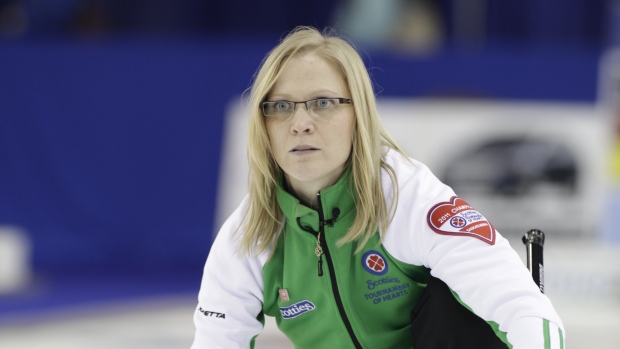 Some of the best shots in the history of the Canadian championship have come with everything on the line. Here's a look at some of the best.
---
2005 - Jennifer Jones' Hail Mary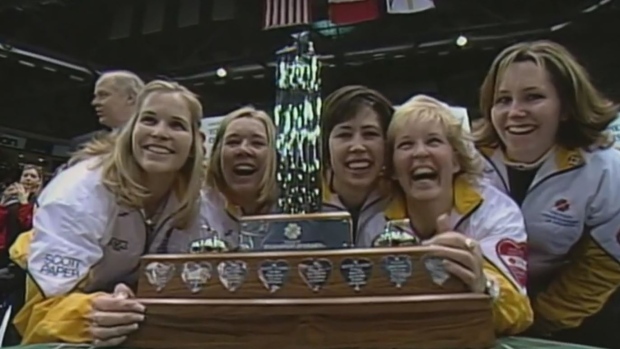 It probably didn't look promising from Jennifer Jones' point of view when she readied in the hack for the last shot of the 2005 Scotties Tournament of Hearts in St. John's, Nfld.
The 30-year-old skip was not having a good game up to that point in her first Scotties final, shooting less than 70 per cent. Jones and her rink out of the St. Vital Curling Club in Winnipeg were down 6-4 to Ontario's Jenn Hanna, facing a heavily buried stolen rock on the button.
There was only one possible way to get to it: an in-off takeout off another one of Hanna's stones just outside of the house on the upper left side.
"I just remember letting the rock go and thinking 'we're close, this is going to be close,' Jones told TSN.ca last season. "Then at the second hog line, I knew we were going to hit it where we wanted to and it was just a question whether I had enough weight to remove the rock from play."
Jones did have enough weight and knocked Hanna's stone out of play to score four and capture the Scotties title in one of the most surreal moments to happen on the pebbled ice.
"It was like this explosion of emotions inside. I dreamt as a kid just to play at a Scotties, never mind winning one," said Jones.
To this day, most will make the case this shot is the greatest in the history of the Scotties.
2011 - Amber Holland's perfect shot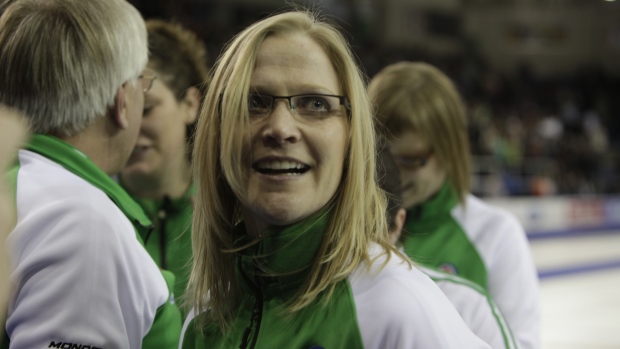 Most of the time highlight reel shots in curling include big weight, multiple rocks in play and impossible angles. However, every now and then you see a finesse shot that displays an entirely different set of skills.
In the 2011 Scotties Tournament of Hearts final, Saskatchewan's Amber Holland was in a tough situation in the sixth end. The prairie skip was trailing three-time defending champion Jennifer Jones by three points and needed to execute a perfect tap takeout or else the game could have been out of reach.
So, Holland needed to be light enough to draw through a small port, but also have the weight to tap Jones' rocks far enough to score three. Thanks to tremendous brush from the sweepers, Saskatchewan squeaked by an opposing rock sitting in the top 12 and had just enough eight to bump the shot rock to score three points and tie the game at 6-6.
"It's hard to describe," said TSN curling commentator Russ Howard. "We talk about doubles and triples, they look a lot more exciting, but to throw this 146 feet, this gets by the guard by nothing. Absolutely nothing. If it ticks the guard, they're four down, but to actually have enough speed to punch this back is just amazing."
Saskatchewan stole the winning point in the 10th end to stop Jones' Scotties reign and capture Saskatchewan's first Scotties title since 1997. If it wasn't for that beautiful tap in the sixth, none of it would have been possible.
2017 - Rachel Homan's Game Saver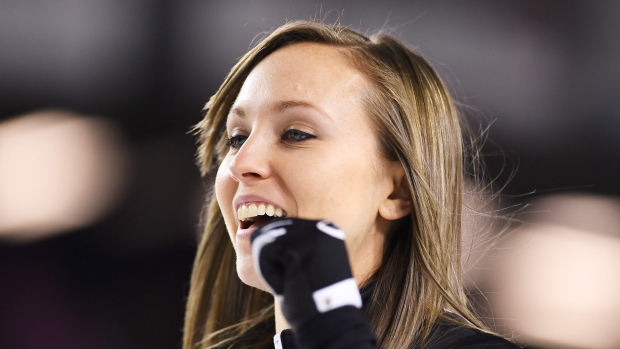 It wasn't a game winner, but it was definitely a game saver.
Rachel Homan and her team out of the Ottawa Curling Club were up two without hammer in the last end of the 2017 Scotties final from St. Catharines, Ont., but were in deep trouble with one last rock to throw. Homan's opponent, Michelle Englot of Manitoba, was in line to throw an open draw for three and the victory if Homan failed to clear two rocks out of the house.
Homan, who had already won two Scotties titles, who no stranger to big weight takeouts – in fact it's probably the best part of her game. However, this one was different. Accuracy was paramount as Homan needed to hit the first rock thin enough to make contact with the second rock and save her Scotties life. The shot was similar to Al Hackner's famous thin double from the 1985 Brier final, a shot that also forced an extra end.
"The team was nervous," Homan told TSN.ca last season. "I was pretty nervous. I realized in that moment we can lose it here."
With the help of sweepers Lisa Weagle and Joanne Courtney, Homan made the shot flawlessly, sending the crowd to their highest decibel of the week. Homan's father was maybe the most excited.
"I don't know if I saw it during the game or if just saw it after, but it was hilarious to see his reaction," Homan said of her Dad's celebration. "His emotions kind of say everything that we were feeling, but we were still in the game."
Homan made another tough shot in the 11th end – this time a raise takeout – to score two and win her third national championship.
1996 - Cheryl Bernard's showstopper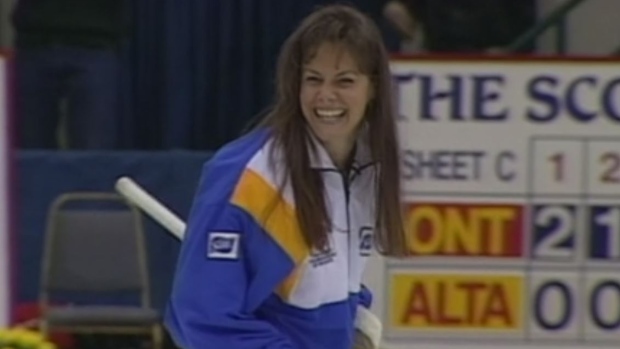 Cheryl Bernard's best performance at the Scotties Tournament of Hearts came in 1996 when she settled for silver after losing to Ontario's Marilyn Bodogh in the championship game.
And maybe her best shot came against Bodogh a few days earlier in the 1 vs. 2 page playoff. Down 3-0 in the third end, Bernard (then Cheryl Kullman) faced a messy house with almost every stone in play, needing a small miracle to avoid another steal and effectively losing the game.
Bernard came up clutch as she manoeuvred through three guards people executing a tough double takeout to score four and take a 4-3 advantage. The shot propelled Bernard's Alberta rink to a 12-7 victory and a spot in her first Scotties final.