Leafs' Kerfoot out indefinitely after surgery
Toronto Maple Leafs centre Alexander Kerfoot is out indefinitely after undergoing surgery to repair facial dental fractures, the team announced Friday.
Kristen Shilton, TSN Maple Leafs reporter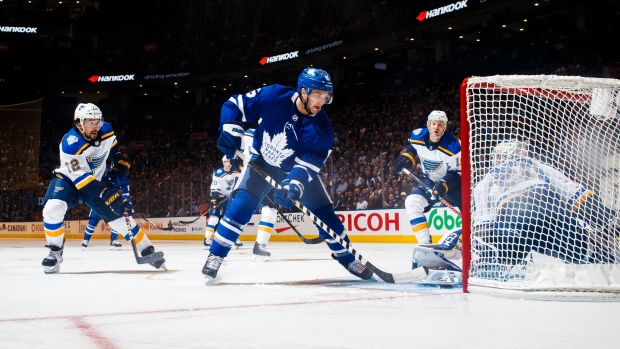 TORONTO – The Maple Leafs will be without Alexander Kerfoot indefinitely after the centre underwent surgery to repair facial dental fractures on Thursday, testing the Leafs' depth down the middle as Jason Spezza slides into a third-line role.
"His style of play and what he's meant for our team, the way he plays the game, the production he's brought, the responsibility at both ends of the ice – it's been crucial for us," Leafs captain John Tavares said of Kerfoot on Friday. "But we got a guy like Jason Spezza that's been around the block a few times. He's a great hockey player and he'll be ready to play and that's why we need depth and everyone collectively coming together."
Kerfoot originally suffered his injury on Nov. 5 against the Los Angeles Kings, taking a hard hit from Jeff Carter along the boards that briefly forced him out of the game. He said afterwards that his jaw was a bit sore but he had passed concussion protocol and felt fine.
He's skated in all four of Toronto's games since the incident, but complained of continued discomfort while the Leafs were in New York earlier this week. After playing 13:40 against the Islanders on Wednesday, the club's medical staff opted to have Kerfoot address the ongoing problem with surgery.
The 25-year-old has registered eight points (five goals, three assists) through 20 games to date this season, his first with the Leafs.
Kerfoot was traded from Colorado last July 1 with Tyson Barrie in exchange for Nazem Kadri, and head coach Mike Babcock said he's been "pleasantly surprised" by his addition.​
"We were happy [with Kerfoot's play], and then Carter got him there. And he'd been under some pain," said Babcock. "And obviously he didn't think it was enough pain, but when the pain wouldn't go away then we had to deal with it there yesterday."
Babcock didn't have a timeline for when Kerfoot might return, claiming he "didn't have the courage to ask."
Given all the injuries Toronto has dealt with this season, it's hard to blame him.
Kerfoot is just the latest in a string of key players to be sidelined, which includes Mitch Marner already sitting out at least the next four weeks with a high ankle sprain. Toronto just welcomed back Tavares on Nov. 2 from a seven-game absence spent nursing a broken finger, and saw Zach Hyman return from a seven-month long layoff following ACL surgery on Wednesday.
With the Boston Bruins on deck for Friday, the Leafs are counting on Spezza to help bolster them up front. The 17-year veteran has been a healthy scratch for 10 of the Leafs' first 20 games but is prepared to seize his opportunity, slotting into Kerfoot's spot between Ilya Mikheyev and Trevor Moore on the team's third line.
"I put the time in on the days that I'm not playing and I think that's important," Spezza said. "Doing a little extra, just trying to stay on [the ice] and keep moving. When you get a chance like this to play you have to be sharp. There's no way to stay sharp other than to be on the ice and that's what I'm always trying to do and now I'm gonna have a chance to play."
Babcock said the loss of Kerfoot will deprive Toronto of the physicality and "grease" he brings, something the club lacks in general. Addressing that void will require more of a team effort, starting immediately against the bruising Bruins.
Toronto has already lost three straight heading into Friday's game, and sits four points back of Boston in the Atlantic Division standings.
"I think we all have to play with a little bit of that [grit]," Tavares said. "You're fighting for ice; you're fighting for inches out there, fighting for the puck. So we all need that in our game and that's how you sustain momentum and roll line after line. We certainly have all that and everyone has just got to continue to bring more and collectively have all those efforts come together."
Maple Leafs projected lines against Boston
Johnsson-Matthews-Nylander
Hyman-Tavares-Kapanen
Mikheyev-Spezza-Moore
Petan-Shore-Gauthier
Rielly-Ceci
Muzzin-Barrie
Dermott-Holl
Andersen starts
Kaskisuo