Leafs preach patience as Ritchie finds his footing on top line
Four games into the 2021-22 season, new Maple Leafs winger Nick Ritchie is still looking for his first point, but the 25-year-old winger says he's "starting to feel pretty good" playing on Toronto's top line, Mark Masters writes.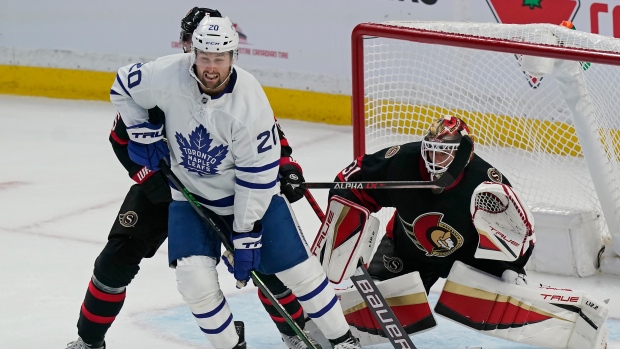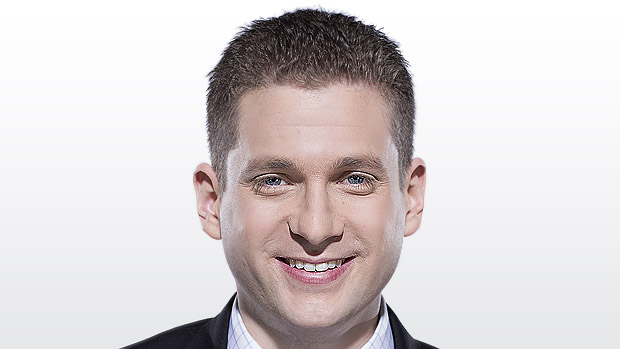 TSN Toronto Reporter Mark Masters reports on the Maple Leafs, who practised at Ford Performance Centre on Tuesday ahead of Friday's home game against the San Jose Sharks.
---
After a slow start with his new team, Nick Ritchie feels like his game is rounding into form.
"It's gotten progressively better," the 25-year-old winger said. "Starting to feel pretty good ... Just getting to know the guys I'm playing with and getting a little more O-zone time. The more you actually get to play games, it helps a lot."
But Ritchie is still looking for his first point and has only fired four shots on net in four games.
Ritchie has skated alongside Mitch Marner and Auston Matthews in five practices so far, but Monday night against the New York Rangers marked their first game together. John Tavares filled in as the top-line centre in the first three games.
"For a guy like Ritchie, you are playing on that line and you know you are going to have Auston and Mitch playing off of each other," coach Sheldon Keefe pointed out. "He is trying to find his place on the line and how that all works. That is going to take some time."
Marner and Matthews finished fourth and fifth in league scoring last season. They skate fast and they think the game even faster.
"They make a lot of good little plays," Ritchie observed. "It seems Mitchy finds him for that last shot and you saw that last night. [Auston] whistled a few one timers over the net. He'll get that dialled in and those will be going in soon."
Matthews produced eight shots on 16 attempts in his return from off-season wrist surgery.
Last season, Matthews and Marner played mostly with Zach Hyman, who grew up with them in the organization, and future Hall of Famer Joe Thornton. Ritchie, meanwhile, is still trying to establish himself as a top-six player in the league.
"He's adapted really quick to us," said Marner. "He's around that net. He's getting pucks back in the corners and stuff like that. He'll know where we are eventually. Obviously, that will take time. We're talking a lot. We're talking throughout practices and games, [telling him] where me and Auston are going to be, and he's good at those three-foot plays and finding us."
"We still got to work through our chemistry a little bit," Matthews acknowledged, "but I thought there were a lot of points in the game where we had really good control of the puck and made some good plays, created some good chances, and their goalie made some pretty good saves."
---
The Leafs have mustered just eight goals in four games. The team doesn't play again until Friday, which provides the coaching staff some time to address the issue.
"Part of what we did today is reflective of how the first four games have gone and trying to get some of our scoring going," Keefe said. "Something as simple as two-on-one execution is something we are talking a lot about, but haven't had a whole lot of time to commit to it. A day after a game like this is a good opportunity. You can't stress them and expect to push them too hard and be too competitive in terms of five-on-five situations, so a day like today is a good opportunity for that."
Toronto had plenty of glorious chances on Monday night but Rangers goalie Igor Shesterkin was locked in, making 40 saves.
"You can say what you want, 'Hot goalie,' whatever, but we have to make it harder on the goalie to see the puck and it's an area we looked at today," defenceman Jake Muzzin said.
"We generated a lot of very clean looks, but we don't want them to always be so clean," Keefe added. "We need other people to get around the net. We need to get some deflections."
The only goal that the Leafs scored on Monday came off a strong net drive by Michael Bunting, who deflected home a Morgan Rielly pass.
"We need to get loose pucks in and around the cage," Keefe said. "If you look at the type of goal that we did score last night, Bunts just drove the back post, we threw it in there, and good things happened for us. Sometimes, those are the types of things that need to go for you. If you look at the number of clean looks we had — the ones Auston had, Rielly on the rebound opportunity, Willy [Nylander] was in alone a couple of times — those are the types of things that are going to go in the net. But I look at the bigger picture and some of the things we can do to try to make life a little bit harder on the goalies."
Hometown kid is at it again!#LeafsForever pic.twitter.com/PwIZ74XfUT

— Toronto Maple Leafs (@MapleLeafs) October 19, 2021
---
Bunting has now scored in consecutive games.
"He just works every shift," Matthews said. "It doesn't matter who he's going up against, he just plays hard and competes, gets under guys skin. He's fun to have around the locker room. He's fun to watch on the ice. He's been a treat. Just getting to know him, awesome guy. I can't say enough good things about him."
Bunting fired five shots on net, recorded two hits and made the most of his 12 minutes and 25 seconds of ice time against the Rangers.
"He works hard," said Rielly. "He put a lot of effort in during the off-season and takes a lot of pride in the way he plays. For him to come in and skate and compete and battle and score goals, it's a great sign. We're all really happy for him. The attitude he brings into the rink every day is just one you want to be around and when you're able to add people like that, it makes your group better in plenty of ways. So, I'm very happy for him. I think all of Scarborough is proud of him by the sounds of things."
Bunting, 26, grew up in Toronto and admired the feisty play of Darcy Tucker. Apparently the feeling is mutual. The former Leaf tweeted about Bunting following Saturday's game:
So #58 I like it 👍

— Darcy Tucker (@16DarcyTucker) October 17, 2021
"That was definitely pretty cool," Bunting said. "He played a long time in the NHL. He got those greasy goals and he worked hard and he wasn't afraid of pretty much anyone out there so if I can play like that and play my game and have that secondary scoring, that'd be great."
---
Tuesday's practice started with a shootout drill and, again, Rasmus Sandin stole the show pulling off a nice move to score on Jack Campbell.
"He's got a lot of nifty moves in him," Marner said. "He's a quick little player, and makes some nice, tight moves."
Rasmus Sandin loves the shootout @BarDown pic.twitter.com/fEjlyhmU6K

— Mark Masters (@markhmasters) October 19, 2021
Sandin also scored a beautiful shootout goal during the Blue-White Game in training camp.
"He always has some moves that you don't expect, especially from a defenceman," said goalie Michael Hutchinson, who also played with Sandin in the AHL. "He's a little bit shifty. He has his one go-to move and then he has a few variations off of that move that keeps you on your toes. He's very good at adapting so, as a goalie, if he thinks you're cheating one way he'll call an audible and make you look a little bit ridiculous out there."
The Leafs boast some high-end offensive talent, but Sandin is moving up the depth chart when it comes to shootout options.
"He is, for sure," Keefe confirmed. "He and Rielly had two of our best goals today. They're options for sure."
---
After the shootout and one more drill, Campbell departed the ice.
"Simply managing his workload," Keefe explained. "It was going to be a very heavy day today for goaltenders in terms of the number of shots and type of shots that were coming. We didn't think it was necessary for him to go through that. He did a goalie session [before] practice and then we got him out of here. It is a day off tomorrow and then he will get back to it after that."
With Petr Mrazek sidelined by a groin injury, Campbell appeared in all four games during the first week of the season.
"It's nice to get a lot of games early," Campbell said after Monday's overtime loss. "It'd be nicer to get the two points, but [my] body's feeling great."
The Leafs play on Friday at home to San Jose and on Saturday in Pittsburgh. Keefe confirmed that Hutchinson will start one of those games.
---
After blocking a shot off his foot on Monday night, winger Ondrej Kase missed practice.
"We don't have all of the information at this point," Keefe said. "He may be good to go in practice [on Thursday] or it might be a day-to-day thing. We won't know more until he gets more pictures."
Kase looks to be stung after blocking this shot pic.twitter.com/p9ZJVd5neD

— Omar (@TicTacTOmar) October 18, 2021
---
Marlies left winger Nick Robertson sustained a non-displaced fracture of his right fibula on Sunday. He will not require surgery, but is expected to be out a minimum of 10 weeks.
"You feel for Nick," said Keefe. "It is tough luck for him. He is coming off of a good camp. I know he was excited to have a good season. I had watched the first Marlies game and thought he looked good. As a guy who works as hard as he does and is as committed as he is, it is tough to see that happen. I also know, because of how hard he works and the commitment that he has, if anyone is going to work through that and bounce back, he is going to do that. He battled some injuries last season as well. This will be no different. As unfortunate as it is, these things happen. You have to find your way through it."
Nick Robertson lands awkwardly on his right leg after getting hit.

It doesn't look good. pic.twitter.com/g1vjsRcoPT

— Nick Barden (@nickbarden) October 17, 2021
---
Lines at Tuesday's practice:
Ritchie - Matthews - Marner
Bunting - Tavares - Nylander
Kerfoot - Kampf - Amadio
Engvall - Spezza - Simmonds
Rielly - Brodie
Muzzin - Holl
Sandin - Dermott
Liljegren
Injured: Kase (foot), Mikheyev (broken thumb), Mrazek (groin)