Leafs send down Sandin, call up Gravel
The Toronto Maple Leafs have recalled defenceman Kevin Gravel from the AHL's Toronto Marlies while defenceman Rasmus Sandin has been loaned to the Marlies. Kristen Shilton writes.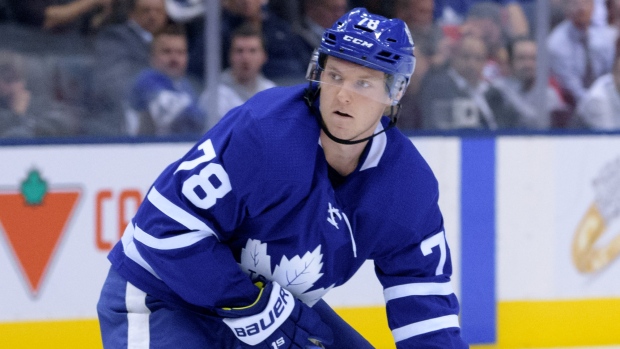 TORONTO – The Maple Leafs sent rookie defenceman Rasmus Sandin back to the American Hockey League's Toronto Marlies on Monday, deciding that a return to the minors was best for the teenage defenceman's long-term future with the organization.
"[He had a] real good camp, real good exhibition, real good start here. [But] we can't get him on the power play in front of the guys we got, can't get him on the penalty kill in front of the guys we got," explained head coach Mike Babcock after the Leafs' practice on Monday. "So in the end, a real good night is [playing] 14 minutes, and we just think in managing our assets and getting our team to be the best we can…that this is the best thing for his development."
Sandin, 19, had appeared in all six games for the Leafs so far this season, averaging 12:13 time on ice and registering two assists. The Leafs' most recent outing against the Detroit Red Wings on Saturday had been the most difficult for Sandin, where he was beat by Jacob de la Rose in front of on Detroit's first goal and then bloodied by a big hit from Justin Abdelkader in the third.
Babcock said he and Leafs' general manager Kyle Dubas have been communicating all along about Sandin and no one performance was the deciding factor in loaning him back to the Marlies and recalling veteran Kevin Gravel. But the knock from Abdelkader and deep gash to the nose Sandin suffered didn't sit well with the coach, either.
"I didn't like it last game when he got hit in the head," Babcock admitted. "As a [19-year-old], I didn't have much appreciation for that. You want [him] to be ready for everything. And I think that's a big part of managing your assets, is you have to look after him the best way you can and sometimes you got to be a prudent parent."
Babcock said Toronto "has done a real good job" in developing their prospects to date, and wants to see that pattern continue with Sandin.
"Everything's about the Leafs winning for sure, but part of that winning is making sure your players develop right," Babcock said. "The guys that we've overcooked [in the AHL] seem to get to a higher end than the guys we've rushed in. And what's the matter with being the best player [on an AHL team], having more fun and having the puck more than everyone else? I never heard one kid ever complain about being the best."
Babcock was non-committal on whether Sandin will return to the Leafs this season. While Babcock said there is value to Sandin playing NHL minutes, the Leafs feel he deserves more than just the bare minimum.
"We went back and forth on that whole bunch, to see what we could do, and just by looking at our group and what we're doing, we weren't affording him those [special teams] opportunities," Babcock said. "And I'm not saying we should have. The fact is we couldn't, and he's going to get them [in the AHL]."
In the 27-year-old Gravel, the Leafs are adding a 6-foot-4 defender with 106 NHL games to his credit, most recently from a season spent with the Edmonton Oilers.
"I thought he had a real good camp," Babcock said. "He's a big body, [has a] long stick, can make little plays."
By demoting Sandin before he plays nine NHL games, Toronto not only saves a year on his entry-level contract, it also gives the team a small amount of cap relief that will likely be utilized in the coming weeks. Because while Sandin was on his way back to the Marlies on Monday, injured blueliner Travis Dermott continued inching closer to a return from off-season shoulder surgery.
Dermott participated in Monday's practice without a non-contact sweater for the first time this fall, the biggest sign so far he should be ready to come off Long-Term Injured Reserved in the near future.
When he does, having Gravel's $700,000 hit against the cap instead of Sandin's $894,167 provides a bit of breathing room for the Leafs to accommodate Dermott's $863,333 hit when he's activated.
"I think my end is in sight," Dermott said, who was projected to be back in the Leafs' line by early November. "I think it's just tying everything together now, and having more of these practices [helps me] get into the rhythm of things. I've been in the rehab rhythm for six months, so these practices are good for me getting my mind out of that and back into game form."
There was no updated timeline provided by Babcock for Dermott's return, but he said the team's training staff feels "he's on his way." Until Dermott officially receives clearance to play, Babcock will continue rotating the defensive personnel available, starting with Justin Holl and Martin Marincin as the Leafs' third pairing and subbing Gravel in from there.
"Whoever plays the best is going to play," Babcock said. "We'll just keep evaluating. I think we've done a real good job staying patient. But it's easy to stay patient as long as you're winning some games. In the meantime, you figure out what you have, and we will."