Tortorella, Hartley have moved on from infamous incident
Fireworks are not uncommon when teams helmed by Bob Hartley and John Tortorella go head to head. However, it sounds like cooler heads will prevail on Thursday night when Tortorella's new club, the Columbus Blue Jackets, host Hartley and the Calgary Flames.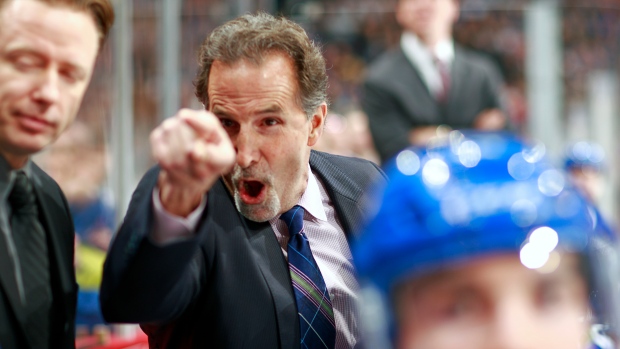 Fireworks are not uncommon when teams helmed by Bob Hartley and John Tortorella go head to head.
From their days coaching in the American Hockey League in the 90s, to a memorable night in Vancouver in 2014 that featured a line brawl after the opening faceoff and one coach attempting to storm the opponent's locker room, resulting in a 15-day suspension, their relationship has been a tense and exciting one.
However, it sounds like cooler heads will prevail on Thursday night when Tortorella's new club, the Columbus Blue Jackets, host Hartley and the Calgary Flames.
"It was absolute stupidity," Tortorella said Wednesday, referring to his actions towards Hartley and the Flames during a game two seasons ago. "I don't want to talk much about it because I'm embarrassed by it. … My heart was in the right place in what I thought I was doing at that time. Obviously, I wasn't thinking clearly. But I cared about my team at that point in time."
Jan. 18, 2014, was set to be an ordinary regular-season contest before Hartley sent an unexpected Flames starting lineup out for the opening faceoff against the Tortorella and the Vancouver Canucks at Rogers Arena.
Tortorella took offence to seeing the Flames' big boys — Brian McGrattan, Kevin Westgarth, Blair Jones, Ladislav Smid, and Chris Butler — on the ice and responded with a beefy lineup of his own featuring Tom Sestito, Dale Weise, Kellan Lain, Jason Garrison and Kevin Bieksa.
It took two seconds for all hell to break loose as all 10 skaters paired off for a line brawl. Tortorella likely didn't see much of the on-ice action as he leaned over the bench to give Hartley a piece of his mind.
Fast forward to the first intermission and Tortorella was still on fire. He headed for the Flames locker room in search of Hartley and had to be restrained. Some of that tense exchange was captured by television cameras. The NHL later excused Tortorella for 15 days and fined Hartley $25,000.
"Mr. Tortorella's actions in attempting to enter the Calgary Flames locker room after the first period were both dangerous and an embarrassment to the League," senior vice-president of hockey operations Colin Campbell said in a statement at the time. "Coaches in the NHL bear the responsibility of providing leadership, even when emotions run high, and Mr. Tortorella failed in his responsibility to the game."
Tortorella, well aware the questions were coming ahead of the Flames game, took time to express his regret about the incident.
"It was absolute stupidity how I went about it," Tortorella said Wednesday. "My heart was in the right place, but my mind … it's inexcusable, and I'm totally embarrassed by it."
The confrontation wasn't the first between the two. As coach of the AHL's Rochester Americans in 1995, Tortorella and Hartley, then coach of the Cornwall Aces, found themselves in a screaming match over a questionable hit.
Despite the animosity through the years, both coaches say the bad blood has long evaporated.
"I like Torts," Hartley said. "Torts is a fiery guy. Usually we always talked in the morning. On that day, I didn't see him. It was already decided on our side that those guys were starting. We'd even talked as a team — we were a non-playoff team. We obviously wanted to give a reward for some guys and Torts took it the wrong way. Plain and simple. He's full of fire."
"I have a respect for Bob Hartley," Tortorella echoed. "I think he is a really good coach. Do I agree with some of the things he does? Absolutely not. Do we want to beat him? Yeah. But I have tremendous respect. He's a good coach.
"I still don't agree how it all worked out," he continued, "but it's not for me to control another coach and what he does. I did it totally the wrong way."
While the infamous incident was an obvious talking point ahead of Thursday's game, a quick look at the standings shows both coaches have more pressing issues to deal with.
Not much has gone right for the Blue Jackets and Flames this season, with both squads on a seemingly never-ending search for consistency.
Tortorella took over in Columbus after the team stumbled to a 0-7 start to the season that spelled the end of former head coach Todd Richards. The Blue Jackets went 10-8 in the first 18 games under the new bench boss, but the club remains in last place in the league.
Star forward Ryan Johansen was traded to the Nashville Predators for defenceman Seth Jones after weeks of feuding with his new coach. The former All-Star was benched early in Tortorella's tenure due to fitness concerns and was a healthy scratch in the weeks leading up to the move.
As for Calgary, the team that went to the second round of the playoffs last season has struggled to repeat that level of play, tied for last in the Pacific Division.
Defenceman Dougie Hamilton, Calgary's prized off-season acquisition, is a minus two with just six goals in 44 games, and the Flames are the third-most penalized team in the league.
There might not be much to play for in the standings, but at the end of the day there is still a game to play.
"You get ready for another game and you get by it," Tortorella said. "But when it comes to the game … I want to beat him. I want to beat his team."