Trade of talented but troubled Osuna may work out well for Jays
While former Toronto Blue Jays closer Roberto Osuna may be as close to a sure thing as you can find on the mound, GM Ross Atkins has a way to recoup that value if things break right, and Ken Giles' track record certainly suggests it could, TSN Baseball Reporter Scott Mitchell reports from Oakland.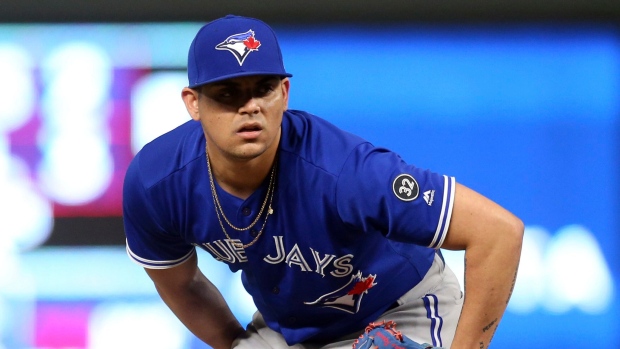 OAKLAND, Calif. — Ross Atkins definitely solved one of his problems when he traded suspended closer Roberto Osuna to the Houston Astros.
At the same time, the Toronto Blue Jays general manager was able to start the process of solving another.
There's no question Monday's trade of the 23-year-old right-hander two days before another court date, one that could provide some clarity, was surprising, despite rumours that the Blue Jays had been shopping him.
Shopping him and finding a team to buy are two totally different things.
It's a deal that reeks of a your-problem-for-our-problem situation.
But Osuna is now the Astros' problem.
While he may be as close to a sure thing as you can find on the mound, he's far from it off the field.
It's also a public relations nightmare, especially with legal proceedings still ongoing.
A handful of new teammates won't like it, even if they don't express it publicly.
If you need evidence of that, go find Justin Verlander's reaction and how carefully his words were chosen.
While those will likely disappear, or at least subside, over time, it's now a situation a Blue Jays front office desperate to earn back the trust of the fan base doesn't have to endure, as Osuna's return from suspension looms on Sunday.
Equally as surprising as the timing of the trade was the value Atkins was able to extract with very little leverage.
Would he have received more for the shutdown reliever had he decided to trade him last winter?
Sure, but that's an exercise in hindsight. No one could have predicted what has transpired over the past three months, even if Osuna, the citizen, wasn't exactly held in high regard by some within the organization.
Atkins also has a way to recoup that value if things break right, and Ken Giles' track record on the mound certainly suggests it could.
Osuna has a career ERA of 2.87 and 104 career saves.
Giles' ERA over five seasons is 2.72 and he's closed out 77 games.
The Jays may be giving up the most talented arm in this deal — one Jays veteran said Osuna has the filthiest stuff he's ever seen at any level, and the way he can manipulate a deep repertoire is special — but in acquiring right-handers Giles, David Paulino and Hector Perez, there's value now and down the road.
It's also a good start in terms of helping that aforementioned second problem.
A position-player-heavy system now has a much-needed infusion of pitching, and Paulino and Perez aren't lottery tickets who are years away from potentially contributing.
"I think for many reasons, this deal made sense," Atkins said via conference call shortly after the trade came down. "It starts with the talent we're acquiring."
Paulino, who has red flags of his own, including an 80-game PED suspension issued last season and a shoulder problem earlier this year, was seen as a top 50 prospect in baseball a year ago and already has big-league experience at the age of 24.
Perez, meanwhile, was firmly entrenched amongst the Astros' top 10 prospects, landing at No. 7 in the latest Baseball America rankings and placed at No. 5 by FanGraphs prospect analysts heading into the season. He's a 22-year-old who's now a phone call away in Double-A.
It's impossible to predict how pitching prospects will pan out, but a Jays pipeline in need of high-ceiling arms now has two that it didn't have a day ago.
One of them could very well end up being the key to the deal — there's also a chance both are bullpen-bound eventually despite currently being starters — but taking on Giles and a fiery attitude that didn't mesh well at times in Houston, usually when he was pitching poorly, could end up looking like a smart calculated gamble around this time next year.
That value the Jays lost when Osuna was charged and then suspended 75 games might be forgotten if Giles can string together three solid months to begin the 2019 season and end up as one of the better high-leverage relief options on the market at next year's trade deadline.
Or the one after that.
Giles, like Osuna, is under team control through the 2020 season.
Considering the two deadlines the Jays were facing — the trade deadline on Tuesday, as well as the looming decision to have to put him back on the mound in a Blue Jays uniform and deal with the reaction from the fan base — it's hard to imagine Atkins could've done any better with the corner Osuna's alleged behaviour painted him into.
"We do feel a responsibility to the fans, we do feel empathy for the fans, and we ultimately work for the fans," Atkins said. "That's how we do our jobs. We are human, and it is very difficult for accusations not to influence us in some way. Having said that, this made sense for the organization from a baseball perspective."
It's impossible to say the Jays are winners in this whole situation, but the Astros and GM Jeff Luhnow's chase for back-to-back rings just gave Atkins & Co. a chance to look pretty good when all is said and done.​