Trade Talk: Injuries may speed up Jets' talks
Injuries to Mathieu Perreault and Drew Stafford could speed up trade talks for a forward in Winnipeg. Check out today's trade rumours and speculation from around the NHL beat including Jaromir Jagr moving to help the rebuilding Devils, a couple goalies available on the market, and the price of Daniel Winnik in Toronto.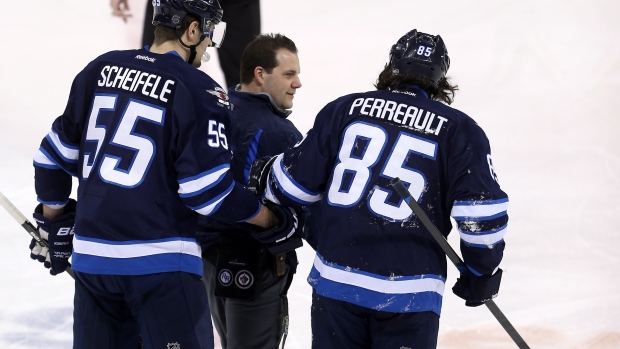 Looking for Forwards?
If the Jets weren't already looking for a forward prior to Monday's win over the Edmonton Oilers, they could be now.
Ed Tait of the Winnipeg Free Press reported the injuries to Mathieu Perreault and Drew Stafford Monday may speed up trade talks in Winnipeg.
"The Jets are already thin up front and, even before Perreault and Stafford's injuries, were said to be looking for another forward in advance of the March 2 trade deadline," Tait reported.
"The extent of the two injuries might put a little more urgency in GM Kevin Cheveldayoff's voice when he picks up the phone to call his rivals across the league."
Jagr's Best Use
Jaromir Jagr knows he's likely to be dealt at the March 2 Trade Deadline day and he's okay with that.
According to Rich Chere of NJ.com, Jagr knows his best use to a rebuilding team is as a trade asset.
"If something comes up, I'll be traded," Jagr told NJ Advance Media on Monday. "What's the reason to keep me? I'm not important to this team."
Other big names who could be on the market according to the report include Marek Zidlicky and Patrick Elias. Both have no-trade clauses however. Elias said he doesn't want out and won't ask for a trade and Zidlicky said he's undecided as to whether he'll waive his no-trade or not.
Other Devils that could be on the move include Scott Gomez, Steve Bernier, Michael Ryder, Martin Havlat, Jordin Tootoo, and Mark Fraser; this according to a report from Tom Gulitti of The Record.
Subban Showcase?
The Boston Bruins caused some stirs when they announced Malcolm Subban would be joining the team for their upcoming road trip.
There was instant speculation Subban was being showcased for a potential deal, a move TSN Hockey Insider Bob McKenzie said was unlikely, but possible.
"Anything's possible," McKenzie told TSN Radio 1050 in Toronto. "I don't think they want to do that."
"But I also think that, remember probably two weeks ago? Everybody was pronouncing the Eastern Conference playoff race was over; the Florida Panthers were too far away. Suddenly the Panthers aren't that far away. Three points, last time I checked, before games today."
The Panthers are now four points behind the Bruins for eighth in the Eastern Conference but have one game in hand.
Calls on Niemi
Speaking of potential goalies on the move, TSN Hockey Insider Pierre LeBrun of ESPN.com told TSN Radio 1290 in Winnipeg that the San Jose Sharks are taking calls on Antti Niemi.
LeBrun said the move could happen because Niemi is an unrestricted free agent at the end of the year and the Sharks are just barely holding onto a playoff spot.
"So here's a team that's in a playoff spot, albeit by a slim margin, but because Niemi is a pending UFA, the Sharks are taking calls on him. Which suggests to you that yes, they want to get in again; they've made the playoffs 10 straight years. But the bigger priority for San Jose is to try and replenish the organization on the fly here."
Price of Winnik
LeBrun also reported the Toronto Maple Leafs' asking price for forward Daniel Winnik.
While the team doesn't expect to fetch another first rounder like they got for Cody Franson and Mike Santorelli, they are waiting to receive a second and a third rounder or a second rounder and a prospect.
Staying Put
The Philadelphia Flyers have been playing better of late, but that doesn't mean they're ready to become buyers ahead of the Trade Deadline.
Tim Pinaccio of CSNPhilly.com reported the Flyers won't be buyers at the Trade Deadline.
"I believe we can make the playoffs with this team right now and quite frankly, to add a piece right now that's gonna help us … gonna be better than what we have, is gonna be very costly. We're not going there."
One to Watch?
Don Brennan of the Ottawa Sun reports forward Erik Condra could be the Ottawa Senators' most tradable commodity.
Brennan reports Condra is a good penalty killer and a good fit in the dressing room.