Trade Talk: The dish on Petry
Could the Edmonton Oilers re-sign defenceman Jeff Petry and take him off the blue line market for Mar. 2? Check out today's trade rumours and speculation from around the NHL beat including the latest on the Philadelphia Flyers, New York Islanders, Winnipeg Jets and Pittsburgh Penguins.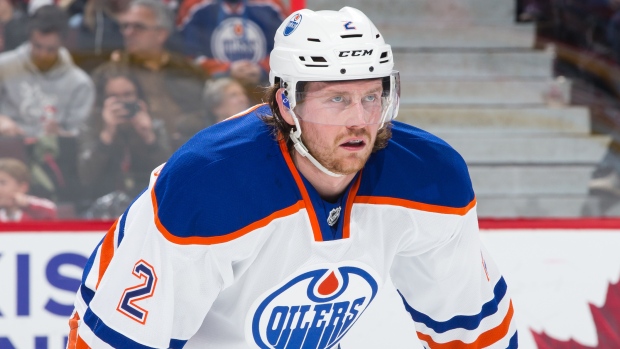 The NHL's Mar. 2 Trade Deadline is approaching and teams are making decisions on whether to buy or sell and decide which players can make the biggest difference and hold the greatest value. Check out today's trade rumours and speculation from around the NHL beat. And follow TradeCentre on TSN and TSN.ca through Deadline Day for all the updates.
Latest From Darren Dreger
TSN Hockey Insider Darren Dreger appeared on NBCSN's NHL Rivalry Night on Wednesday, saying the Los Angeles Kings are in search of a defenceman - with Andrej Sekera, Jeff Petry and Zbynek Michalek as possible candidates. He added that the Oilers are going to talk with Petry's representative about a possible extension. TSN's Edmonton reporter Ryan Rishaug tweeted earlier in the day that both sides have in fact spoken with each other recently.
Dreger also said Lou Lamoriello still believes the New Jersey Devils can make the playoffs, but winger Jaromir Jagr is willing to be traded, preferring an Eastern Conference team but also open to going to the West. He also mentioned that soon-to-be unrestricted free agent Mats Zuccarello won't be traded by the New York Rangers at the deadline, but it will be a tough contract negotiation as he could be looking for $5 million a season.
More names for the D market?
Sam Carchidi of The Philadelphia Inquirer tweeted on Wednesday that the signing of defenceman Nick Schultz to a two-year contract, "increases the likelihood of the Flyers dealing (Braydon) Coburn and/or (Niklas) Grossmann."
LeBrun's Rumblings
TSN Hockey Insider Pierre LeBrun wrote in ESPN.com on Wednesday that Buffalo Sabres general manager Tim Murray is still asking for a second-round pick and a prospect for winger Chris Stewart and it could take until Mar. 2 to move him.
LeBrun added that with the Jets missing Mathieu Perreault for the rest of the regular season, Winnipeg could have Florida's Tomas Fleischmann on their radar. Also, some Western Conference teams could be interested in Panthers forward Sean Bergenheim.
While Chicago Blackhawks forwards Patrick Sharp and Bryan Bickell have been mentioned in trade rumours because of the team's cap crunch, LeBrun doubts they'll be traded.
Island Options
As ESPN's Katie Strang wrote on Wednesday, the New York Islanders could try to improve their penalty killing and speculates that pending UFAs Daniel Winnik and Erik Condra could be good options.
Strang adds that Kyle Okposo's rehab could change their approach to Mar. 2 if things don't go as well as hoped. While the Islanders have about $5.75 million in cap space, she thinks it could be a quiet deadline for the Islanders after they acquired blueliners Johnny Boychuk and Nick Leddy prior to the start of the season.
Penguins Watch
Pittsburgh Penguins GM Jim Rutherford could be on the lookout for depth up front, but may not need to acquire depth on defence.
"We're getting into the period where names are going to surface and teams are going to get serious," Rutherford told Jason Mackey of The Pittsburgh Tribune Review. "If it's a guy who's capable of scoring a big goal, I would like to get that guy because if Sid and Geno get shut down, we need to be able to win games with our third and fourth lines.
"Based on the guys who are out there on defence, I'm not sure that we're getting somebody who can necessarily do a better job than what we have - if we're healthy."