Train ride saves Flames, Oilers on a roll
When four consecutive losses had the Calgary Flames floundering back in January, coach Glen Gulutzan saw a train ride as the perfect opportunity for a happy hour in motion that was anything but celebratory.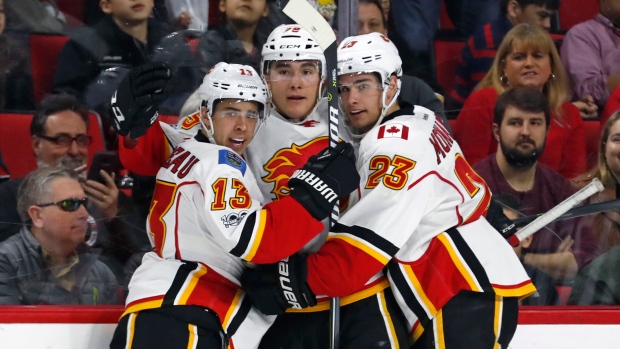 When four consecutive losses had the Calgary Flames floundering back in January, coach Glen Gulutzan saw a train ride as the perfect opportunity for a happy hour in motion that was anything but celebratory.
"I gave the guys some beer," he said. "We told the guys to take the headphones off and sit together and figure this thing out."
Riding the rails for two hours from Montreal to Ottawa gave the Flames a chance to essentially save their season. They have won 17 of 22 games since and went from on the bubble of making the playoffs to a team that will give opponents fits when the playoffs begin in three weeks.
Alberta is actually home to two of the hottest teams in the NHL: A three-hour drive to the north in Edmonton, the rival Oilers are rolling, too. The province will almost certainly have two playoff teams for the first time since 2006 with the Oilers poised to end their 10-year post-season drought and the Flames set to make it for the second time in eight seasons.
Because Calgary has mighty-mite scorer Johnny Gaudreau and Edmonton MVP front-runner Connor McDavid, it's no longer crazy to dream about a "Battle of Alberta" playoff series, which hasn't happened since 1991.
"The rivalry is there (and) obviously it's gotten better this season because our teams are finally starting to win some hockey games," Oilers forward Matt Hendricks said. "Hearing the stories of the past and how great it was, the excitement level in Edmonton right now with hopefully playoffs right around the corner for our club, it would be very, very exciting."
When the Flames lost 5-1 to the Canadiens on Jan. 24, they were 24-24-3 and clinging to the second wild-card spot in the Western Conference. That was the week that turned Calgary's season around, and it started with some beer and conversation on that train.
"Guys were hanging out, having a good time, chatting with each other, joking around, having fun where normally guys would be headphones on watching their movies or playing cards," right winger Troy Brouwer said. "I think just the camaraderie that we had on that train ride really showed a lot to the guys of how close a group that we are."
As Calgary tries to return to the playoffs under their first-year coach, the Oilers are in the process of erasing a decade's worth of demons. They finally have their franchise goaltender in Cam Talbot, McDavid leads the league in scoring and second-year forward Leon Draisaitl has 65 points in 72 games. The debut season of the Oilers' new $480 million Rogers Place arena happens to feature one of their best teams in years.
"It obviously helps when our horses are carrying us night and night out," Hendricks said. "Cam's been outstanding, Connor's been outstanding. But I think the difference is those young core guys are really carrying the mail right now."
Draisaitl has nine points, McDavid has seven and Talbot has allowed just five total goals with a .961 save percentage during Edmonton's four-game streak. Coach Todd McLellan wondered late month if his young team would develop more consistency in a playoff race, which Talbot called "uncharted territory" for much of the team.
It's not for the Flames, who reached the second round two years ago led by Gaudreau and fellow star Sean Monahan.
Captain Mark Giordano missed that run because of a torn biceps tendon and hasn't appeared in a playoff game in 10 years, but many of his younger teammates know what to expect because of 2015.
"A lot of the younger guys have a little bit of playoff experience, which is nice," said Gaudreau, who has a team-leading 24 points in the past 22 games. "Us younger guys, we've been there before so it's a little bit of an experience that we kind of got that first season."
Since that appearance, the Flames fired coach of the year Bob Hartley and replaced him with Gulutzan, who guided his team out of "the pit" of despair and losing. He said he believes that time has made Calgary better prepared for the playoffs.
"You can't have true growth without adversity and we did struggle," Gulutzan said. "We were trying to figure out who we were, what we needed to do to win and we came out of there. But when we came out of there, we kind of sling-shotted out of there. We all know our roles and responsibilities and what we need to do to win, so that adversity did help us grow as a group."
___
Follow AP Hockey Writer Stephen Whyno on Twitter at http://www.twitter.com/SWhyno