Travis' season over; Smoak added to roster
By Scott MacArthur, TSN.CA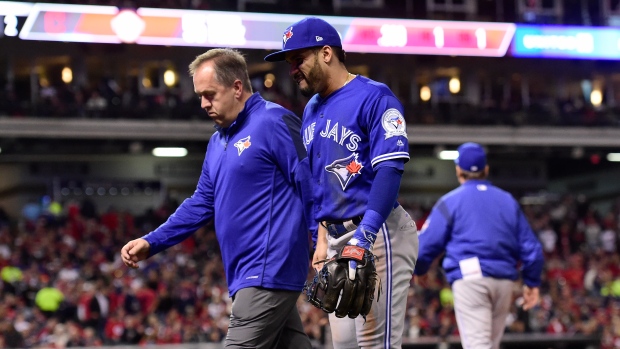 CLEVELAND — Devon Travis' season is over.
The news broke within the hour before Saturday's second game of the American League Championship Series began: Justin Smoak would replace Travis on the Blue Jays' roster, rendering Travis ineligible for the remainder of the playoffs.
Eligibility isn't an issue, it seems, because general manager Ross Atkins said Blue Jays' doctors and Major League Baseball's doctors found more than a bone bruise in an MRI performed on Travis' knee on Saturday in Toronto.
"I'm not a doctor but my understanding is these injuries are isolated," said Atkins. "They're in the same area but they're two independent injuries. It's not the same injury."
Travis missed the second and third games of the Division Series against Texas with what an original MRI revealed to be a bone bruise in his right knee. Travis received a cortisone injection on October 8 and passed a series of on-field tests on Wednesday and Thursday, which satisfied the Blue Jays enough to include him on the ALCS roster.
"The two injuries are isolated," said Atkins. "Feel really good about the process of trying to understand how ready he could be to go as we ramped him up for the first game and he felt great going into that game."
There was some concern about whether the club could replace Travis due to the nature of the injury; there's a provision in the MLB rulebook which gives the league governance when a pre-existing condition is involved; the idea being if a team knows about a player's injury yet chooses to keep him active at the start of a new series, it should bear the responsibility of its decision.
Whatever has been found in Travis' knee has satisfied the league that there's been a change to Travis' injury.
Justin Smoak replaced Travis on the roster. Per league rules, a position player must replace a position player. The same goes for pitchers.
Travis missed the entirety of the Jays' playoff run last season thanks to a shoulder injury. He won't be involved in these crucial games ahead.
"He's very disappointed," said Atkins. "Obviously, anytime you get hurt that's never good and then secondarily, at this time of year, he's crushed."
Atkins didn't specify the nature of the second injury in Travis' knee but said he's confident Travis will be ready for spring training.
"At this point we're optimistic he'll have a very good offseason as well," said Atkins.