Treliving: Smith was 'best fit' for Flames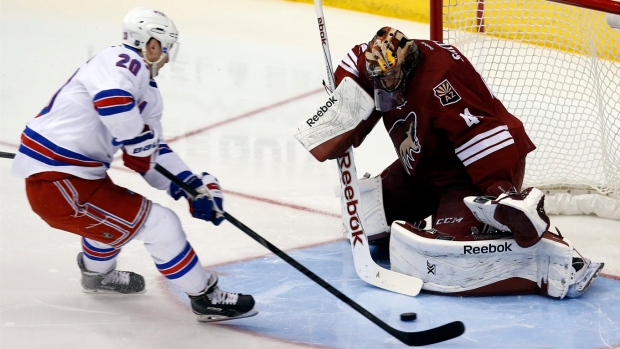 The Calgary Flames acquired veteran goalie Mike Smith from the Arizona Coyotes Saturday before the trade freeze and general manager Brad Treliving is thrilled he can cross off the most glaring need for the Flames this summer.
The Flames' two goalie system of Brian Elliott and Chad Johnson got them into the playoffs last season, but it was obvious a change was needed between the pipes after being swept by the Anaheim Ducks in the opening round.
Elliott, who was acquired by the Flames last summer via a trade with the St. Louis Blues, struggled mightily in the postseason. The 31-year-old posted a 3.89 goals-against average and a .880 save percentage, allowing 12 goals on 100 shots.
As a result of the questionable play, Treliving went into the off-season looking for a new No. 1 netminder and it didn't take him long to find it. Calgary sent pending unrestricted free agent Johnson, defence prospect Brandon Hickey and a conditional third-round pick to Arizona for the 35-year-old Smith. Elliott will also be a free agent on July 1.
The GM is thrilled to have Smith and says he was the "best fit" for the team.
"Mike Smith is not a consolation prize," Treliving told Eric Francis of the Calgary Sun. "We scoured the market and looked at every goaltender out there and we felt this was the best fit."
The Kingston native posted a 19-26-9 record with a 2.92 GAA and a .914 SV over 55 games with the Coyotes in 2016-17, his sixth year with the club.
Smith has two years left on his current contract with an average annual value of $5.66 million. However, the Flames only have to pay 75 per cent of his salary as the deal includes the Coyotes taking a quarter of the cap hit.
Treliving has high praise for Smith, calling him one of the "best athletes" he's ever been around.
"He's fit, an athletic freak. He can slam dunk a basketball. He takes batting practice with major league teams and hits the ball out of the park," said Treliving. "He's a big guy who takes care of himself and he has low miles on his odometer. He has the best body of any goalie I've ever seen."
Francis notes that the Flames search for a new goalie included more than just Smith. They looked at three-time Stanley Cup champion Marc-Andre Fleury, but found out they were on his no-trade list. Calgary even kicked tires on New Jersey Devils goalie Cory Schneider, but likely would have been forced to give up some of their young talent, says Francis.
"He can move the puck as well as any goalie in the league – you can game-plan around it," said Treliving.
Treliving and Smith are familiar with each other as Treliving held the assistant general manager role in Arizona for years.
Smith has played in 474 career NHL games with the Dallas Stars, Tampa Bay Lightning and Coyotes.