Trotz on Ovechkin: He's 'been on a mission'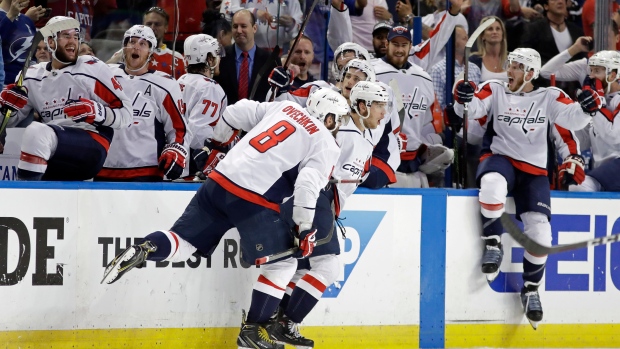 Alex Ovechkin is headed to the Stanley Cup Final for the first time in his career and Washington Capitals head coach Barry Trotz said Wednesday previous failures fuelled his path.
Ovechkin has served as the face of the Capitals for more than a decade and received the lion's share of the blame for his team's postseason failures, including three straight second-round exits, two at the hands of the Pittsburgh Penguins.
"Ovi's been on a mission," Trotz told ESPN after the Capitals defeated the Tampa Bay Lightning 4-0 in Game 7. "I think, you know, I was over seeing my son in Russia and I went to visit Ovi right after his wedding [in the offseason]. We talked about a couple of things, redefining himself a little bit. There were a lot of people doubting if he still had what it took. The great players take exception to that.
"A lot of things were said at the end of last year in the press, Twitter, whatever. And they're hurtful, and I think he took it personally. He said, 'I'm going to show you I'm still a great player.' And he did."
Ovechkin had two goals and five points against the Penguins in the second round last year, but was shut out in Games 6 and 7. Now he's in the midst of the most dominant postseason of his career.
The 32-year-old owns 12 goals and 22 points over 19 games in these playoffs while averaging 21:14 of ice time per game. He won the Maurice Richard Trophy for the seventh time in his career during the regular season and posted his highest point total since 2010.
Ovechkin did his best to keep emotions in check and the team's ultimate goal in mind after their Game 7 victory.
"We're going to the Stanley Cup Final," Ovechkin said Wednesday. "I think everybody is happy, but we still have unfinished... you know what I mean. I don't know. I'm emotional right now. I think we've been waiting for this moment for a long time."
The Capitals will open the final on the road Monday against the Vegas Golden Knights.