TSN.ca's 2014-15 NHL Season Preview: Vancouver Canucks
With the NHL regular season right around the corner, TSN.ca profiles each team leading up to puck drop. Next up is the Vancouver Canucks – looking to rebound from an abysmal season with a new GM, head coach, starting goaltender and winning attitude. Catch up on their off-season moves and the issues they face this season, as well as their analytical breakdown by TSN's Scott Cullen.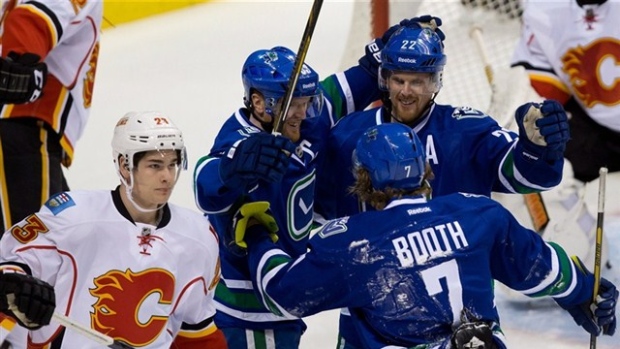 With the NHL regular season right around the corner, TSN.ca profiles each team leading up to puck drop. Next up is the Vancouver Canucks – looking to rebound from an abysmal season with a new GM, head coach, starting goaltender and winning attitude. Catch up on their off-season moves and the issues they face this season, as well as their analytical breakdown by TSN's Scott Cullen.
Division: Pacific GM: Jim Benning Head Coach: Willie Desjardins
2013-14: 36-35-11 (5th in Pacific) Playoffs: Did not qualify
Goals For: 191 (28th) Goals Against: 216 (14th) PP: 15.2% (26th) PK: 83.2 (9th)
That Was Then:
John Tortorella was to be given one big advantage as head coach last season - there was to be no goaltending controversy. After a year dominated by the Roberto Luongo vs. Cory Schneider narrative, GM Mike Gillis finally put an end to it shipping Schneider to the New Jersey Devils.
Luongo was the man left standing and this was to be his team. But things didn't go remotely to plan.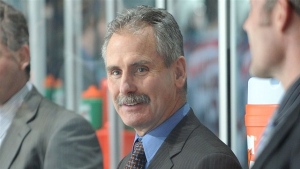 Tortorella had the Canucks play a defence-first approach with an emphasis on blocking shots rather than the high-transition game that took them to a Stanley Cup Final.
The Sedins found themselves with newfound defensive assignments and they floundered. Henrik's NHL iron man streak ended in January with bruised ribs and he went on to miss the Winter Olympics. Daniel's season was cut short late in the year with a groin injury.
Tortorella even played a starring role in the Canucks' 2013-14 sideshow in January when he took exception to a line-brawl that broke out between the Canucks and Calgary Flames. Tortorella stormed the Flames' dressing room at the intermission and had to be physically restrained in his attempts to get at Calgary coach Bob Hartley.
Tortorella was suspended 15 days (including six Canucks games) without pay, banning him from contact with the team.
As it turned out, the goaltending controversy was not actually over. Neither Luongo nor back-up Eddie Lack sparkled last season, but when Tortorella chose to start Lack over Luongo in the outdoor Heritage Classic in early March, the team once again invited contention. Just days later, Luongo and his almost immovable contract were dealt to the Florida Panthers.
The Canucks won just eight games after the incident in Calgary, going 8-18-1 to finish the season and earning the NHL's seventh-worst record.
Both coach and GM were dismissed at the end of the season to conclude a year that the Canucks would like to forget, missing the playoffs for just the third time in 13 seasons.
Scott Cullen's Analytics
Canucks 2013-14 Stats by Quarter
| Games | GPG | GAA | SH% | SV% | SAF% | PTS% |
| --- | --- | --- | --- | --- | --- | --- |
| 1-20 | 2.65 | 2.60 | 8.6 | .910 | 52.0% | .600 |
| 21-41 | 2.62 | 1.90 | 7.5 | .938 | 52.4% | .707 |
| 42-62 | 1.80 | 3.00 | 5.6 | .929 | 48.5% | .317 |
| 63-82 | 2.30 | 3.05 | 6.9 | .905 | 42.7% | .425 |
| NHL AVG | 2.67 | 2.67 | 7.8 | .922 | 50.0% | .562 |
Key: GPG= goals per game, GAA= goals-against per game, SH%= even-strength shooting percentage, SV%= even-strength save percentage, SAF%= score-adjusted Fenwick percentage (differential of shot attempts faced vs. shot attempts, excluding blocked shots, adjusted for game score), PTS%= percentage of available points.
Analysis:
Games 1-20: Goaltending was shaky early, but Canucks finished at a high enough rate to be in good position through the first quarter.
Games 21-41: Great goaltending, combined with continued strong possession numbers, had the Canucks rolling.
Games 42-62: Injuries caught up to them, with H. Sedin. Burrows, Luongo, Bieksa and Tanev missing time, and goal-scoring dried up.
Games 63-82: Already in tailspin and traded Luongo, so goaltending wasn't up to par, even for a team still putting up solid possession stats.
Key 2014 Additions: C Nick Bonino, RW Derek Dorsett, G Ryan Miller, D Luca Sbisa, RW Linden Vey, RW Radim Vrbata
Key 2014 Subtractions: LW David Booth, C Zac Dalpe, D Jason Garrison, C Ryan Kesler, C Mike Santorelli, C Jordan Schroeder
This Is Now:
The page has now been completely turned on last year's disastrous season with new management in place.
Club legend Trevor Linden was installed as president of hockey operations and his first hire was GM Jim Benning. Willie Desjardins, fresh off of leading the Dallas Stars' AHL-affiliate to a Calder Cup triumph, was named the team's new head coach.
The team also moved quickly to address Ryan Kesler's future with the club, trading him to the Anaheim Ducks for Nick Bonino and Luca Sbisa (and a 2014 first-rounder).
On July 1, Ryan Miller was brought in to man the crease. While he wasn't the piece to put the St. Louis Blues over the top, Miller could thrive in Vancouver. A workhorse of a goalie, the Vezina trophy winner brings experience and a winning pedigree.
The defence in front of Luongo is largely unchanged from last season, aside from the addition of Sbisa, who slots into the top four and could see more ice time and responsibility than he did last season with the Ducks.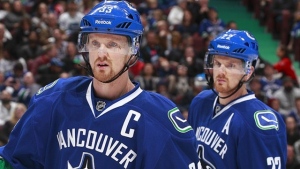 Bonino was the third-leading scorer on the Ducks last season and centred their first unit on the power play. The Canucks hope he might be able to improve on Kesler's production on the second line and he is certain to be given the opportunity for big power play minutes.
In Radim Vrbata, the Canucks bring a winger who became a consistent goal scorer out of the media spotlight in Phoenix. Vrbata likely gets placed on the top line with the Sedins and will be playing with the most skilled linemates he's ever had in his career. A full year next to the sibling duo and it's not unreasonable to think that Vrbata can once again crack the 30-goal mark.
But everything falls back on the Sedins. Desjardins understands that his stars are 34-years-old and when healthy, remain elite playmakers. Putting the twins back into the roles in which they're accustomed should go a long way to making sure that last season was an aberration.
TSN Vancouver reporter Farhan Lalji's Five Key Storylines heading into training camp:
1. Can the Sedins bounce back?
After putting up MVP-type numbers the first month of last season, Daniel and Henrik were signed to four-year, $28 million extensions. From that moment on, their production plummeted to levels not seen since their first two years in the league. If the twins can't return to point-per game players, their contracts will be seen as anchors despite being two of the most popular Canucks ever.
2. Will Alex Edler live up to his potential?
The Canucks had the opportunity move him before his no-trade clause kicked in last July to the Red Wings for a pair of young forwards but chose not to. He finished with a league-worst minus-39 last season, but new Canucks president Trevor Linden still gave him a vote of confidence when he took over the reins. Edler is just two years removed from a career-high 49-point season, but since then play has been marred by injuries and inconsistency.
3. What kind of an impact will Ryan Miller have?
He will be counted on significantly by a team that had plenty of problems scoring goals a year ago. When he was acquired by the Blues at last year's trade deadline he did not live up to expectations. Will a full training camp with his new team make a big difference?
4. Can Willie Desjardins breathe some life back into Alex Burrows?
He has had back-to-back injury-plagued seasons, but last season the bottom fell out: Just 5 goals, 15 points and a minus-9 in 49 games. There was clearly friction between him and John Tortorella, but a change of head coach may help Burrows as much as anyone on the team. But the question remains, is Burrows a top line (or even top six) forward with this team any longer, and can he be a 25 goal scorer again - which he did for four straight seasons through 2011-12.
5. The Riddle In The Middle
While few in the organization disputed the need to lift the black cloud that was Ryan Kesler, there is big concern about who will play behind Henrik Sedin as the Canucks second line center. Nick Bonino and Linden Vey will vie for the spot. Bonino registered 22 goals and 49 points in Anaheim last season, but much of that was on the power play playing next to Ryan Getzlaf. He won't be playing with players of that calibre here, so can he produce at the same level. Vey was a top prospect with the Kings playing behind the deepest center ice corps in the league. Most experts believe he is ready to be a full time NHLer and will be given every opportunity with the Canucks. There is certainly more depth at center-ice depth than there was a year ago, but how 'high end' that depth is remains to be seen.
DEPTH CHART
Forwards
| Left Wing | Centre | Right Wing |
| --- | --- | --- |
| Daniel Sedin | Henrik Sedin | Radim Vrbata |
| Zack Kassian | Nick Bonino | Alexandre Burrows |
| Chris Higgins | Linden Vey | Jannik Hansen |
| Tom Sestito | Brad Richardson | Derek Dorsett |
| Hunter Shinkaruk | Shawn Matthias | Niklas Jensen |
| Michael Zalewski | Bo Horvat | Alexandre Grenier |
Defence
| | Left | Right | |
| --- | --- | --- | --- |
| | Dan Hamhuis | Chris Tanev | |
| | Kevin Bieksa | Alexander Edler | |
| | Ryan Stanton | Frank Corrado | |
| | Luca Sbisa | Yannick Weber | |
| | Peter Andersson | Bobby Sanguinetti | |
Goaltenders
Ryan Miller
Eddie Lack
Jacob Markstrom
Craig's List
A list of the Canucks' top prospects as ranked by TSN Director of Scouting Craig Button.
A-Level Prospects
| No. | Name | Pos. | 2013-14 Club |
| --- | --- | --- | --- |
| 1 | Bo Horvat | C | Edmonton (WHL) |
| 2 | Jake Virtanen | LW | London (OHL) |
| 3 | Nicklas Jensen | RW | Utica (AHL) |
| 4 | Hunter Shinkaruk | LW | Medicine Hat (WHL) |
| 5 | Jared McCann | C | Sault Ste. Marie (OHL) |
B-Level Prospects
| No. | Name | Pos. | 2013-14 Club |
| --- | --- | --- | --- |
| 6 | Cole Cassels | C | Oshawa (OHL) |
| 7 | Linden Vey | RW | Manchester (AHL) |
| 8 | Brendan Gaunce | C | Belleville/Erie (OHL) |
| 9 | Thatcher Demko | G | Boston College (NCAA) |
| 10 | Frank Corrado | D | Utica (AHL) |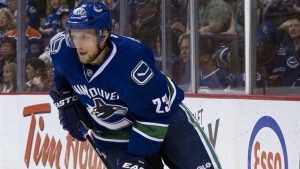 Fantasy - Cullen's Player to Watch - Alex Edler
Last season was a rough one for Edler, as he scored 22 points and had a league-worst minus-39 rating in 63 games, but that wasn't all on him. His possession numbers were solid enough, but he had ridiculously bad luck in terms of how others shot the puck when he was on the ice.
There's also the matter of Edler remaining a prominent part of the Vancouver power play. The only Canucks defenceman to finish with more power play points last season was Jason Garrison, and he's in Tampa Bay now, so Edler will keep playing a prominent role.
Even if Edler plays at a level similar to last season, he would be due for dramatically improved numbers based solely on his on-ice shooting and on-ice save percentages falling more in line with his established career norms. Should he play a little better, and get better percentages, then Edler could have a big rebound year.