TSN Hockey Bobcast: Selanne, 'The Sodcar' and Margaritas
In Episode 2 of the TSN Hockey Bobcast, TSN Hockey Insider Bob McKenzie talks about Patrik Laine, Teemu Selanne and how to make that perfect Margarita. Subscribe and listen to the full podcast here.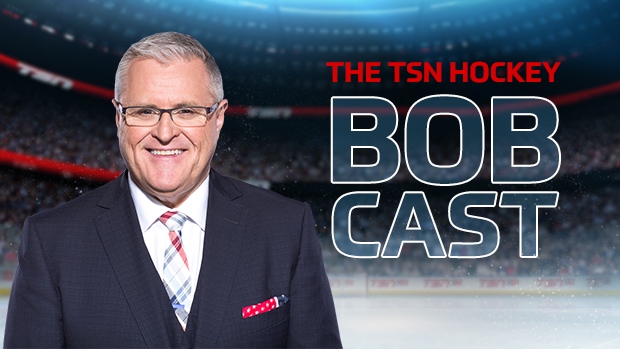 Welcome to The TSN Hockey Bobcast - where TSN Hockey Insider Bob McKenzie addresses your questions on hockey...and just about anything else.
Subscribe and listen to the full podcast here: iTunes / SoundCloud / tsn.ca/bobcast
Send your questions to bobcast@bellmedia.ca and TSN Hockey Insider might just answer them in future episodes.
Here are a couple of topics from this week's edition that stood out.
Why the Jets are holding firm on Trouba
Bob McKenzie: "Now we can debate all day whether it's about his stated reasons - that he doesn't like the left/right usage thing, the idea of maybe losing minutes playing behind Byfuglien and/or Tyler Myers - but at the end of the day, whatever the reason is, it doesn't really matter. He wants out.
Now Winnipeg has to weigh that against their need for that type of defenceman. What I mean by that is they don't want another Evander Kane situation on their hands. That does nobody any good. And by that I mean Kane didn't want to be in Winnipeg - and we all kind of suspected that for years and then it ultimately became true - and the Jets kept trying to make that work. And ultimately that blew up for everybody. They came out of it alright, but it wasn't a fun time for them or anybody else.
But you can also understand where the Jets are coming from on this Trouba situation. This is a team that looks like it's doing something special. They've got a potential big No. 1 centre in Mark Scheifele - that's a big building block right there. They have a plethora of potentially elite scoring wingers. Patrik Laine, we've seen what he's done so far. Nikolaj Ehlers is going to be elite. Kyle Connor got his first NHL goal on Thursday night. Those are all big building blocks on the wing to go with Scheifele in the middle. They have in Trouba a similar-aged, young stud/top pair D-man. Those are all the ingredients of a future championship team.
But if they trade Trouba and don't get the same stud/top pairing D-man back, the future championship team in Winnipeg would be incomplete. So you can see where they're coming from.
This is just my opinion only, but I think we're going to see the Jets try to find out how much Trouba doesn't want to play in Winnipeg by just letting this play out for a while and obviously letting him know the door is open for him to come back anytime. Now at some point, the next move may belong to Trouba to either double down and reinforce he's never going to play for the Winnipeg Jets again, or to acquiesce, come back and sign a deal."
How Laine's goal celebration is reminiscent of another...
Bob McKenzie: "It wasn't Teemu Selanne shooting his goal out of the air after goal No. 76 in his rookie year in '93, but it was pretty damn cool to see.
There is a funny story I like telling from the 1989 World Juniors in Anchorage, Alaska. That was the first time I ever saw Teemu Selanne play and he was incredibly flashy. He scored a goal there and to celebrate, he skated by the other team's bench, he dropped to both knees, while sliding to high speed, dropped his stick, dropped his gloves, and used his fingers on both hands to do the old 'six-shooter sign' right at the opposing team's bench. Whoever the opponent was that night, they went wild - as you would might expect. Because keep in mind, over the top goal celebrations were not commonplace.
Afterwards, everyone at the tournament said of Selanne, "You know what, let's see him do that in the National Hockey League. Let's see if he does that if he gets to the NHL...he won't be pulling that hot dog stuf there." Well a few years later, he was scoring 76 goals for the Winnipeg Jets as a rookie and he replaced the six-shooters with a shotgun as he shot his gloves out of the air.
I know Teemu's a little sheepish about how he celebrated goals as a kid. But you know what? I loved it back then and I love it now. It's the pure joy of scoring. And (Patrik) Laine whirling his stick blade and holstering the gun wasn't over the top by any means, but boy was it great seeing a kid with elite goal-scoring ability so enjoy putting that puck in the net and then celebrating the occassion."