TSN Hockey Preview: Vancouver Canucks
With the puck almost ready to drop on the 2016-17 season, TSN's hockey reporters and contributors provide a comprehensive season preview of all seven Canadian teams. Read up on the opening night analysis of the Vancouver Canucks.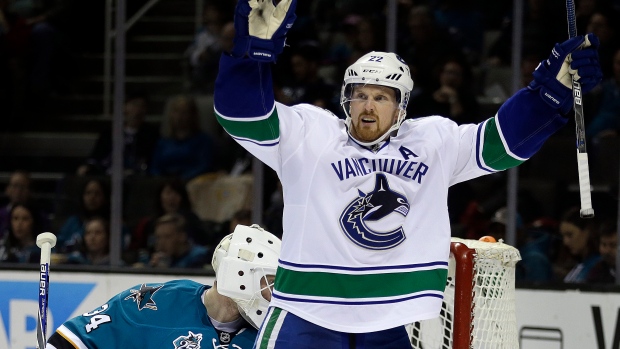 This doesn't look like a promising season on Canada's West Coast. The Canucks finished 28th in the standings last season and don't have nearly the same kind of young talent coming into their lineup as 29th-place Edmonton and 30th-place Toronto.
Most of the Canucks' best players - Daniel Sedin, Henrik Sedin and goaltender Ryan Miller - are in their mid-30s. They have other pieces, but not enough to think that they should have playoff expectations this season. They hope that free agent addition Loui Eriksson and a healthy Brandon Sutter will make a big difference and they'll need further development from forwards Sven Baertschi, Bo Horvat and Jake Virtanen as well as Anton Rodin, who starred in Sweden last season. While the Sedins remain reliable at the top of the lineup, there are more questions than answers behind them.
Alexander Edler and Chris Tanev are a steady veteran pairing on the blueline, Ben Hutton had a nice rookie season and Erik Gudbranson, coming over from Florida, adds a physical presence so the Canucks may be okay on the back end. Philip Larsen, returning from the KHL, could add a puck-moving element too, but it's not a sure and safe group either.
Miller and Jakob Markstrom form a decent goaltending tandem, but they probably need to be better than that if they are going to push for a playoff spot.
At some point, if the Canucks fall off the playoff pace, there will also be questions about whether it's time to move out veterans and earnestly rebuild and whether that's going to result in wholesale changes - including in the GM's office and behind the bench.

Off-Season Headlines
May 26: Canucks land physical blueliner in Gudbranson
July 1: Canucks land free agent winger Eriksson
July 14: Rodin and Larsen will contribute offensively for Canucks

Three Key Canucks Questions
1. Can the Sedins produce at a high level all season?
Daniel and Henrik are now 36 and for the past two seasons have started the season at all-star levels, but their production has significantly dropped off in the second half. Seventy-two of the Sedins' 116 points (64 per cent) last season came in the first 41 games. Injuries are also an even bigger factor. Henrik, the former league iron man, missed eight games last season and played much of the second half of the year playing with an upper-body injury. The addition of Loui Eriksson will make a difference in the Sedins' in-season longevity, as will the plan to reduce their minutes, but the Canucks will need to find some additional offensive options.


2. Where will the secondary scoring come from?
Other than the top line, there's simply no proven NHL scorers among the rest of Vancouver's forwards. Next on the Canucks' scoring list a year ago were Bo Horvat (40 points) and Jannik Hansen (22 goals, 38 points). More will be expected of Horvat, who had a strong second half in his sophomore campaign. For Hansen, his totals were a career-high and much of that came while playing with the Sedins, something not expected to happen as much this season. After being limited to just 20 games last season, the Canucks are hoping that Brandon Sutter can stay healthy. But even if he can, Sutter has never managed more than 40 points in his career, and even that number came seven years ago. Sven Baertschi showed promise last season, as has Anton Rodin so far in this pre-season. But again, "promise" is a much different word than "proven." So at this point, the Canucks are counting on plenty of "ifs" if they hope to change their fortunes offensively.

3. Can the Canucks find any offence from their defence?
Long gone are the days of Sami Salo, Christian Erhoff and the highest scoring back end in the league. Rookie Ben Hutton (one goal, 25 points), Alex Edler (six goals, 20 points) and Chris Tanev (four goals, 18 points) were the only Canucks last year to record double digits in points. And newcomer Erik Gudbranson is hardly known for his offensive creativity or puck possession numbers. Philip Larsen has an offensive game and should help the power play, but needs to prove he can be a regular, reliable NHL defenceman at both ends of the ice. Troy Stecher, a rookie from North Dakota, has had an outstanding pre-season and has forced the Canucks brass to take a long look at changing their defensive depth chart, but Stecher is generously listed at 5'10" and there are concerns about whether or not that someone that small can handle the defensive matchups at the NHL level.
2016-17 Vancouver Canucks

Button's Top 2016-17 Prospects
1.Thatcher Demko (20) – G/L (Boston College – NCAA)
Top Goaltender in NCAA last season. Big, athletic, has refined his technique & is competitive. All attributes to be a strong #1 at NHL level.
2.Nikita Tryamkin (22) – D/L (Yekaterinburg – KHL)
A big man with good mobility, good hands & is a smart player who understands how to use the size to great advantage & effectiveness.
Button's Top Long-Term Prospects
1.Brock Boeser (19) – RW/R (North Dakota – NCAA)
An excellent offensive player. Can score in multiple ways with playmaking ability. Smart & competitive & is a hard player to deny & play against.
2.Olli Juolevi (18) – D/L (London – OHL)
A picture of calm on defense. Fast mind & makes plays under pressure & is highly effective with puck. Incredibly efficient in all areas without much flash.
3.Troy Stecher (22)– D/R (North Dakota – NCAA)
Offensive defenseman with excellent passing ability & the vision & poise to make plays that create scoring chances.
4.Adam Gaudette (20) – C/R (Northeastern - NCAA)
A 'Jack of All Trades & a Master of None' describes his game. Plays in all areas with determination and has very good skill & is very smart.
5. Guillaume Brisebois (19) – D/L (Acadie-Bathurst -QMJHL)
Effective defenseman who skates very well. Won't produce points but will play strong defense & will move puck effectively from defensive zone.
Travis Yost's Analytic Storyline
I'd be really surprised if this team didn't struggle again in 2016-17. The Canucks had the league's fourth-worst shot differential at 5-on-5 last year (46.8 per cent), and nothing has really turned over organizationally in the off-season to provide any hope that it'll rebound back towards those 2011-12 glory days. It's worth mentioning that the only teams who finished below them – Arizona, New Jersey, and Colorado – all made significant roster or organizational changes that could, and maybe should see their performance improve. Could be a long season for the Canucks.