TSN Hockey Preview: Leafs primed to overtake Habs?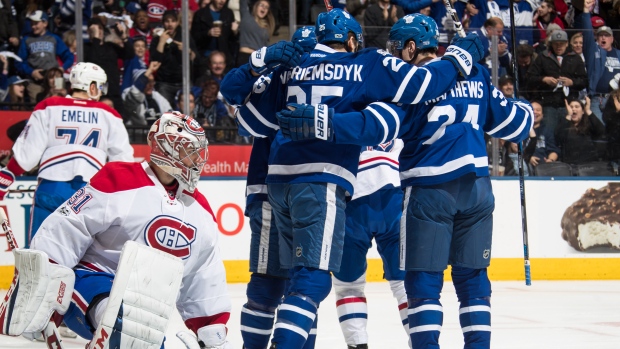 James Duthie, Ray Ferraro, Jeff O'Neill and Bob McKenzie take a look ahead at the NHL season, break down what to expect from all the Canadian teams, give predictions and more.
The panel has taken a look at the Eastern Conference and determined where they believe each Canadian team will finish by the end of the 2017-18 season.
TSN Hockey consensus projections have the Toronto Maple Leafs finishing second in the Atlantic Division. Panel members believe Auston Matthews will break out to a sophmore surge and the supporting cast will be just as talented moving forward.
Following the Leafs are the Montreal Canadiens, where the TSN consensus is that they will finish third in the Atlantic. Even with the question mark on defence - with four new players slotting into the backend - the panel believes Carey Price in goal and forward Jonathan Drouin will be the X factor for the Habs making the playoffs.
The Ottawa Senators are predicted to finish in the second Eastern Conference Wild Card spot. If Erik Karlsson can return to form following his injury, he will once again lead the Senators to a playoff spot.
TSN's consensus rounds out the rest of the Eastern Conference standings.
Atlantic Division
1st- Tampa Bay Lightning
2nd- Toronto Maple Leafs
3rd- Montreal Canadiens
1st Wild Card spot- Boston Bruins
2nd Wild Card spot- Ottawa Senators
Metropolitan Division
1st- Pittsburgh Penguins
2nd- Washington Capitals
3rd- Columbus Blue Jackets
Rest of the East:
9th- New York Rangers
10th- Carolina Hurricanes
11th- New York Islanders
12th- Philadelphia Flyers
13th- Florida Panthers
14th- Buffalo Sabres
15th- New Jersey Devils
16th- Detroit Red Wings
Western Conference
Over to the Western Conference and starting with the Edmonton Oilers.
The TSN consensus has the Oilers finishing first in the Pacific Division. With Connor McDavid leading the way and Cam Talbot in goal, Edmonton will improve to win their first division title since 1991-92.
Next up, TSN Hockey projects the Calgary Flames will finish third in the Pacific Division. With the strength of its top two lines, Calgary will look to the third line to add extra punch. Sam Bennett will look to have a breakout year on a line with 45-year-old Jaromir Jagr.
The Winnipeg Jets, according to TSN's consensus, will finish in the second Wild Card spot in the Western Conference making them the sixth Canadian team predicted to make the Stanley Cup Playoffs.
The final Canadian team will fall outside the playoff bubble, according to the TSN Hockey projections. The Vancouver Canucks will finish in 13th place in the West.
TSN's consensus rounds out the rest of the Western Conference standings.
Central Division:
1st- Chicago Blackhawks
2nd- Nashville Predators
3rd- Dallas Stars
1st Wild Card spot- Minnesota Wild
2nd Wild Card spot- Winnipeg Jets
Pacific Division:
1st- Edmonton Oilers
2nd- Anaheim Ducks
3rd- Calgary Flames
Rest of the West:
9th- St. Louis Blues
10th- San Jose Sharks
11th- Los Angeles Kings
12th- Arizona Coyotes
13th- Vancouver Canucks
14th- Colorado Avalanche
15th- Vegas Golden Knights
East: Pittsburgh Penguins vs. Tampa Bay Lightning
West: Edmonton Oilers vs. Dallas Stars
Stanley Cup: Edmonton Oilers vs. Tampa Bay Lightning
Stanley Cup champion: Tampa Bay Lightning