Twins' Mauer goes on 15-day DL with muscle strain in side
Minnesota Twins first baseman Joe Mauer has gone on the 15-day disabled list after hurting his side in Tuesday night's game against the Kansas City Royals.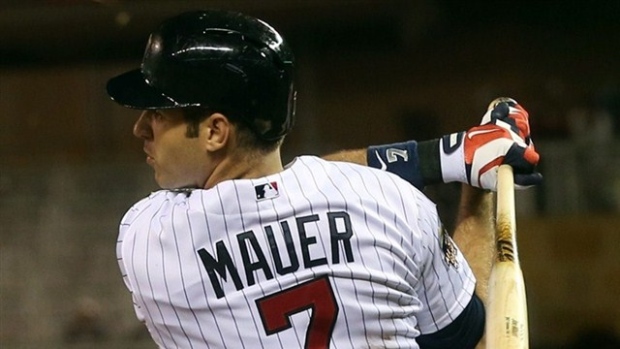 MINNEAPOLIS - Just when Joe Mauer restored his smooth swing, it brought more trouble by triggering his latest injury.
This frustrating season for Minnesota's catcher-turned-first baseman worsened Wednesday, when Mauer woke up with more discomfort than he had the night before from a strained muscle on his right side and was placed on the 15-day disabled list.
"It's been a very trying year for me personally," Mauer said. "I get things going and something happens, but that's baseball. ... This is another thing that I've got to work through, and hopefully it doesn't take too long and I get back out there soon."
Mauer was hurt swinging on his two-run double in the fourth inning Tuesday that stretched his hitting streak to 12 straight games. He batted .320, his career average, with 13 RBIs over the last 19 games. But prior to his recent surge, the six-time All-Star and three-time American League batting title holder has been in his worst slump ever, his average dipping as low as .254 a couple of times last month.
"He's put in a lot of hard work here getting his swing where he wants it, and it's been falling in for him, he's been driving in runs, and now we have this," manager Ron Gardenhire said. "You know what? It is part of the game when you play every day. You're going to have some of these things, and now we just have to let him heal."
Mauer missed the last 39 games last year with concussion-like symptoms, prompting his position switch. He sat out almost a week earlier this season with a bad back. Knee and lower-body injuries hounded him at times in his career.
His substandard production at the corner infield spot already put his All-Star selection in doubt, but this strained-oblique setback sealed the deal: Mauer won't play in the midsummer classic in his hometown.
"He's been an All-Star for quite a bit, and I'm sure it's something that he would've loved to have been a part of, but you know what? You get hurt, you get hurt," Gardenhire said.
Though Mauer stayed in the game to run the bases, he said he knew right away the injury was serious.
"I've never been shot before, but it felt like I got shot," Mauer said.
The Twins called up Chris Colabello from Triple-A Rochester to take his place on the roster. Colabello was hitting .275 with six home runs and 27 RBI in 36 games with the Red Wings. In 40 games with the Twins earlier this year, Colabello batted .232, but with 10 doubles, four home runs and 30 RBIs.
So while Colabello hasn't played in a game for the Twins since May 23, he still has driven in more runs than Mauer, who has 28 RBIs in 76 games with 20 extra-base hits. He's batting .271.