UCLA fires coach Mora in sixth season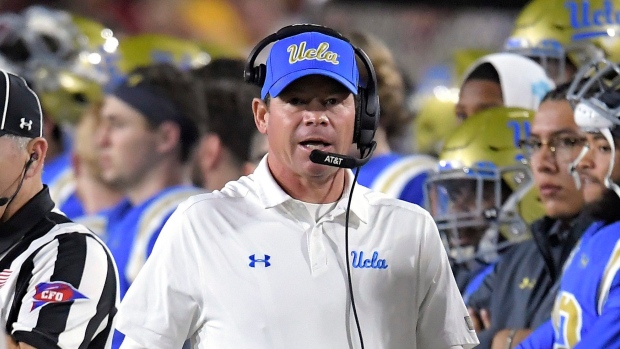 LOS ANGELES -- UCLA fired football coach Jim Mora on Sunday with one regular-season game left in his sixth season.
Athletic director Dan Guerrero announced the shocking move one day after rival Southern California's 28-23 victory over UCLA (5-6, 3-5 Pac-12) on Saturday night. Offensive co-ordinator Jedd Fisch will coach the Bruins in their regular-season home finale against California on Friday night.
UCLA must pay more than $12 million to buy out the remainder of Mora's contract, which runs through 2021. The school announced that Mora's contract will be "honoured by UCLA Athletics, exclusively using department-generated funds."
The extraordinary buyout indicates the depth of frustration in Westwood with Mora, whose tenure got off to an outstanding start before a precipitous decline.
Mora went 46-30 in his first significant collegiate coaching job, but the Bruins are on the brink of their second consecutive losing season despite a roster filled with elite recruits led by quarterback Josh Rosen. Mora won at least eight games in each of his first four seasons, but UCLA finished 4-8 last year and hasn't improved significantly this season.
"Jim helped re-establish our football program, and was instrumental in so many ways in moving the program forward," Guerrero said in a statement. "While his first four seasons at UCLA were very successful, the past two seasons have not met expectations."
UCLA still could become bowl-eligible with a season-ending victory over the Golden Bears (5-6) under Fisch, who joined the program from Michigan this season and immediately rebuilt the Bruins' offence into a solid unit. The Bruins haven't lost at the Rose Bowl all season, going 5-0.
The Bruins won 10 games in Mora's second and third seasons, tying the modest school record for victories in a season. Mora, the former coach of the Atlanta Falcons and the Seattle Seahawks, was the widespread subject of NFL speculation at the time, but he repeatedly vowed to stay with the Bruins.
UCLA is 17-19 since 2015 with Rosen in the program, including 10-16 in the Pac-12. The Bruins won just 10 of Mora's last 27 games.