UFC Notebook: Cormier defends heavyweight title
Daniel Cormier successfully defended the UFC heavyweight title for the first time at UFC 230 at Madison Square Garden City when he defeated Derrick Lewis in the second round via submission. TSN's Aaron Bronsteter has more.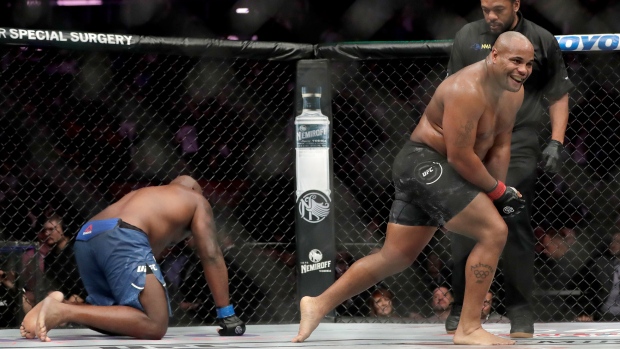 Daniel Cormier successfully defended the UFC heavyweight title for the first time at UFC 230 at Madison Square Garden City when he defeated Derrick Lewis in the second round via submission.
Cormier had no trouble taking down his larger foe, landing all four of his takedown attempts.
He became the first UFC fighter to successfully defend both the light heavyweight and heavyweight titles.
Following the fight, Cormier commended Lewis for the amount of power that he had behind all of his strikes.
He also stated that he expects his next fight to be against Brock Lesnar, asking him to bring his WWE Universal championship with him so that he could add another belt to his collection.
Cormier improved to 22-1-1 and 12-0 as a heavyweight, the second longest unbeaten streak among all heavyweights to compete in major MMA promotions behind Fedor Emelianenko.
Jacare knocks out Weidman
In a middleweight fight many years in the making, former champion and New York-native Chris Weidman faced Renaldo "Jacare" Souza on his home turf.
Heading into the fight, Weidman was 1-2 in his New York-based fights and his string of bad showings continued.
After two back-and-forth rounds, Jacare got the better of an exchange with Weidman in the third, dropping and finishing the former champion.
The 38-year-old, eight-time World Jiu Jitsu champion, improved to 26-6-1 and 9-3 in the UFC, with his only UFC loss inside the distance coming to current champion Robert Whittaker.
The middleweight championship is expected to be contested in February when Whittaker faces Kelvin Gastelum.
Attendance and Bonuses
UFC 230 in New York City drew 17,011 attendees for a reported $2,841,718.68 gate.
Fight of the Night honours went to Jacare and Weidman for their back and forth co-main event and Performance of the Night bonuses were handed out to Israel Adesanya and Jared Cannonier for their TKO wins over Derek Brunson and David Branch, respectively.
The four athletes will earn an additional $50,000.
White says Jones and Cormier rematch inevitable
In an interview with ESPN's Brett Okamoto, UFC President Dana White expressed that he felt a third matchup between heavyweight champion Cormier and former light heavyweight champion Jon Jones could happen again the future.
"They hate each other so bad that Cormier, despite Jones, has done amazing things in his career. Undefeated at heavyweight, only lost to Jones at light heavyweight, then holds both belts at the same time," White told ESPN. "Jones, in his own right, has done incredible things, most believe he's the greatest ever and he beat Daniel Cormier twice. They're both incredible, they're both two of the best to ever do it. They hate each other so bad that they don't give the other guy that respect. It's inevitable that it has to happen again."
White also alluded to the fight taking place at heavyweight.
"For Jones to beat him at heavyweight… Daniel Cormier is undefeated at heavyweight, so we'll see how it all works out," White said.
Askren outlines possible opponents for debut
Newly signed UFC welterweight Ben Askren joined ESPN's Ariel and the Bad Guy's UFC 230 coverage on Saturday.
Askren confirmed that he was pretty sure he has sorted out his contract and that everything had been agreed upon with the UFC and accused other welterweights of avoiding him since it was reported that he was joining the promotion.
Askren said that he believes he will be with the UFC for the rest of his career and said that he will debut in 2019 likely against Robbie Lawler or Stephen Thompson.
During the UFC 230 broadcast, Askren was shown as being in attendance and an announcement was made that he had joined the UFC.
UFC reveals first quarter schedule
As the UFC approaches the end of their 2018 schedule, some locations and dates for upcoming 2019 events were revealed on the UFC 230 broadcast.
The first event of the year will be the first UFC event on the ESPN+ platform and will take place in Brooklyn, New York on January 19.
UFC 233, the first pay-per-view event of 2019 will be held at the Honda Center in Anaheim, California, which is the same venue that held UFC 214, which featured the rematch between Jon Jones and Daniel Cormier. The event will be held on January 26 and was first reported by Lance Pugmire of the L.A. Times.
February's dates include UFC 234, the UFC's second pay-per-view of 2019 will reportedly be held on Feb. 9 in Melbourne, Australia and is expected to be headlined by a middleweight title fight featuring Australian champion Whittaker as he defends the title against Gastelum according to Okamoto. The other February dates are Fight Night cards on Feb. 2 in Brazil, Sunday, Feb. 17 at Talking Stick Resort Arena in Phoenix, which will be the first televised ESPN card and Saturday, Feb. 23 at a venue to be determined.
In March, UFC 235 will take place on Saturday, March 2 at T-Mobile Arena in Las Vegas and a UFC Fight Night card will be hosted in London, England on March 16. Other March dates with locations to be determined are March 9, 23 and 30.