UFC Notebook: Cyborg continues to look unstoppable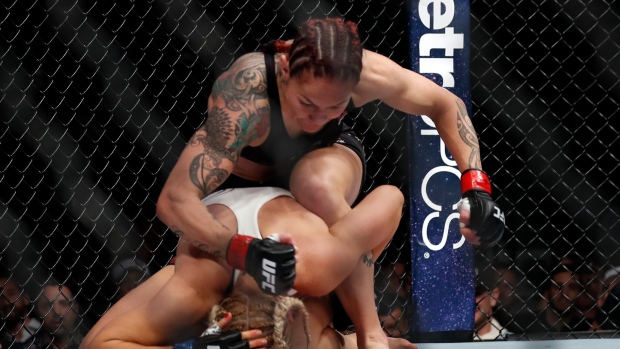 Cyborg reigns supreme
Cris "Cyborg" Justino continues to look unstoppable. The UFC featherweight champion, who has not lost since her mixed martial arts debut in May of 2005, continued her more than 12-year unbeaten streak with a first round TKO victory over promotional newcomer Yana Kunitskaya.
Kunitskaya was most recently the Invicta FC bantamweight champion, but she was signed to compete at UFC 222 against Leah Letson in a featherweight bout.
When men's featherweight champion Max Holloway withdrew from UFC 222 with an injury, the promotion needed a championship bout to headline the card and Cyborg agreed to a short notice fight with Kunitskaya.
After the win, Cyborg called out UFC women's bantamweight champion Amanda Nunes as her next opponent. According to reports, Nunes was going to defend her bantamweight crown in the main event of UFC 224 against Raquel Pennington in Rio de Janeiro, but UFC president Dana White said that he hoped to make the fight with Cyborg next instead, dependent on Cyborg's health.
Ortega earns shocking win over Edgar
Saying that Brian Ortega would defeat Frankie Edgar would not surprise anyone, but saying that Ortega, mostly known for his jiu-jitsu and slick submissions, would knock out Edgar, the former lightweight champion who had never been stopped inside the distance, in the first round would seem unfathomable.
Ortega did just that in the co-main event of UFC 222 when he knocked Edgar out towards the end of the first round and secured the next shot at the featherweight champion Holloway.
Edgar was supposed to fight Holloway in the main event of UFC 222.
With Ortega taking very little damage in the fight, the featherweight championship fight could happen in the coming months.
Dern wins her much anticipated debut
With so much hype going into her UFC debut, expectations were high for Mackenzie Dern, who comes to mixed martial arts as one of the most accomplished female jiu-jitsu practitioners in history.
Dern was able to secure her first UFC victory, but it did not come easy. Dern looked very comfortable in the first round and threw some heavy strikes, but her striking defence looked suspect. In the second round, her opponent Ashley Yoder exposed that weakness by dropping her with a strike that Dern quickly recovered from.
With the fight tied going into the third round, Dern showed her resilience by decidedly winning the round and subsequently the fight by split decision.
Dern stated that she hoped to fight again at UFC 224 in Brazil this May.
Bonuses and Attendance
UFC 222 at the T-Mobile Arena in Las Vegas, Nevada drew 12,041 attendees for a gate of $1.37 million (USD).
Performance of the Night bonuses were awarded to Sean O'Malley and Andre Soukhamthath for their three-round fight that O'Malley won by unanimous decision despite fighting much of the third round with a broken foot and being unable to stand. Ortega and Alexander Hernandez were also awarded bonuses for their knockout wins.
Each earned an additional $50,000.
McGregor will drop belt at UFC 223
UFC President Dana White has finally cleared the air on a much debated topic of discussion.
In an article by Lance Pugmire of the L.A. Times, White acknowledged that lightweight champion Conor McGregor would be stripped of his title "as soon as one punch is thrown" in the main event of UFC 223 between interim champion Tony Ferguson and Khabib Nurmagomedov.
White also said that when McGregor commits to returning to the UFC that he will be first in line for a title shot at lightweight.
UFC 223 takes place on April 7 at Barclays Center in Brooklyn.
Blaydes vs. Overeem reported
A heavyweight fight that could have major ramifications in a shallow heavyweight division is being discussed for UFC 225, which takes place on June 9 at The United Center in Chicago.
The fight would feature fifth-ranked Curtis Blaydes, who is coming off of a huge win over Mark Hunt, and second-ranked Alistair Overeem.
Blaydes, a Chicago native, could be next in line for a title shot with a win considering that champion Stipe Miocic has defeated every fighter in the Top-3 and fourth-ranked Cain Velasquez has been inactive, having only fought twice over the last four years.