UFC Notebook: Dos Santos wins third straight
In a back and forth matchup with recent heavyweight title contender Derrick Lewis on Saturday night, Junior dos Santos excelled using his footwork and volume to overwhelm Lewis en route to a second-round TKO victory, Aaron Bronsteter writes.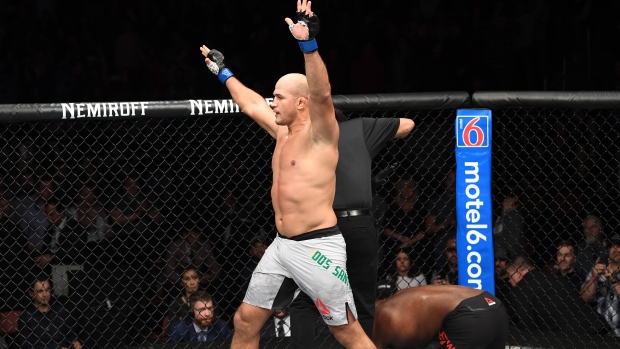 Dos Santos wins third straight
Junior dos Santos continued his recent momentum in the main event of UFC Fight Night at the Intrust Bank Arena in Wichita, Kansas, the first event ever held in the state.
In a back and forth matchup with recent heavyweight title contender Derrick Lewis, dos Santos excelled using his footwork and volume to overwhelm Lewis en route to a second-round TKO victory.
The win was the third straight for dos Santos, his longest winning streak since losing the heavyweight championship to Cain Velasquez in December 2012.
A win over the higher ranked Lewis will help his prospects for a late-career run to perhaps recapture the heavyweight championship.
One interested suitor appears to be Francis Ngannou, who posted an emoji on Twitter following the win that indicated he was giving a matchup with dos Santos some thought.
Ngannou recently scored a win over former champion Cain Velasquez in just 26 seconds in the UFC's first-ever ESPN-televised main card.
A matchup between Ngannou and dos Santos had been scheduled for UFC 215 in Edmonton in 2017, but was pulled due to dos Santos being flagged by USADA for an anti-doping violation that was inevitably attributed to a tainted supplement.
Zaleski dos Santos continues winning streak
Elizeu Zaleski dos Santos has long been one of the more unheralded welterweights in the UFC and when he was given a co-main event opportunity against Curtis Millender, he made the most of it with a first-round rear-naked choke finish.
With the win, Zaleski dos Santos now has the second most consecutive wins in the welterweight division with 7, his last three coming inside the distance.
Going into the matchup, Zaleski dos Santos was ranked 14th in the division and will inch closer to a top-10 berth following the victory.
The loss is Millender's first in the octagon following three straight wins to start his tenure with the promotion.
Attendance and bonuses
UFC Fight Night in Wichita, Kansas drew 7,625 attendees for a gate of $636,417 (USD).
The Fight of the Night bonus went to the main event competitors, dos Santos and Lewis, and Performance of the Night bonuses went to Niko Price for his incredible knockout victory over Tim Means and to Beneil Dariush for his submission victory over Drew Dober.
Lewis, dos Santos, Price and Dariush all earn an additional $50,000 (USD) on top of their contracted purses.
Smith to face Gustafsson in Sweden
The last two individuals to lose to Jon Jones will square off against one another in Sweden this June.
Anthony Smith, who recently lost when challenging Jones for the light heavyweight championship earlier this month at UFC 235, has already agreed to his next bout where he will face two-time title challenger Alexander Gustafsson in his hometown of Stockholm, Sweden on June 1.
Gustafsson also fell short against Jones this past December at UFC 232 in a rematch of their incredible title bout in Toronto at UFC 165.
Smith told TSN after the loss to Jones that he felt he was a beatable opponent and wanted to do whatever it takes to secure another matchup with him. A win over Gustafsson would certainly be a step in that direction.
B.J. Penn gets another UFC matchup
UFC Hall of Famer and former lightweight champion B.J. Penn will reportedly get another opportunity to earn a win before his career comes to a close.
According to reports, Penn will face Clay Guida at UFC 237, which takes place in Rio de Janeiro, Brazil.
Penn is winless in his last seven fights, with his last win coming against Matt Hughes in 2010.
Penn told TSN at UFC 232 in December, prior to his loss to Ryan Hall, that he still loved competing in the sport despite the result and the UFC has had no issue with him continuing his career despite a lack of success.
Guida, a veteran of 26 UFC bouts, is 5-5 in his last ten.