UFC Notebook: Fight Night 117 card delivers memorable moments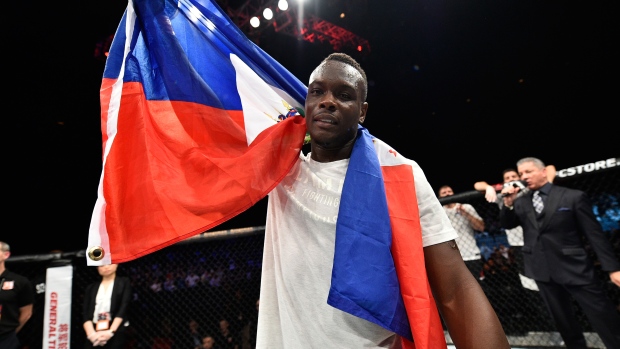 The UFC returned to the Saitama Super Arena in Saitama, Japan for the first time in two years with an event Friday night that was not particularly loaded on paper, but delivered several fights with interesting results.
In the main event, Ovince Saint Preux defeated Yushin Okami, who was making his promotional return, via Von Flue choke in the first round.
The Von Flue choke, which is named after Jason Von Flue, who utilized the choke in the UFC in 2006, has only happened on five occasions in the UFC. Saint Preux is responsible for three of those.
The co-main event featured a women's strawweight fight between previous title contenders Claudia Gadelha and Jessica Andrade. The bout was considered by many to be one of the best in the history of female UFC fights.
After a close first round, Andrade started to win the striking exchanges and control the fight en route to a unanimous decision victory.
The win moves Andrade back into the title picture after losing to Joanna Jedrzejczyk at UFC 211.
Another incredible moment at UFC Fight Night was the organizational debut of kickboxing legend Gokhan Saki, who defeated Luis Henrique da Silva in the first round.
Saki, who has a kickboxing record of 83-12-1, told Ariel Helwani on The MMA Hour that he planned to move to Miami full-time to train for his next UFC fight.
Attendance and bonuses
The event drew 8,571 fans. A gate figure was not reported.
Andrade, Gadelha, Saki and Saint Preux all received Performance of the Night bonuses worth $50,000.
White denies confirmation of McGregor vs. Diaz trilogy fight
UFC president Dana White took to Twitter on Sunday to refute reports from several outlets that a trilogy fight between Conor McGregor and Nate Diaz had been agreed upon for UFC 219 in Las Vegas on Dec. 30.
Helwani also addressed what he had heard about the rumours on Twitter and said that while the plan has been for the fight to happen at UFC 219 that it is nowhere near finalized.
The fight would be McGregor's first MMA fight in more than a year after taking time off to pursue his boxing debut against Floyd Mayweather and spend time with his newborn son.
Diaz has also had more than a year layoff and has reportedly been holding out for another fight with McGregor.
Brown to retire after upcoming fight
Matt Brown, a veteran of 23 UFC fights, has announced that his upcoming fight against Diego Sanchez on Nov. 11 in Norfolk, VA will be his last.
Brown, who is 1-5 in his last six fights, has fought some of the top welterweights over the past three years, including former champions Robbie Lawler and Johny Hendricks, and title challengers Demian Maia and Donald Cerrone (lightweight).
Brown has earned five performance bonuses over the course of his career and was a contestant on the Ultimate Fighter season 7. Sanchez was the winner of the first season of The Ultimate Fighter and is the lone UFC fighter from that season who is still active in the organization.
VanZant vs. Eye removed from UFC 216
UFC 216 took a hit Monday when Paige VanZant was forced to withdraw from the event and her flyweight fight with Jessica Eye due to an injury.
The card will now proceed with 12 fights according to MMA Fighting.
The UFC is reportedly looking to reschedule the fight.