UFC Notebook: Overeem, Modafferi shine at Fight Night 149
Alistair Overeem continues to be a threat in the heavyweight division and Roxanne Modafferi surprised Antonina Shevchenko at UFC Fight Night 149 in St. Petersburg, Russia.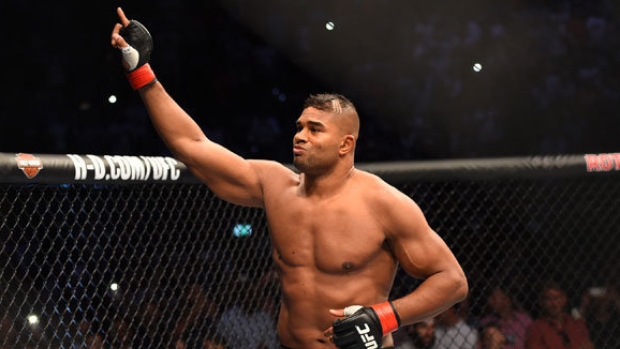 Overeem scores second straight first round finish
Alistair Overeem continues to be a threat in the heavyweight division.
After absorbing an onslaught of strikes from his opponent and former training partner Alexsei Oleinik throughout the first round, Overeem weathered the storm, dropped Oleinik with a knee and then finished him with ground strikes with just fifteen seconds remaining in the round.
This is the second straight first-round win that Overeem has earned and coincidentally both came against Russian adversaries.
With the win, Overeem looks to inch his way back into the heavyweight division's top five in hopes of securing a late-career title fight.
The main event at UFC Fight Night in St. Petersburg, Russia, was the fourth first-round knockout on an action-packed card.
Modafferi surprises Shevchenko
Roxanne Modafferi has had a roller coaster career that has included both a six-fight win streak and six-fight losing streak along the way.
In her 38th professional fight, Modafferi was a heavy underdog against undefeated Antonina Shevchenko, the older sister of the women's flyweight division's champion Valentina Shevchenko.
The bout was controlled on the feet by Shevchenko, but Modafferi managed to find a way to out-grapple her opponent with nearly 10 minutes of control time en route to a split decision victory.
The win likely moves Modafferi closer to a second shot at the women's flyweight title and into the division's top five.
The women's flyweight title will be contested at UFC 238 in Chicago this June when the younger Shevchenko defends her title against Jessica Eye.
Attendance and Bonuses
UFC Fight Night at Yubileyny Sports Palace in St. Petersburg drew a reported sellout crowd of 7,326 attendees.
Fight of the Night bonuses were awarded to co-main event competitors Islam Makhachev and Arman Tsarukyan for their three round back-and-forth bout.
Performance of the Night bonuses went to Magomed Mustafaev and Sergei Pavlovich for their first-round knockout finishes.
All four fighters earned an additional $50,000 (USD)
Ige mistakenly gives blood to random person
UFC athletes have become accustomed to early morning visits from USADA representatives who are looking to collect a urine or blood sample or sometimes both, so when featherweight Dan Ige was woken up by a knock at the door with someone looking to collect his blood, he thought nothing of it.
In this instance, it turned out to be a case of mistaken identity as according to Ige, he gave blood to an individual who was at the wrong address.
While Ige said that USADA's representatives should identify themselves more succinctly both verbally and with their apparel, the anti-doping organization's spokesman Adam Woullard told MMA Junkie that collectors "always" wear USADA branded gear.
McGregor competes in boxing exhibition
Conor McGregor made his return to the boxing ring for the first time since his professional debut and loss to Floyd Mayweather in August of 2017.
Videos surfaced on Twitter of McGregor taking part in an exhibition matchup in his hometown of Crumlin at the Crumlin Boxing Club, where McGregor had engaged in a training session just two days prior according to the club's Facebook account.
According to the Irish outlet Sports Joe, McGregor faced Michael McGrane in a bout that resulted in a draw.
Attending the annual "Good Friday Boxing Show" was free of charge, which was a treat for the locals to celebrate their hometown star.