UFC Notebook: Poirier wins epic battle with Gaethje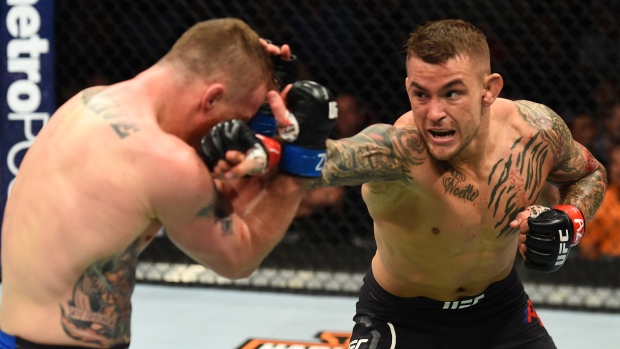 In his three bouts in the UFC, Justin Gaethje has delivered three of the most memorable fights in the promotion's history. In the main event of UFC Fight Night in Glendale, Arizona, Gaethje pushed forward for nearly four rounds against Dustin Poirier, who obliged him and stood in the pocket trading with him in a high pace, high output affair that ended when Poirier eventually scored a TKO victory in the fourth round.
Poirier landed a staggering 183 significant strikes over the course of the fight and used his post-fight interview to call for a lightweight title fight against newly crowned champion Khabib Nurmagomedov.
Poirier is 7-1-1 in his last nine fights and has certainly made his way up the ladder with back-to-back wins over Gaethje and former champion Anthony Pettis.
The fight will undoubtedly be a candidate for fight of the year, which seems to be a given when Gaethje, now 1-2 in the UFC, performs in the Octagon.
Bhullar suffers first loss
Canadian heavyweight and former Olympian Arjan Singh Bhullar lost for the first time in his mixed martial arts career via a seldomly successful submission.
Bhullar's opponent, Poland's Adam Wieczorek, caught Bhullar with an omoplata in the second round, which was only the second time that a fight has been won by that method in UFC history. The first was by welterweight Ben Saunders in 2014.
Bhullar was considered by many to be one of the Canadians with the most upside in the UFC and while he is still young in his UFC career, he showed some vulnerability in this loss.
Despite the loss, Bhullar did make history by being the first UFC competitor to wear a turban to the octagon. Bhullar is of Sikh descent and was celebrating Vaisakhi, a Sikh holiday celebrating the Khalsa community of Sikhs.
UFC 225 adds three big fights
UFC 223 may have lost several fights during fight week, but some additions to UFC 225, which takes place on June 9 in Chicago, are more than filling the void.
The UFC announced that fights between featherweights Ricardo Lamas and Mirsad Bektic and women's featherweights Holly Holm and Megan Anderson have been added to the card.
Additionally, the much anticipated return of CM Punk was announced officially, he will be facing Mike "The Truth" Jackson (0-1 UFC). Punk and Lamas both hail from Chicago and will be fighting in front of a home crowd.
UFC 225 is now stacked with great fights with two titles on the line and several fights to determine top contenders in certain divisions.
The UFC has previously held five events at Chicago's United Center, all of which were on the main FOX network, but this is the first pay-per-view event that the promotion has brought to the city.
Lesnar re-signs with WWE, has option for one UFC fight
Many UFC fans were distressed by the news that former heavyweight champion Brock Lesnar had re-signed with the WWE, but the door is not closed on Lesnar making his return to the promotion.
According to Dave Meltzer of MMA Fighting and The Wrestling Observer, sources indicate that Lesnar has the option for at least one UFC fight written into this contract.
At a press conference prior to UFC 223, UFC president Dana White said that there was a possibility that Lesnar would fight the winner of the UFC 226 main event where heavyweight champion Stipe Miocic defends his title against light heavyweight champion Daniel Cormier.
Lesnar recently retained the WWE Universal Championship at Wrestlemania 34, which came as a surprise to many as it was known his contract was ending soon.
UFC adds big fight to Canadian card
According to Brazilian outlet Combate, a fight between former featherweight champion Jose Aldo and Jeremy Stephens will be the co-main event of an upcoming UFC on FOX card on July 28th that will take place at an undetermined location in Canada.
Reports have indicated that the card may take place in Calgary, which would be the first time the promotion has held an event there since the disastrous UFC 149 card, an event that White has promised to make good upon.
This will be the first time in his UFC career that Aldo has fought on a non-pay-per-view event and also the first time he will be in a non-title fight.
Aldo is coming off of back-to-back losses to Max Holloway at UFC 212 last June and UFC 218 last December.