UFC Notebook: St-Pierre signs bout agreement, details future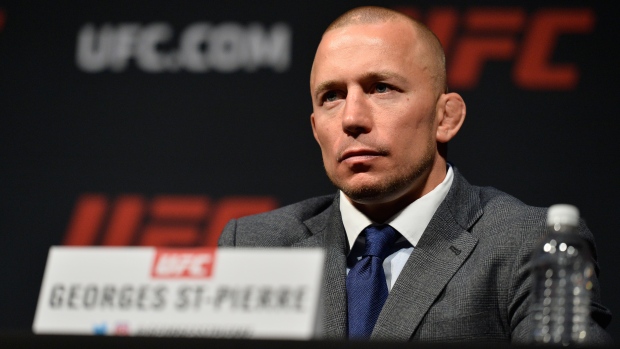 St-Pierre signs bout agreement, details future
Former UFC welterweight champion Georges St-Pierre posted photos on social media of him signing his UFC 217 bout agreement to face Michael Bisping on Nov. 4 at Madison Square Garden in New York for the middleweight title.
While the fight has not been officially announced by the organization, it appears that at least St-Pierre has signed his end of the agreement and that the announcement should be forthcoming.
St-Pierre appeared on The MMA Hour with Ariel Helwani and discussed what the future would hold if he were to defeat Bisping. St-Pierre stated that he has a multi-fight deal with the UFC that includes him defending the title. So with a win over Bisping, he would be expected to face interim middleweight champion Robert Whittaker, who is currently injured until early 2018.
St-Pierre also told Helwani that he's now walking around at nearly 200 pounds rather than 185 pounds, the weight he was at when he competed in the welterweight division.

Silva, Hendricks and Hunt's upcoming fights announced
Some upcoming fights featuring some of the UFC's biggest names have been announced this past week.
Headlining the UFC's first foray into mainland China will be a middleweight fight between a former middleweight champion, 6th-ranked Anderson Silva, and 8th-ranked Kelvin Gastelum. This matchup was previously announced for UFC 212 in Rio de Janeiro, but was removed after Gastelum was flagged for an in-competition marijuana-use violation.
Since that date, Gastelum lost a fight against former middleweight champion Chris Weidman and will hope to re-enter the conversation as a contender with a win over the legendary Silva.

McGregor to compete in both boxing and MMA after Mayweather fight
Last week, lightweight champion Conor McGregor hosted an open workout and during his media scrum he stated that he intends to compete in both boxing and mixed martial arts going forward.
Whether that declaration may hinge on how he fares against Floyd Mayweather, arguably this generation's best boxer, is yet to be seen.
McGregor also said that he expects to make in the neighbourhood of $100 million USD, which includes a stake in the pay-per-view sales, live gate, merchandise and more.

Cormier may compete at heavyweight
In his first interview since losing the light heavyweight title to his rival Jon Jones, Daniel Cormier told Ariel Helwani on The MMA Hour that he would entertain the idea of fighting at heavyweight.
While he said that he did not intend to fight again in 2017, Cormier said that the organization has reached out to him with some ideas for future fights that he is weighing.
Cormier also revealed that he does not remember some things that happened immediately after he was knocked out and he has yet to watch his loss to Jones.
Despite his second loss to Jones, Cormier is convinced that he and Jones will fight again.
Cormier said that hundreds of people reached out to him directly to lend him support, including NBA legend Charles Barkley.