UFC Notebook: Stephens takes big step forward win over Emmett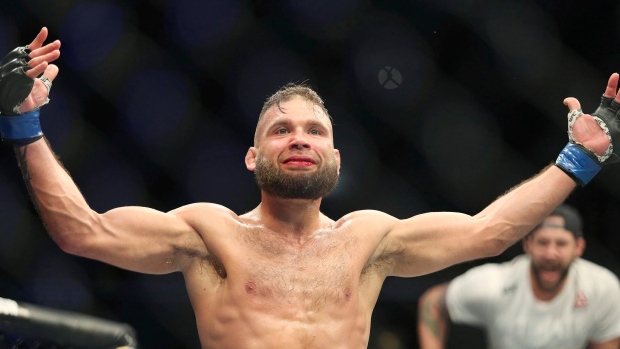 Stephens experiencing career renaissance with Emmett win
After a stretch where Stephens went 2-5 in the featherweight division, Jeremy Stephens looked like nothing more than a gatekeeper and elder statesman of the UFC.
That notion was firmly quashed on Saturday at the UFC's Fight Night card in Orlando, Fla., when Stephens defeated 4th ranked featherweight Josh Emmett and has now won three fights in a row.
In his post-fight interview, Stephens called for a title shot, but acknowledged that there were three fighters ahead of him, one of whom could exit the mix next weekend when No. 2 ranked Frankie Edgar faces No. 3 ranked Brian Ortega at UFC 222.
The fight was the 42nd of Stephens's career and his 28th in the UFC. Despite his long career, he is still only 31.
The win will likely catapult Stephens from eighth in the featherweight rankings to fourth, the spot that was occupied by his opponent.
Bonuses and Attendance
UFC Fight Night at the Amway Center drew 10,124 attendees for a gate of $1.06 million.
Performance of the Night bonuses were awarded to Alan Jouban and Ben Saunders for their back-and-forth fight that Jouban won by knockout in the second round and to Ilir Latifi and Jeremy Stephens for their submission and knockout finishes against Ovince St-Preux and Josh Emmett, respectively.
Each earned an additional $50,000.
Jacare to face Gastelum in potential title eliminator
It was announced this week that 2nd ranked Ronaldo "Jacare" Souza will be taking on No. 5 ranked Kelvin Gastelum at UFC 224 in Rio de Janeiro in a potential title eliminator.
Gastelum told TSN earlier this year that he was disappointed that he was not selected to face Luke Rockhold for the interim middleweight title at UFC 221, a fight that Rockhold lost to Yoel Romero, who is expected to be next in line to face champion Robert Whittaker.
Most of Gastelum's fights have taken place at welterweight, but due to consistent issues with making weight, he has made the move to middleweight where he is 3-1 with his only loss coming to former champion Chris Weidman.
Jacare is coming off of a knockout victory against Derek Brunson last month in Brunson's home town of Charlotte, N.C.
Lee vs. Barboza, Rivera vs. Moraes reported as main events for future cards
MMA Fighting reports that two main events for upcoming UFC Fight Night cards are in the works.
No. 4 ranked Edson Barboza will reportedly face No. 7 lightweight Kevin Lee in the main event of UFC Fight Night in Atlantic City, N.J., on April 21. No. 4 bantamweight Jimmie Rivera will reportedly face No. 5 Marlon Moraes on Friday, June 1, in the main event of the organization's first card in Utica, N.Y.
Barboza and Lee are coming off losses to the two headliners of UFC 223, with Barboza having lost a lopsided decision to Khabib Nurmagomedov and Lee losing by submission in a fight for the interim lightweight championship against Tony Ferguson.
The fight between Rivera and Moraes will improve the positioning of one of these two bantamweights in a division that may be on hold should the super fight between champion T.J. Dillashaw and flyweight champion Demetrious Johnson be booked.
Rivera is currently on a 20-fight winning streak and is 5-0 in the UFC. The former World Series of Fighting (now Professional Fighters League) bantamweight champion Moraes is 2-1 in the UFC and the winner of two in a row over ranked opponents.
McGregor claims he offered to step in for UFC 222
Conor McGregor posted on Instagram with his most pointed statement assuring his commitment to fighting again in the UFC.
He wrote the following:
I am the best at this.
I put my name forward to step in at UFC 222 to face Frankie Edgar when Max Holloway pulled out, but I was told there wasn't enough time to generate the money that the UFC would need.
I was excited about bouncing in last minute and taking out the final featherweight, without all the rest of the stuff that comes with this game.
Please respect the insane amount of work outside the fight game that I have put in.
On top of the fighting.
I am here.
It is on them to come and get me. Because I am here.
Yours sincerely,
The Champ Champ™
While Edgar's manager Ali Abdelaziz denied that McGregor had offered to step in and face Edgar and accused him of ducking Edgar over the years, it's not certain that he would have been privy to the information that McGregor was interested in the fight if the UFC wasn't interested.
The other interesting part about of McGregor's post is that it implies that he'd be interested in fighting in the featherweight division again, something that many believed would not be a possibility due to the visibly tough weight cut.
Dana White recently said that the fight between Ferguson and Nurmagomedov at UFC 223 was for "the real lightweight title", but currently McGregor has not been stripped of his lightweight title in an official capacity.