UFC Notebook: Till delivers upset over Cerrone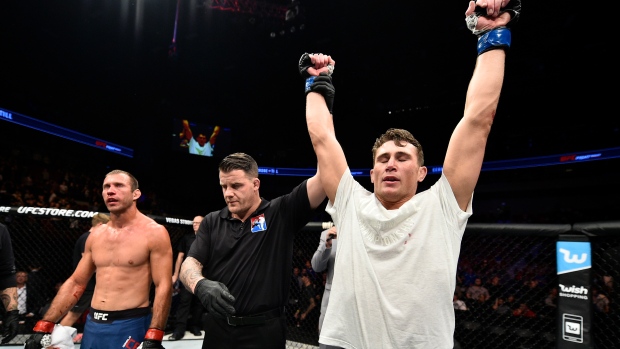 Considered something of an unknown heading into his main event fight against Donald "Cowboy" Cerrone at UFC Fight Night in Gdansk, Poland on Saturday, Darren Till made good on his promise by defeating Cerrone by technical knockout in the first round.
Till remains undefeated, improving his record to 16-0-1 and was quick to call out up and coming welterweight Mike Perry, who was sitting cageside for the event.
Perry is scheduled to face Santiago Ponzinibbio on Dec. 16 in Winnipeg, so that matchup will likely have to wait.
Cerrone has now lost three fights in a row, the only multi-fight losing streak of his 43-fight career.
McGregor issued warning during teammate's fight
Conor McGregor's presence was felt in Gdansk as he was standing cageside during his teammate Artem Lobov's decision loss to Andre Fili.
During the fight, referee Marc Goddard called a timeout to warn an overly enthusiastic McGregor to keep his voice down and act professionally since McGregor was not a licensed cornerman.
McGregor obliged and refrained from shouting for the remainder of the fight.
While McGregor does not have an upcoming fight scheduled, UFC president Dana White told TSN that he was hopeful that McGregor would fight at UFC 219 on December 30 at T-Mobile Arena in Las Vegas.
Bonuses and attendance
The UFC awarded Performance of the Night bonuses to Till for his impressive win over Cerrone and to Polish fighter Jan Blachowicz for his crafty submission win over Devin Clark.
Fight of the Night bonuses went to Brian Kelleher and Damian Stasiak for their exciting fight that resulted in a third round Kelleher victory. Each fighter earned an additional $50,000
The event in Gdansk drew 11,138 fans with a box office gate of roughly $677,000.
Soccer hooligans cause fight postponement
UFC fights are canceled the day before fight night all the time, typically for health-related reasons. This weekend's card had one fight rescheduled for a reason seldom seen in mixed martial arts.
A heavyweight matchup between Anthony Hamilton and Adam Wieczorek was canceled from the UFC Fight Night in Gdansk because of Wieczorek's allegiance to a soccer team.
According to John Morgan of MMA Junkie/USA Today, during the UFC's ceremonial weigh-ins at Ergo Arena, several violent soccer hooligans known as "ultras", who were supporting the local Lechia Gdansk team, showed up reportedly to confront Wieczorek, who is a supporter of the team's rival Ruch Chorzow.
Due to concerns about the fighters' safety, the UFC took preventative measures and moved the fight to the organization's card in Sydney, Australia on Nov. 19.
Nogueira notified of potential USADA anti-doping violation
The UFC's stacked Fight Night card in Winnipeg took a small hit last Thursday when Antonio Rogerio Nogueira was notified of a potential USADA anti-doping violation and subsequently removed from his fight with Jared Cannonier on Dec. 16.
Nogueira (5-5 UFC) now has as many fight cancellations in the UFC as he does actual fights.
The UFC is seeking a replacement opponent for Nogueira.
Nogueira released a statement via Instagram that he was flagged for a banned diuretic and was surprised when he was notified by USADA of the potential violation.
Nogueira turned 41 earlier this year and if he faces a lengthy ban, there is a chance that his career is over.
UFC rumoured to be holding three PPV events in seven weeks to start 2018
According to Raphael Marinho of Combate, the UFC's Brazilian broadcast partner, the organization has set dates for its first three pay-per-view events in 2018.
UFC 220 would be held on Jan. 20, UFC 221 is reportedly scheduled for Feb. 10 with Brooklyn being the likely destination and UFC 222 would be slated for March 3.
This would mean that three of the UFC's marquee events would be spread out over seven weeks, which is a very ambitious way to begin the year.