'Up close' with Connor McDavid
TSN Hockey analytics writer Travis Yost examines how effective the Edmonton Oilers' superstar is in taking advantage of prime scoring areas.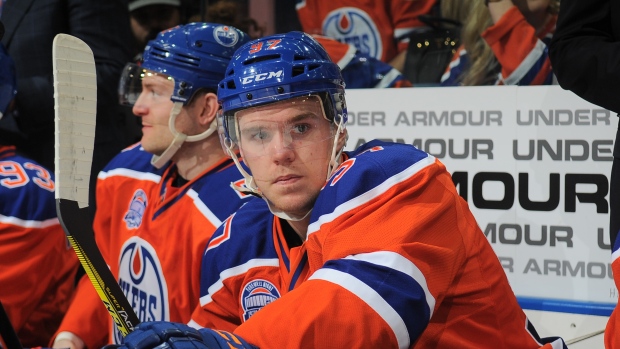 Despite playing in just 45 games last year, it's fair to say that Edmonton Oilers forward Connor McDavid left his mark. At the age of 19, I'd argue that he's one of the 10 best skaters in the league.
And that's still understating how dominant of a player he is.
One of the most noticeable aspects of McDavid's game was how effortlessly he would enter prime scoring areas. And it's not as if he wasn't on the opposing defence's radar (the kid averaged over a point-per-game and entered the league billed as the next coming of Sidney Crosby). This was more about a teenage hockey player being better than most adults in the biggest professional hockey league in the world.
And that point on dangerous scoring areas shouldn't go unnoticed. For the most part, the few guys who make a living driving into these areas and generating high volumes of shots have generally provided that type of unstoppable individual offence that every team covets.
We looked at single-season shooting distances for all forwards since the 2007-2008 and it probably wouldn't surprise you that the top of the list was comprised of some of the league's most renowned goal-scoring superstars like Sidney Crosby, Evgeni Malkin and John Tavares. Why? Because the relationship between shooting distance and the probability of goal-scoring is real. The closer you are to the net, the more likely you are to score.
But what if I told you that Connor McDavid's 2015-2016 season trumped even these elite talents in their best years? Would you believe that?
Below is an itemization of the most favourable shooting distances by forward since the 2007-2008 season (data via Corsica) for Top 6 forwards (forwards who played at or higher than the league-average ice-time over the course of a season. McDavid posted one of the most impressive single season shot distances we've seen since the data became available:
Most Favourable Shooting Distances by Top 6 Forward
| Player | Season | EV Shot Distance |
| --- | --- | --- |
| Joonas Donskoi | 2015-2016 | 19.03 |
| Connor McDavid | 2015-2016 | 19.44 |
| Sidney Crosby | 2007-2008 | 20.21 |
| Tyler Ennis | 2012-2013 | 20.28 |
| Paul Stastny | 2015-2016 | 20.31 |
| Adam Henrique | 2013-2014 | 20.48 |
| Saku Koivu | 2011-2012 | 20.66 |
| Mikhail Grabovski | 2013-2014 | 20.72 |
| Adam Henrique | 2011-2012 | 20.78 |
| John Tavares | 2014-2014 | 20.79 |
| Jonathan Toews | 2012-2013 | 21.07 |
| Andrew Brunette | 2008-2009 | 21.12 |
| Paul Stastny | 2007-2008 | 21.12 |
| Jaromir Jagr | 2007-2008 | 21.18 |
| Jonathan Toews | 2013-2014 | 21.19 |
| Matt Stajan | 2012-2013 | 21.19 |
| Evgeni Malkin | 2013-2014 | 21.29 |
| Saku Koivu | 2009-2010 | 21.29 |
| Jordan Eberle | 2012-2013 | 21.38 |
| David Desharnais | 2014-2015 | 21.39 |

McDavid's one of two players to ever break that 20-foot threshold for 'Top 6' types. Interestingly enough, the other player to do it also had something of a breakout season this year - Finnish winger Joonas Donskoi. Considering Donskoi didn't get to play much with Joe "Makes Everyone Better" Thornton, this is quite the accomplishment.
So yes - McDavid's shot distance was wondrous, and the group of peers by this statistical measure are players ranging from 'good' to 'elite.' But just how impressive - and unlikely - is posting a shot distance like this over the course of a season? Let's look at the league-wide data for the same group of players and observe the distribution: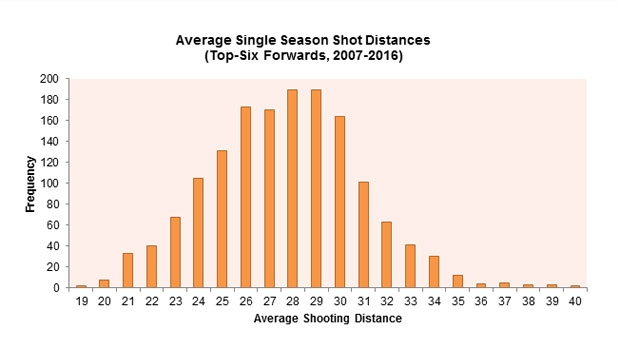 This is where McDavid (and Donskoi!) are so impressive from last year – it's not just the fact that their 19-20 foot average shooting distances are above the others, it's that they're multiple standard deviations from the league average (which is really about 28-29 feet).
Can this be sustained over multiple seasons? I'd be impressed if McDavid can break that 20-foot barrier again, but we've seen a handful of players sustain well-above-league-average shooting distance over many seasons. Crosby, for example, has had three seasons below the 23-foot cut-line, and has never had a season at or below league average.
At the bare minimum, this shot distance phenomenon is going to be something to monitor going forward. McDavid's already made a habit out of making opposing defenses look silly. If teams can't keep him from the chancy scoring areas in front of the net, they're going to have an impossible time keeping him off of the scoreboard.