Velasquez's resume puts him among the greatest heavyweights of all-time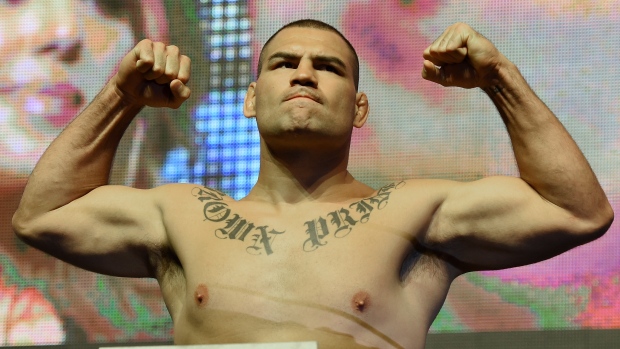 The list of men that have held the UFC's heavyweight title is short and even shorter when you factor in those that have had multiple reigns.
One of those men, two-time champion Cain Velasquez, will return to the Octagon on Sunday at Talking Stick Resort Arena in Phoenix, Ariz., when he faces Francis Ngannou.
The 36-year-old has battled back injuries and has not made the walk since a July 9, 2016 victory over Travis Browne.
Velasquez has only dropped two fights in his Mixed Martial Arts career, losing the title in both defeats, so does that make him the best heavyweight fighter in the history of the sport?
Fedor Emelianenko's name is usually the first mentioned in this conversation and for good reason. Despite never throwing a punch in MMA's marquee promotion, the 42-year-old has fashioned one of the most illustrious and respected careers in the sport.
The Russian's career has been decorated, winning titles and tournaments in too many promotions to name. He's been successful all over the globe since winning his first professional fight in 2000.
Before falling to Daniel Cormier at UFC 226, Stipe Miocic became the only heavyweight to successfully defend the championship three consecutive times, with victories over Alistair Overeem, Junior dos Santos and Ngannou to set the mark.
Where does Velasquez rank on that list? It doesn't matter as far as he's concerned, but he's sure of what would happen if he ever got either of those men in the Octagon.

---
---

"It's whatever the fans think, it's up to them," Velasquez told TSN's Aaron Bronsteter on the TSN MMA Show. "But I think I'm up there with them. I think if I got the chance to fight any of those guys, I'd beat them."
Emelianenko along with another MMA legend, Anderson Silva, were both recently applauded for giving game but losing efforts in their most recent fights. While the question of whether or not the game has passed them by for good remains to be answered, Velasquez is not interested in seeing himself reach that point of his career.
"If I get to that point, I don't think I'll be fighting anymore," said Velasquez. "I'm doing this to be the best in the game, I'm not doing this just to do it. I want to compete at the highest level; if I can't do that then I would have to stop fighting."
"I would say Fedor is a different animal, he's an ambassador of the sport and he loves to fight, my hats off to him and what he's done and how long he's been in this sport. I've always had a tremendous amount of respect for him as a fighter and as a person."
One of the UFC's greatest rivalries has been between Velasquez's friend and training partner Daniel Cormier and current light heavyweight champion Jon Jones. If Cormier and Jones are not able to tangle again to settle the score between them, it does not sound as though Velasquez would hesitate at taking a shot at fighting his friend's rival.
"He's one of the greatest that's ever done it; he's still young and still in his prime, if we were to get it together, then yeah," said Velasquez. "I would love to take on that challenge, for me it's the challenge aspect, what does this guy possess and what's the best way of beating him, that's the way I look at all of my opponents. I would definitely look forward to something like that if it were to happen."