VGK F Haula stretchered off vs. Leafs
Vegas Golden Knights centre Erik Haula was stretchered off the ice in the third period Tuesday after taking a hit from Toronto's Patrick Marleau. It was a clean hit but as Haula hit the boards near centre ice, his right leg buckled as he fell backwards.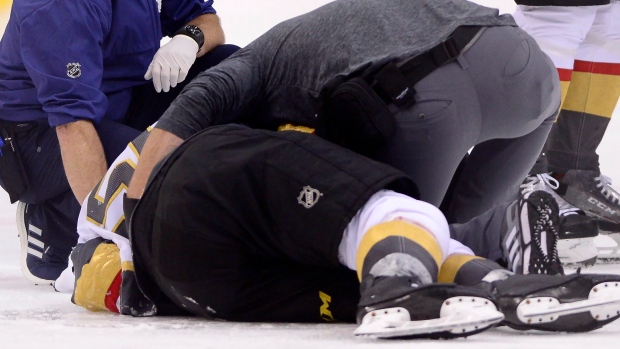 TORONTO — The Vegas Golden Knights saw another forward go down Tuesday and it didn't look good.
Centre Erik Haula was stretchered off the ice early in the third period of a 3-1 loss to the Maple Leafs after taking a clean hit from Patrick Marleau as he backhanded the puck into the Toronto end.
Marleau finished the check and, as Haula hit the boards near centre ice, the Vegas forward's foot seemed to catch in the ice and his right leg buckled as he fell backwards. He clutched his knee in plain after hitting the ice.
"We'll know more (Wednesday)," Vegas coach Gerard Gallant said of the injury. "Obviously it didn't look good on the ice. I haven't heard from the trainers or doctors yet."
Haula waved to the crowd as he was taken off the ice. It didn't make his teammates feel much better.
"Haula's a big player for us. We seem to just keep getting hit by the injury bug a little bit now," said winger Ryan Reaves. "It's tough when you start getting players back and all of a sudden you lose another one."
"I'm really pulling for him and hope everything's all right," added defenceman Shea Theodore.
Marleau was also hoping for the best.
"It just seemed like a normal hit," he said. "I was just rubbing him out (along the boards) after he dumped the puck in. I turned and started to go to the bench and hear the whistle go after that. I turned around and he was on the ice. I just hope he's OK."
It's another injury blow for Vegas (6-8-1), which already has centre Paul Stastny (lower-body injury) on injured reserve. The team said in mid-October that Stastny, injured Oct. 8 in Buffalo, could be out for two months.
Stastny signed a US$19.5 million, three-year contract in the off-season.
The 27-year-old Haula, filling in for Stastny, was playing on the second line with Max Pacioretty and Alex Tuch. Tuesday marked Pacioretty's return from an upper-body injury suffered Oct. 26 against the Tampa Bay Lightning. Tuch has also missed time through injury this season.
"It would be nice to have the whole team at some point," said goaltender Marc-Andre Fleury. "But every team goes through it, I guess ... But we have good enough depth on our team that we can have success no matter who's in or out. "
If Haula is indeed sidelined, he will be missed. He led Vegas with 14 power-play goals last season when he collected 29 goals and 26 assists in 76 games. He has two goals and five assists this season.
Haula, a native of Pori, Finland, moved to the U.S. at age 17 to attend Minnesota's Shattuck-St. Mary's School, whose alumni include Sidney Crosby, Nathan MacKinnon and Jonathan Toews.
Vegas defenceman Deryk Engelland missed the game due to his son's illness. Jon Merrill took his spot. Gallant said he did now know when Engelland would rejoin the team
The Golden Knights, who were 9-5-1 at this stage last season, play in Ottawa on Thursday and Montreal on Saturday before wrapping up their four-game road trip Sunday in Boston.
Vegas came into the contest ranked sixth in the league in shots per game (33.5) but 30th in goals for (32). And the Golden Knights had their chances Tuesday.
They outshot Toronto 37-21 and a 30-18 edge in shots on goal at 5-on-5. Vegas also had an 82-40 lead in shot attempts in all situations and a 68-35 lead in shot attempts at 5-on-5.
While the Golden Knights offence continues to have its difficulties converting chances, the defence was victimized by a pair of unfortunate goals and an empty-netter.
Toronto opened the scoring at 5:30 of the first period when Connor Brown, who was between Nick Holden and the Vegas goal, picked the defenceman's pocket and then whirled around to beat Fleury. Holden clearly didn't know Brown was behind him.
"A tough play," Gallant said.
Mitch Marner made it 2-0 nine seconds into the second period after William Karlsson couldn't dig the puck out from his feet at the Vegas blueline. John Tavares retrieved it and fed Marner, whose shot beat Fleury stickside.
A Cody Eakin tip-in cut the lead to 2-1 at 11:22 of the second. But Nazem Kadri's empty-net goal made it 3-1 with 35 seconds remaining.
Gallant saw positives despite the loss which dropped Vegas' record to 2-4-1 in its last seven games.
"They played hard, they worked hard ... Sometimes you don't win those games. It's too bad because we played real well."
Follow @NeilMDavidson on Twitter