Virtue and Moir to return next season
Canadian ice dancers Tessa Virtue and Scott Moir are making a comeback. They announced Saturday that they will return to competition for the 2016-'17 season.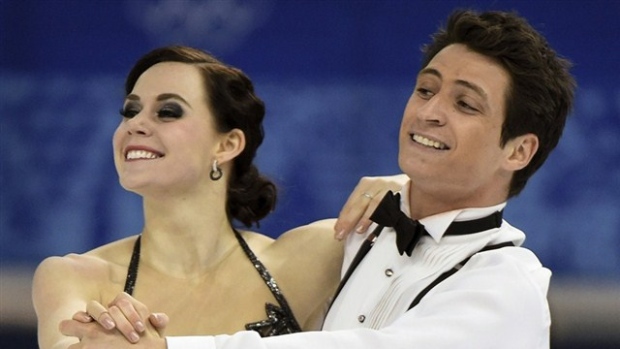 TORONTO - In the hours after winning silver at the Sochi Olympics, Scott Moir snuck back out onto the ice, knelt down, and kissed the Olympic rings — a kiss goodbye, or so he thought.
Moir and partner Tessa Virtue, two-time world champions and Olympic gold medallists, are planning a comeback after a two-year break from competing.
"After Sochi, we took time to do everything, step outside the skating world, and have lives — and it was wonderful," Virtue said in a phone interview Saturday. "But there was a certain void that we tried to fill. And then over time, just realized we missed the structure of training and waking up with a purpose, and having goals in mind, daily goals, weekly goals, seasonal goals.
"We missed competing."
It was a decision they arrived at over a series of conversations, and finally made firm during a long car ride last summer in Beijing.
"We were driving to the Great Wall," Virtue said. "We were in the car for a couple of hours and we just talked about 'OK, in a dream world, if we came back, what would our team look like? What would we skate like? What music would we use.' And we just kind of really started building a plan then.
"We didn't waffle that much, and we didn't make pros/cons lists or anything like that. It just felt right."
The 26-year-old Virtue, and Moir, 28, will return to competition for the 2016-'17 season, and rather than work with their old coach Marina Zoueva, they'll move to Montreal to train with Marie-France Dubreuil and Patrice Lauzon.
The moment they returned to the ice to train, Virtue said, was "just pure elation. Pure joy. And truly a renewed sense of passion for skating."
"It's been really refreshing to be athletes again," Moir added. "It was such a neat feeling to be back in that athletic space."
The two-time world champions won silver behind American rivals Meryl Davis and Charlie White in Sochi, but they insist their return has nothing to do with results.
"We don't really have anything to prove," said Virtue, a London, Ont., native. "We're not coming back feeling bitter about Sochi or feeling like we're trying to get revenge. It's really just purely for the joy of skating. And that's neat, because it's just for us now."
And the alternative of what-ifs, Virtue and Moir said, was not appealing.
"That's a powerful feeling, thinking 'How would I feel if I'm sitting on my couch watching the competitions take place and feeling that pit in my stomach?'" she said.
Virtue and Moir have long been known as pushing the envelope in ice dancing with their innovative moves. They said they'll return as different skaters than they were two years ago, largely because of the experience they've gained performing night in and night out on show tours.
"You'll see a different side of us than probably what you saw at the last Olympics for sure," said Moir, an Ilderton, Ont., native. "There will be some classic Virtue and Moir, but at the same time we want to skate some edgy stuff, and try and push ourselves."
Virtue and Moir have kept a close eye on Patrick Chan's comeback. The 25-year-old from Toronto, who took a season off after his silver-medal skate in Sochi, has had a rocky return, and was fifth after Friday's short program at the Four Continents championships.
"It's taught us a lot," Virtue said. "We realize it's not an easy position and we have to earn our spots and we have to qualify. The pressure he's been under and feeling the need to come back and sort of prove something. He's handled it extremely well.
"It's a tough position to be in, and we're aware of that. We're not expecting to waltz back in and be welcomed with open arms."
Their return adds intrigue to what is already a strong group of Canadian ice dancers, including world bronze medallists Kaitlyn Weaver and Andrew Poje.
"Canadian skating fans will undoubtedly be excited to welcome back Tessa and Scott," Skate Canada CEO Dan Thompson said in a statement. "The ice dance landscape in Canada is powerful and the return of six-time Canadian champions Tessa and Scott will further invigorate this discipline.
"We wish them the best of luck in their return."