Wake to NFL: 'You don't care about my safety'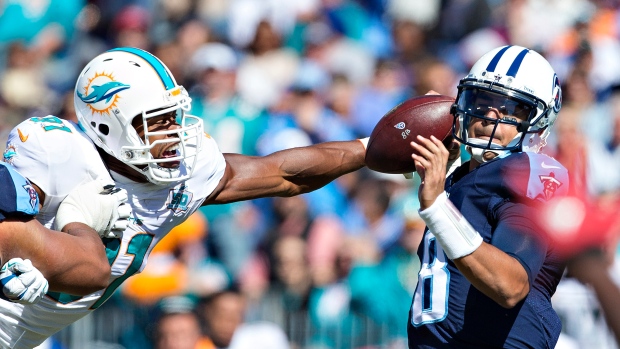 Miami Dolphins defensive end Cameron Wake ripped the NFL on Friday for what he perceived as a double standard when it comes to player safety around the new roughing the passer rule.
"Everybody knows the league is concerned about player safety, [but] it just depends on what player," Wake said. "If it's players' safety, everybody should be safe, not just certain players. It should be everyone… Now I'm supposed to sacrifice myself in order to protect [the quarterback]?"
Through three weeks of action, there have been 34 roughing the passer calls compared to just 17 at this point last season.
Wake, 36, believes that quarterbacks' safety has been deemed to be more important than other player positions.
"My knees mean just as much to my family and my ability to play and provide as [Dolphins quarterback Ryan] Tannehill's does," the five-time Pro Bowler said. "I can't understand that his are more important than mine."
A native of Beltsville, MD, Wake wants to the league to be more transparent about this discrepancy.
"Don't piss on me and tell me it's raining," Wake said. "Just tell me you want to protect quarterbacks…. It's silly to say we care about all players. You don't care about my safety."
Wake watched teammate William Hayes tear his ACL during last Sunday's game against the Oakland Raiders when he contorted his body to avoid taking a penalty in sacking quarterback Derek Carr.
Wake says he can't let that affect the way he plays his game.
"It's silly if a quarterback is running the ball to have the rules change," Wake said. "…. If you're a running back, you can do anything you want [to him]. But if you're a quarterback, you've got to stop doing certain things [to him]. It's not fair, but life isn't fair…. From the day I touched the field, it was to punish whoever had the ball, quarterbacks included. But now that's not part of the game. You can assist him to the ground. The running backs! You can destroy him, the receivers, you can destroy them too."
Now in his 10th season with the Dolphins after two in the CFL with the BC Lions, Wake says he doesn't believe there will ever be a fundamental shift towards a safer game.
"It's an uphill battle," Wake said. "The crowd likes the violence. You see big hits, the oohs and aahs. They like that. How do you make a violent sport non-violent?...The human body is not made for big hits; I can guarantee you that. You take two human beings and smash them into each other, something is going to give. That's unsafe. If fans don't want to see big hits, sure, you could make it a very different game."
Wake and the Dolphins (3-0) visit the New England Patriots (1-2) on Sunday.