Wall: Wizards 'love our chances' of a Game 7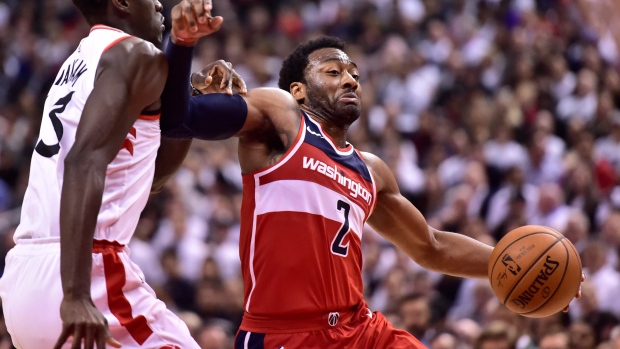 It appears Wednesday's Game 5 defeat did little to shake the confidence of John Wall and the Washington Wizards in their series against the Toronto Raptors.
The Wizards held a five-point lead in the fourth quarter, but ultimately lost 108-98 to fall behind 3-2 in the series. The home team has won every game in the series so far and Wall said after the defeat that he expects that trend to continue on Friday.
"We love our chances," Wall said when asked of his team's chances of winning Game 6, per ESPN. "We're very confident."
Wall and fellow guard Bradley Beal struggled in the fourth quarter, missing eight of nine shot attempts over the final nine minutes.
"We felt like we let one slip away," Wall said. "But at the same time, we played aggressive, we just didn't make shots. They made the bigger shots at the end of the game. Other than two or three turnovers, we got all the looks we wanted in the fourth quarter.
"Look at the percentages -- to shoot 41 per cent and then be 5-for-26 from 3 and have a chance to win it on the road... you couldn't ask for anything more."
Wall finished Game 5 with 26 points, 9 rebounds, 9 assists and 7 turnovers. Teammate Kelly Oubre Jr. shared Wall's confidence after the loss, pointing the Wizards success in Games 3 and 4.
"We've been down 2-0 before, so I don't think being down 3-2 when we are going home is anything psychologically draining," Oubre said.
"Y'all have seen how we play when our backs are against the wall."
Game 6 will take place Friday night in Washington and, if necessary, Game 7 will be Sunday in Toronto.