WCT/CCT Recap: Tirinzoni defends Stu Sells title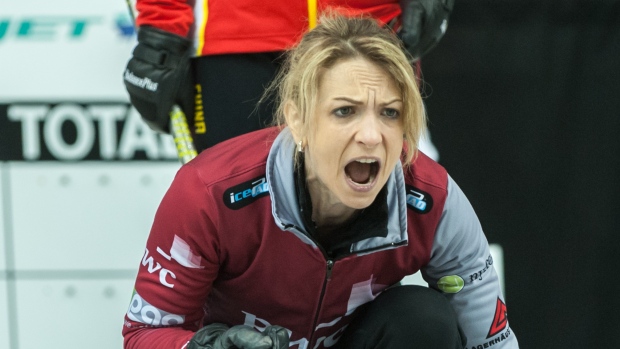 World Curling Tour
Skip Silvana Tirinzoni are her Swiss crew of third Manuela Siegrist, second Esther Neuenschwander and lead Marlene Albrecht are back-to-back champions at the Stu Sells Oakville Tankard after defeating Ontario's Sherry Middaugh in the final, 3-2.
Team Tirinzoni had a tough route to their second straight title in Oakville as they had to defeat Switzerland's Binia Feltscher in the quarter-final and Anna Hasselborg of Sweden in the semi-final.
The foursome took home $7,000 while Team Middaugh captured $3,600. Team Tirinzoni beat Team Allison Flaxey of Ontario in the final last year.
On the men's side, Scotland's Bruce Mouat picked up his first win of the young season by defeating Chang-Min Kim of South Korea in the final, 6-4. Team Mouat won $8,000 while Kim's crew took home $4,000.
Pat Simmons' new Winnipeg rink were in Oakville as well, making it to the quarters where they fell to Tanner Horgan, 3-2.
Curling Champions Tour
Team Niklas Edin of Sweden had a stellar year of curling in 2016-17, winning six events and a silver medal at the world championships.
The Karlstad foursome have continued their winning ways by taking the Baden Masters in Switzerland this weekend. After dropping their first game, Team Edin won six straight including wins over Peter De Cruz in the quarters, Marc Pfister in the semis and Norway's Thomas Ulsrud in the final, 5-4.
They received $14,181 for their efforts while Team Ulsrud got just over $9,000.
Scotland's Cameron Bryce won the Tallinn Challenger in Estonia.
Mixed Doubles
With mixed doubles making its Olympic debut this February in South Korea, many elite level curlers are putting more time and effort in the two-person game.
This weekend, the Canad Inns Mixed Doubles Classic took place in Winnipeg with the team of Chelsea Carey and Colin Hodgson taking the title. The duo beat out Carey's teammate in Jocelyn Peterman and Brett Gallant of the Brier-winning Team Brad Gushue squad, 7-3 in the final.
Their road to the final included wins over the husband of wife team of Mike and Dawn McEwen, then Rachel Homan and John Morris in the quarters before downing brother and sister Becca and Matt Hamilton in the semis.
Carey and Hodgson took home $10,000.
The husband and wife team of Brent Laing and Jennifer Jones fell in the other semi-final.
Looking Ahead
The first Grand Slam of the season gets underway this week with the Tour Challenge (and Tour Challenge Tier 2) from Regina. Val Sweeting is the defending champion on the women's side while Edin won it last year on the men's side.