WCT/CCT Recap: World champions Gushue, Homan victorious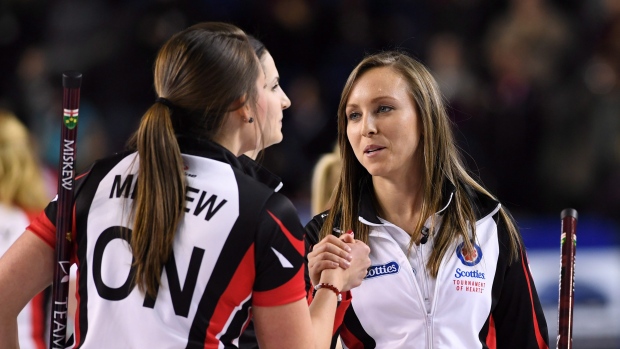 World Curling Tour
Ottawa's world championship foursome of skip Rachel Homan, third Emma Miskew, second Joanne Courtney and lead Lisa Weagle picked up their first win of the 2017-18 season on Sunday, beating South Korea's Un-Chi Gim, 10-4, in the final of the Prestige Hotels & Resorts Curling Classic.
Team Homan went a perfect 8-0 over the weekend, including victories over America's Nina Roth and Alberta's Shannon Kleibrink in the quarter-final and semi-final respectively.
Other notable rinks included Team Val Sweeting who fell to Team Gim in the quarters as well as Team Chelsea Carey who were unable to handle Gim's squad in the semis. Edmonton's Kelsey Rocque lost to Kleibrink in the quarters.
On the men's side Jeff Guignard beat out Adam Cseke in the final, 4-3.
At the College Clean Restoration Curling Classic in Saskatoon, first-year skip Colton Flasch made an impressive run to the final where he downed Chang-Min Kim in the final, 4-3. The foursome went undefeated over the four-day event. The 26-year-old was the second for Steve Laycock's Saskatchewan squad for past five seasons before leaving to skip his own team this year.
Other notable names at this event included John Epping (lost to Team Flasch in semis), Brendan Bottcher (lost to Team Epping in quarters), Reid Carruthers (lost to Team Jason Gunnlaugson in quarters) and John Morris (lost to Team Kim in quarters).
In other WCT events, Nadine Scotland defended her title at the Avonair Cash Spiel while Aaron Sluchinski won the men's side of the event. In Winnipeg, Dennis Bohn won the KKP Classic, beating Travis Bale in the championship game, 5-3.
Curling Champions Tour
Team Homan weren't the only world champions to win on Sunday as St. John's Team Brad Gushue won their second event of the season at the Swiss Cup Basel. Skip Gushue, third Mark Nichols, second Brett Gallant and lead Geoff Walker topped Norway's Thomas Ulsrud in the final, 5-2.
The Canadian champs also posted a perfect record, beating Niklas Edin of Sweden in the quarters and Netherlands' Jaap van Dorp in the semis. Gushue was the defending champion at this event.
In other action on the Curling Champions Tour, Switzerland's Alina Paetz won the Stockholm Ladies Cup in Sweden by beating EunJung Kim of South Korea in the final, 9-8.
2016 champion Anna Hasselborg of Sweden lost in the semi-final while Russia's Anna Sidorova went down in the quarter-final.