WCT Recap: Carruthers defends title at Canad Inns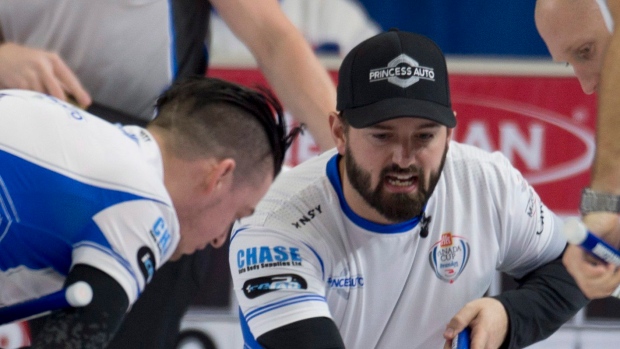 World Curling Tour
Winnipeg's Team Reid Carruthers picked up their first win of the 2017-18 season by defending their title at the Canad Inns Men's Classic in Portage La Prairie, Manitoba.
The foursome of skip Carruthers, third Braeden Moskowy, second Derek Samagalski and lead Colin Hodgson defeated Ontario's Team Glenn Howard, 6-1, in the championship, capping off a perfect week in the small Prairie city.
Team Carruthers also defeated Team John Shuster of the United States in the quarter-final and 2016 Canada and world champion Team Kevin Koe in the semi-final, 6-1. They took home $18,000 for their first-place finish, with Howard settling for $10,000.
Other notable rinks included Winnipeg's Team Mike McEwen, who fell to Howard in semis, and Team Brad Jacobs of Sault Ste. Marie ,who lost to Team McEwen in the quarters.
The likes of Steve Laycock, Colton Flasch and John Epping failed to make the playoff round.
Across the pond, South Korea's Team EunJung Kim beat Canada's Team Shannon Kleibrink in the final, 7-5, at the Paf Masters in Finland, taking $12,521 in the process. Team Kleibrink were the only Canadian team in the field.
In Winnipeg, Team Darcy Robertson were victorious in their hometown at the Atkins Curling Supplies Classic by defeating Team Barb Spencer in the final, 5-3. They won $2,500 at the event.
On the men's side, Winnipeg's Team David Bohn won their third event of the season by getting past Team Jordan Smith in the championship game, 4-3. Team Bohn took home $2,000 in winnings for their efforts.
At the Stroud Sleeman Cash Spiel, Team Susan Froud of Kitchener/Waterloo and Team Wayne Tuck Jr. of Strathroy were the last teams standing. Tuck Jr. grabbed $4,000 while Froud captured $2,400.
Out west, Team Kevin Park of Edmonton were champions at the McKee Homes Fall Curling Classic in Airdrie, Alta. They edged Team Aaron Sluchinski in the final, 4-3, and won $3,200 for their efforts.
Finally, Team Brandon Corbett won the Kalamazoo Men's Classic.
Mixed Doubles
Shannon Birchard and Jason Gunnlaugson won the Pacific Northwest Mixed Doubles Invitational in Seattle by downing Jamie Sinclair and Korey Dropkin of Blain in the final, 6-5.
The Canadian duo brought home $3,762 for their efforts.